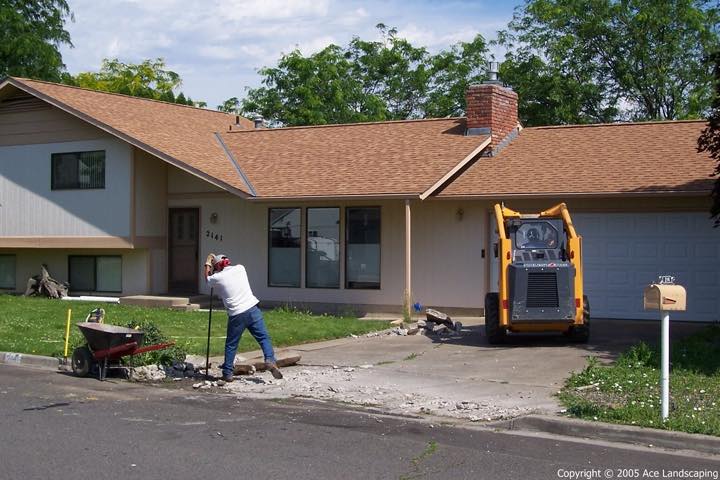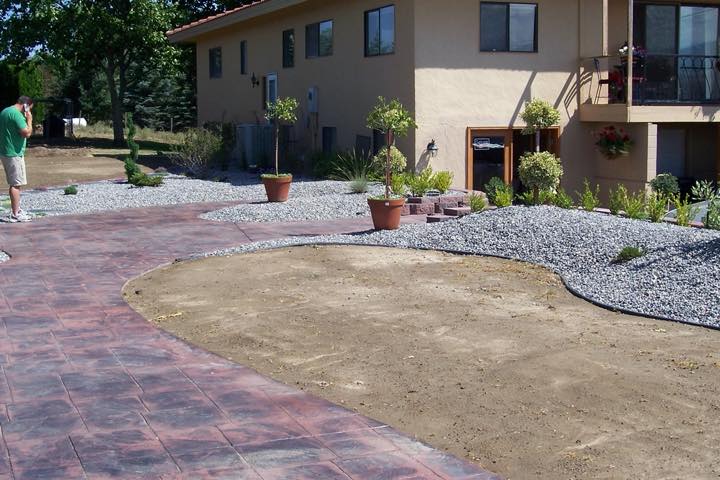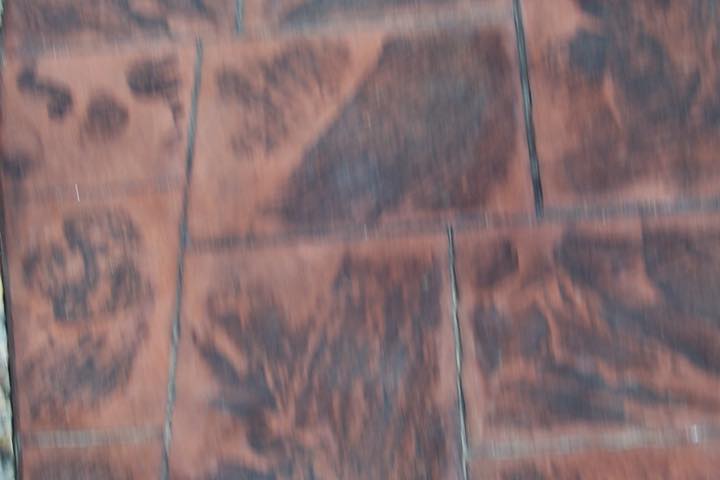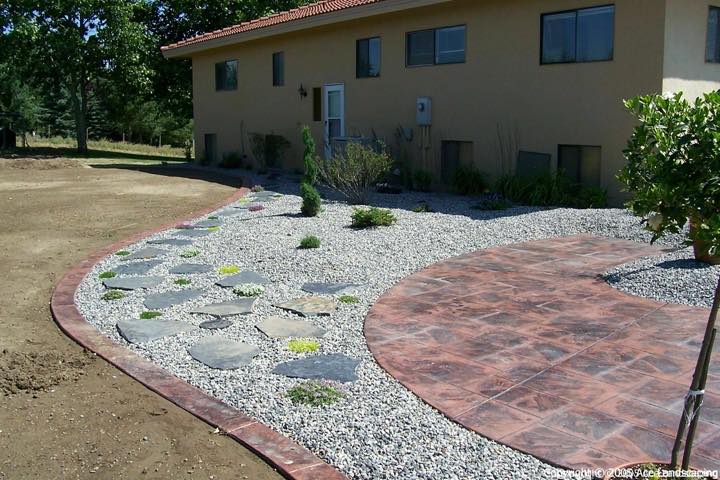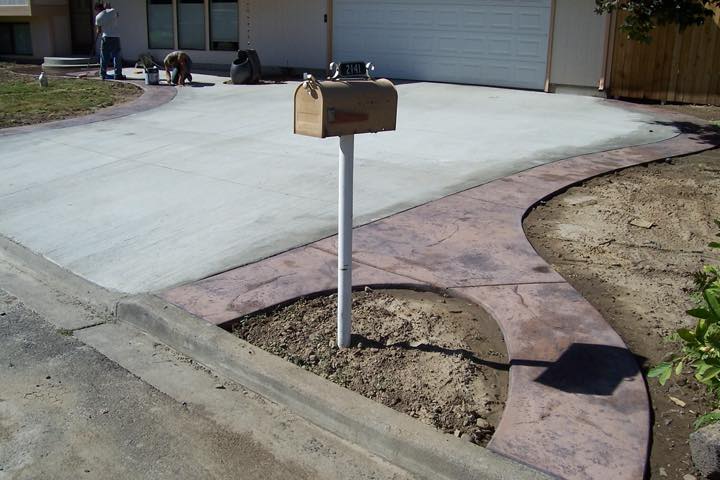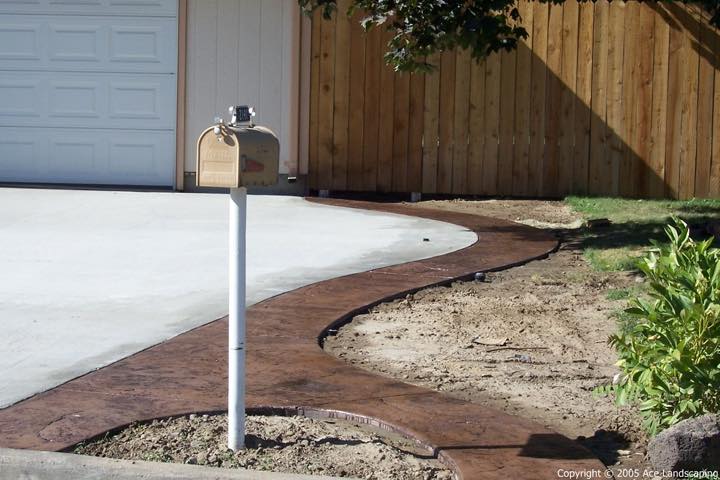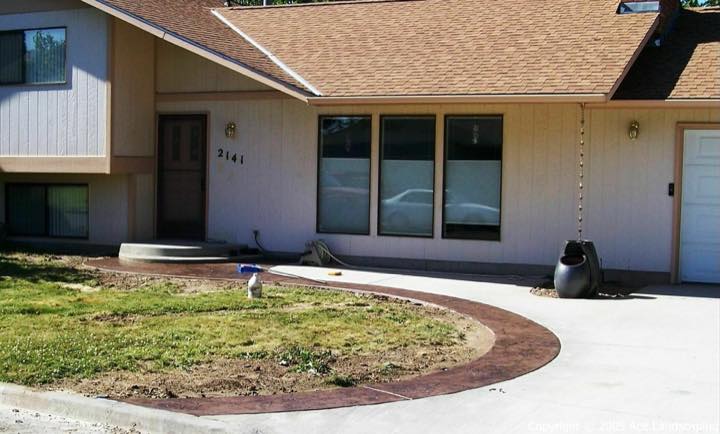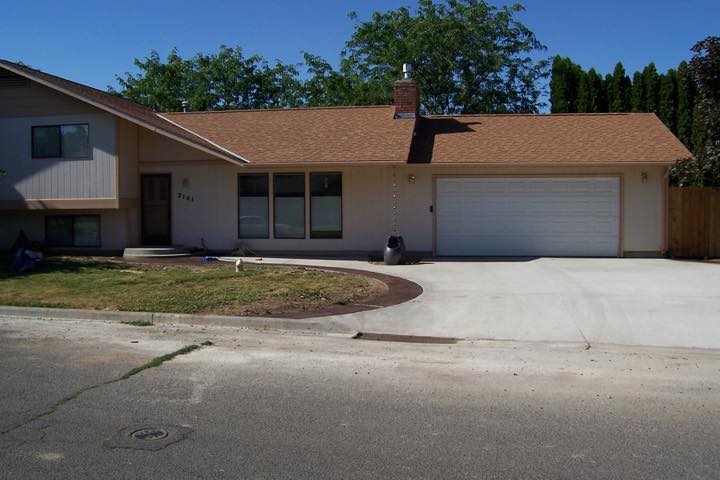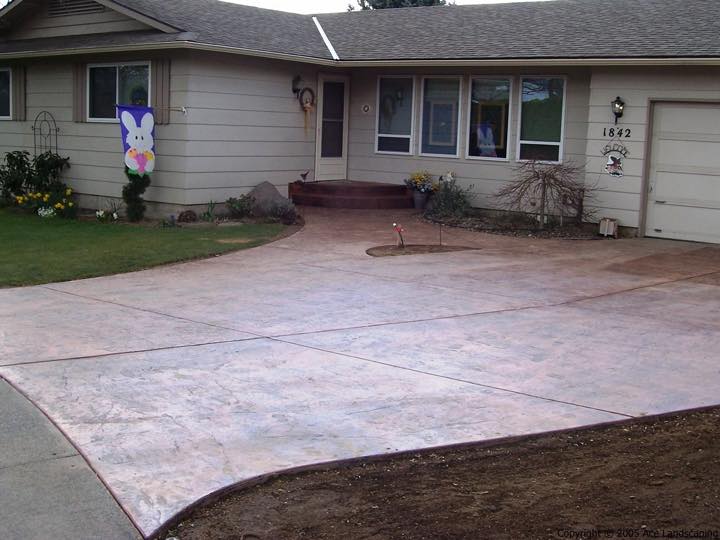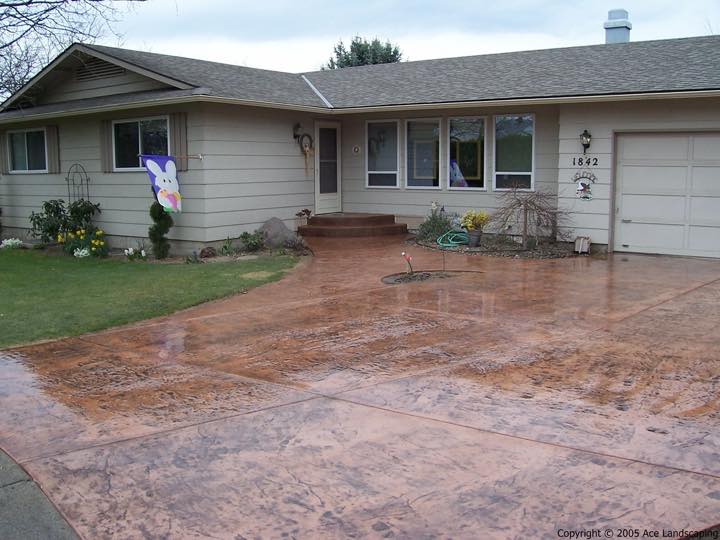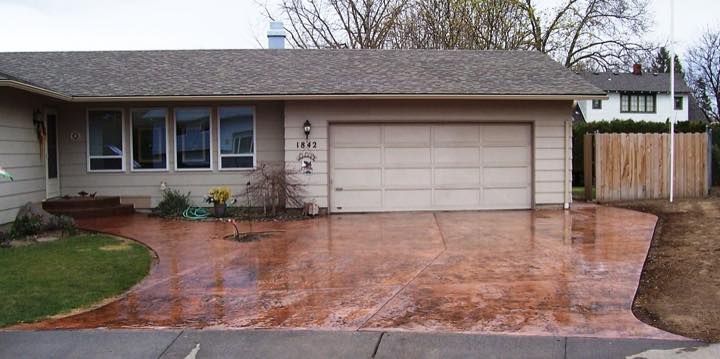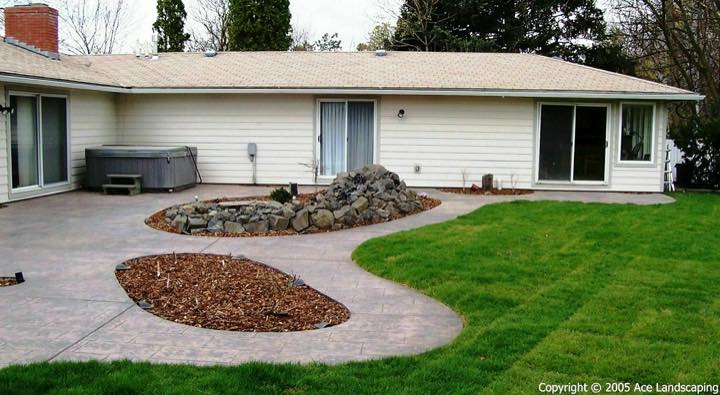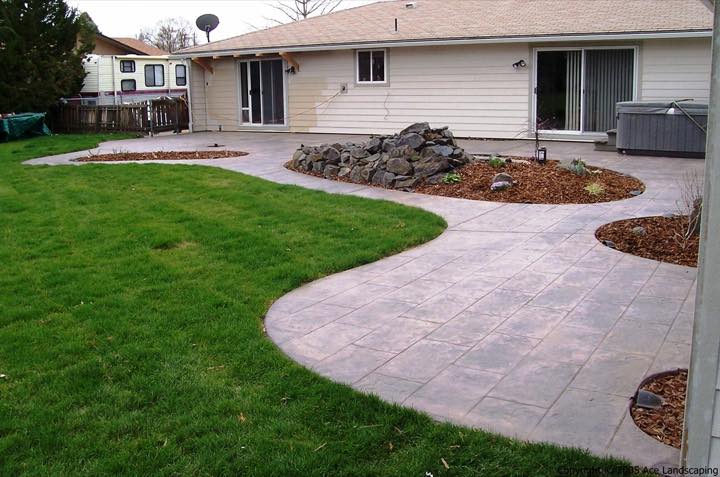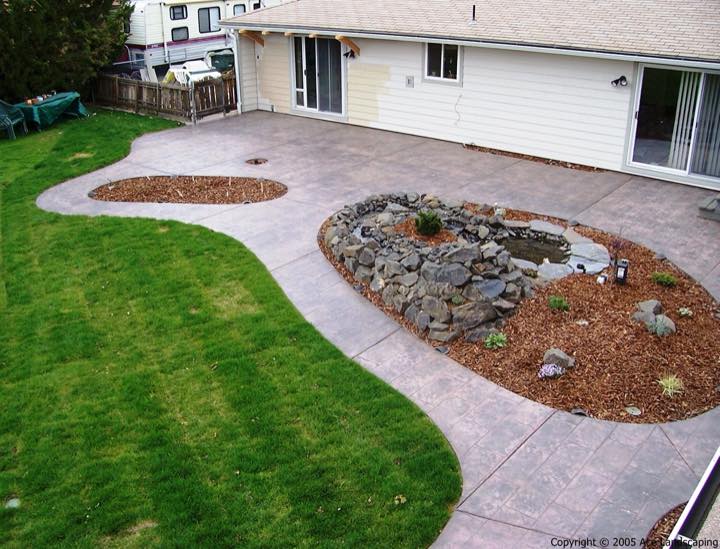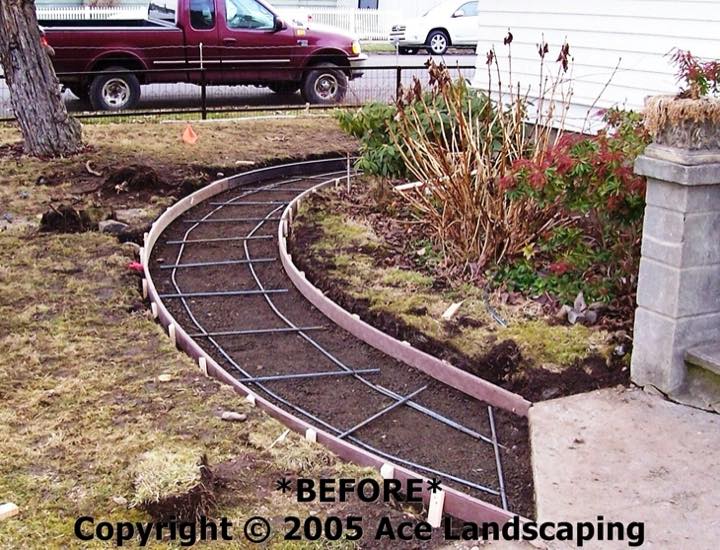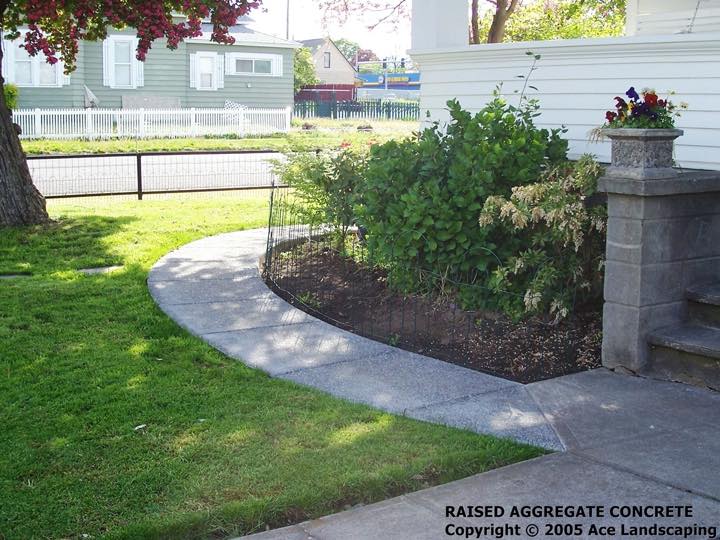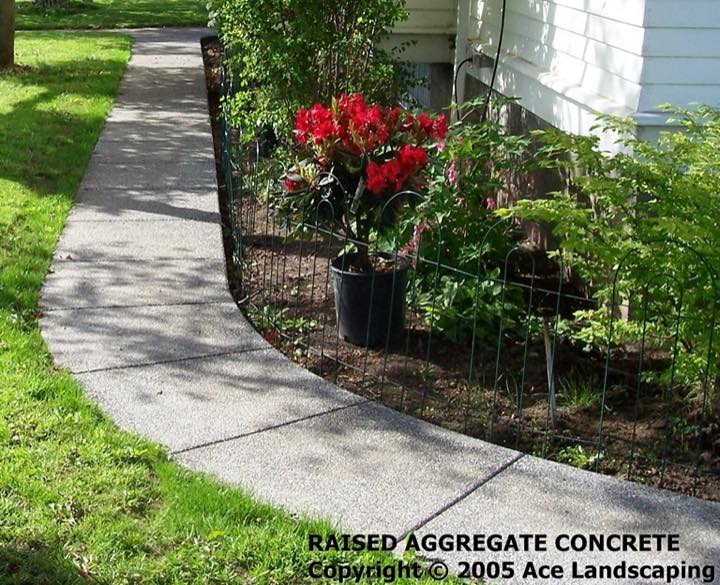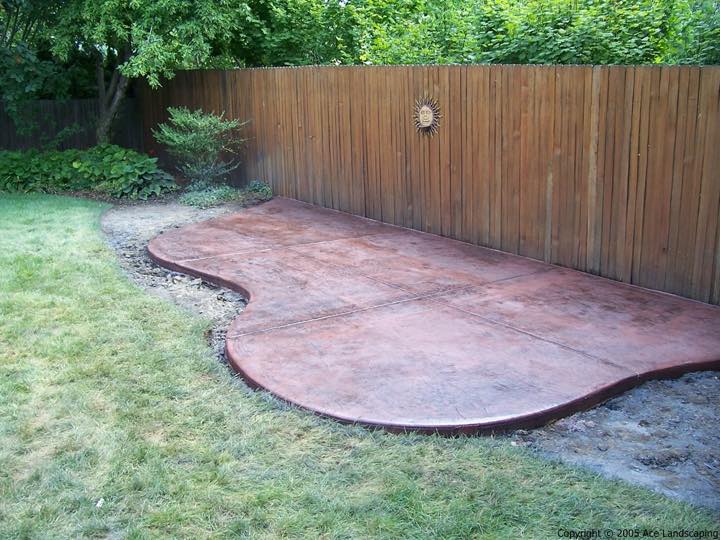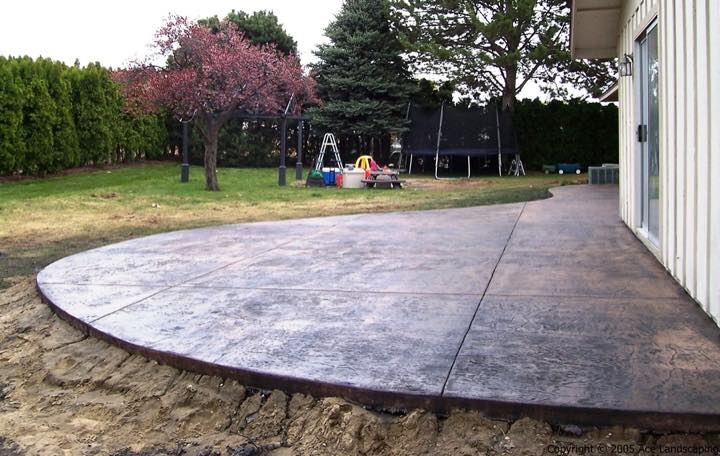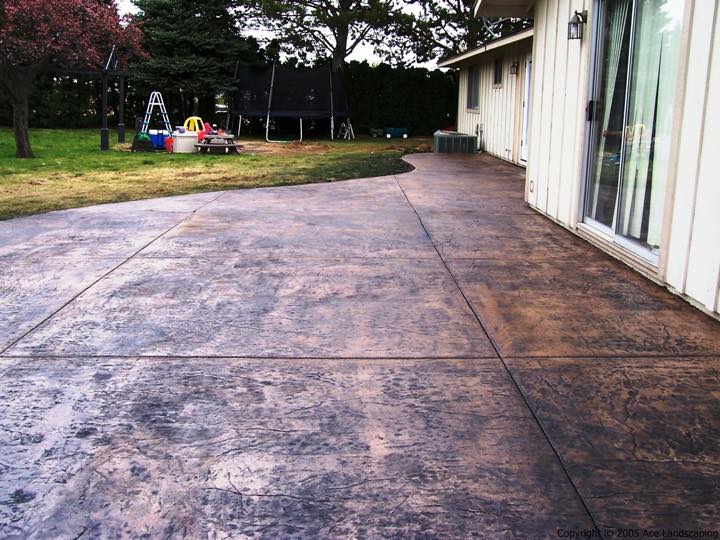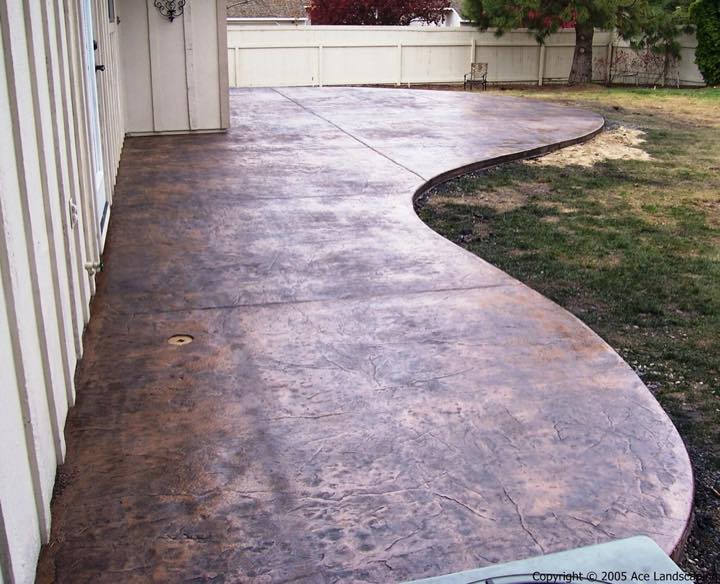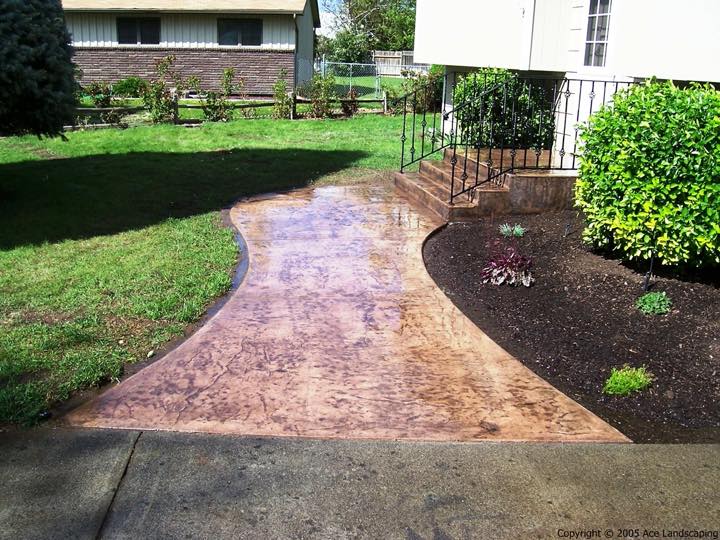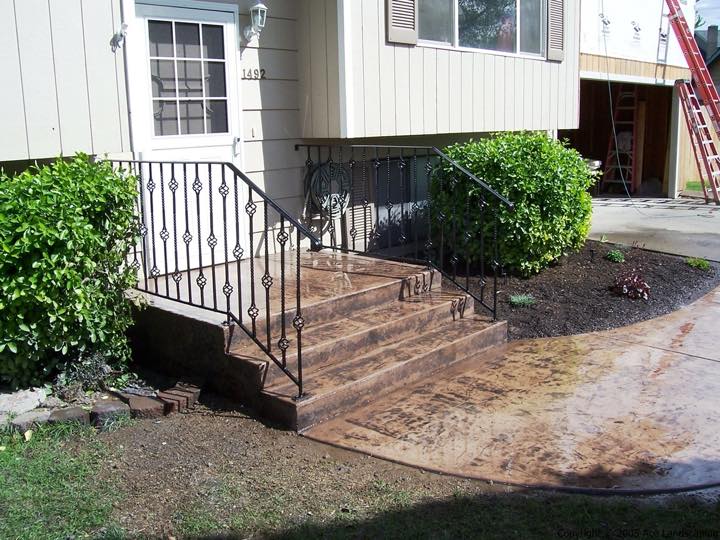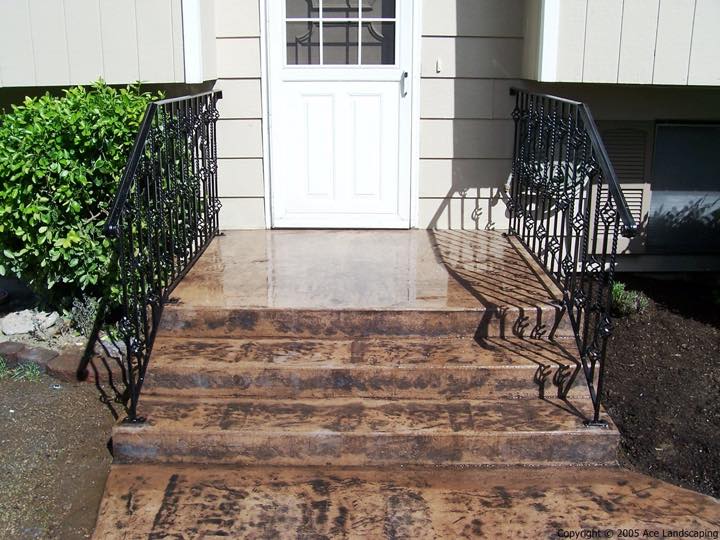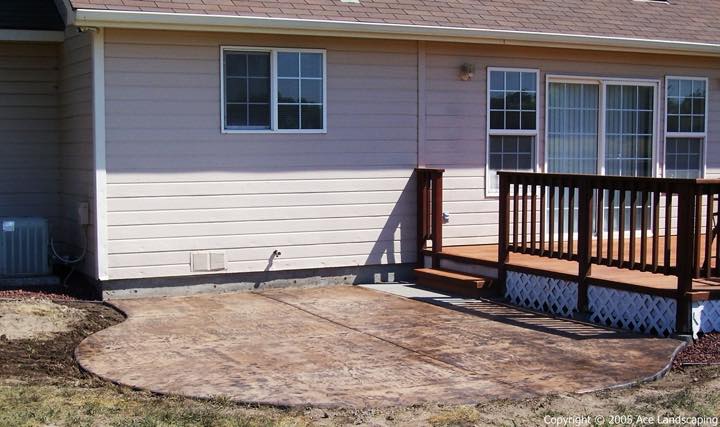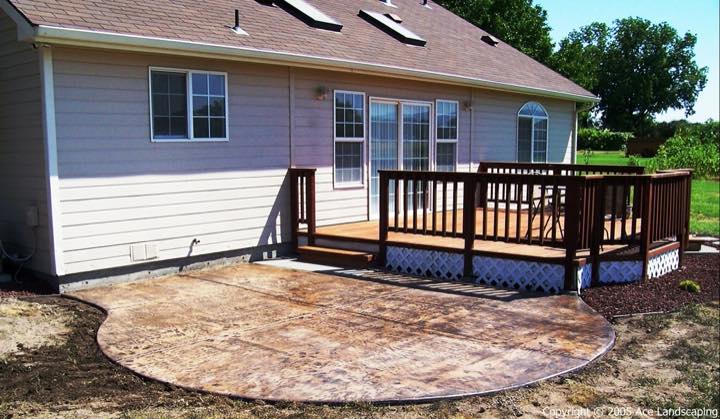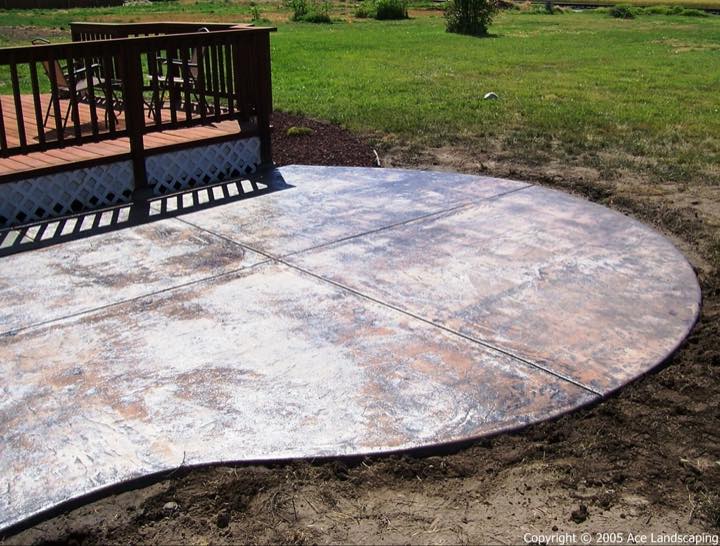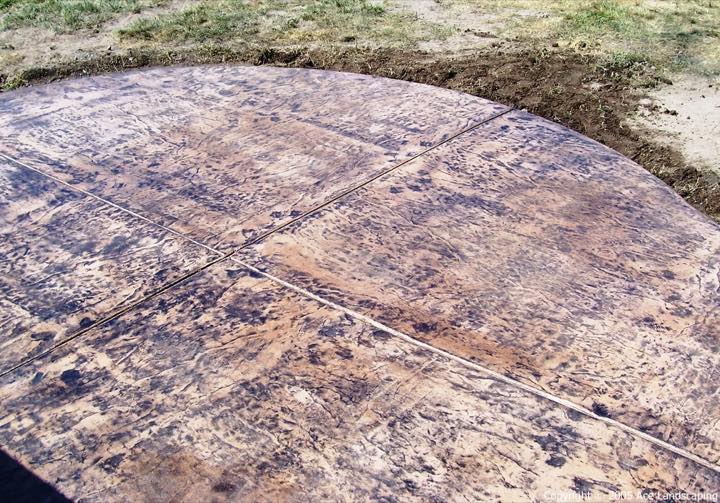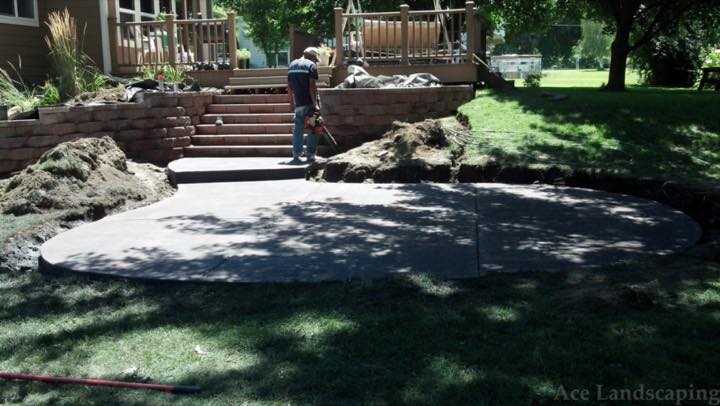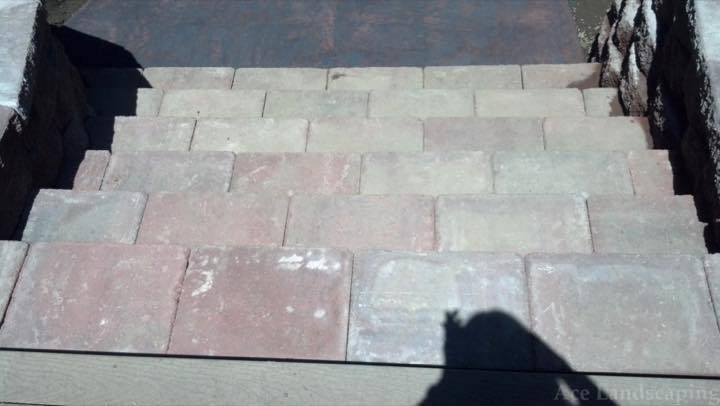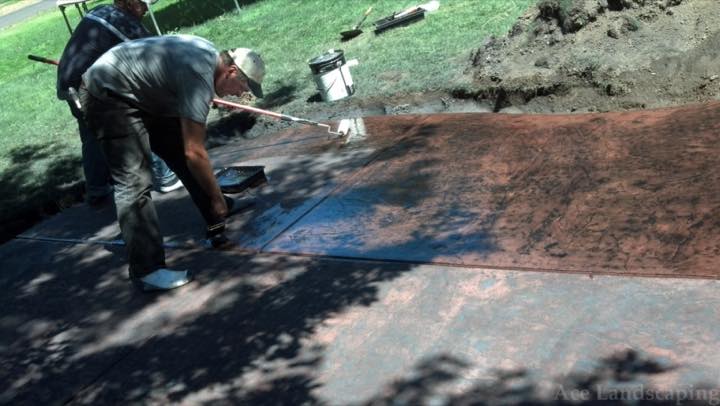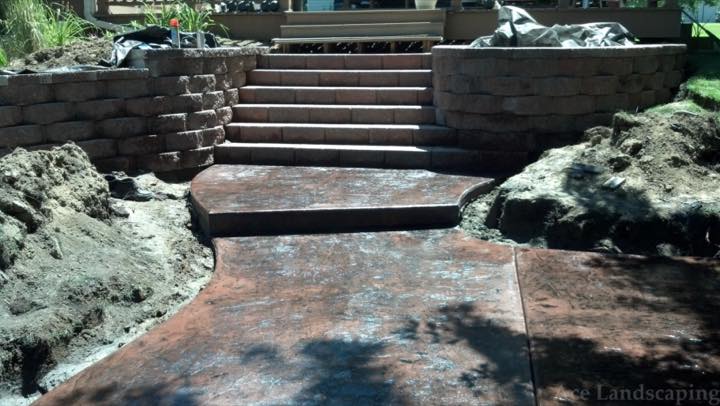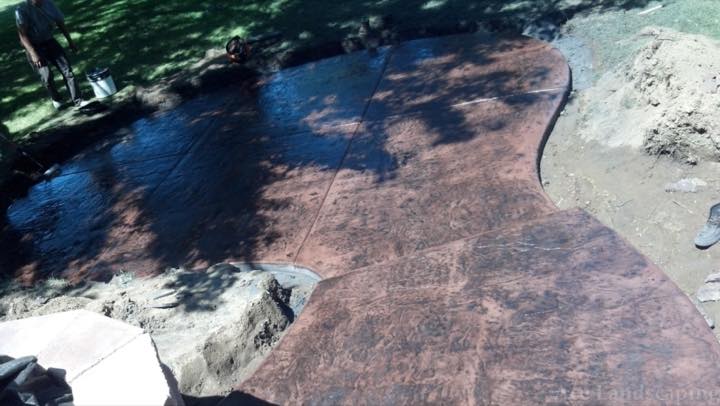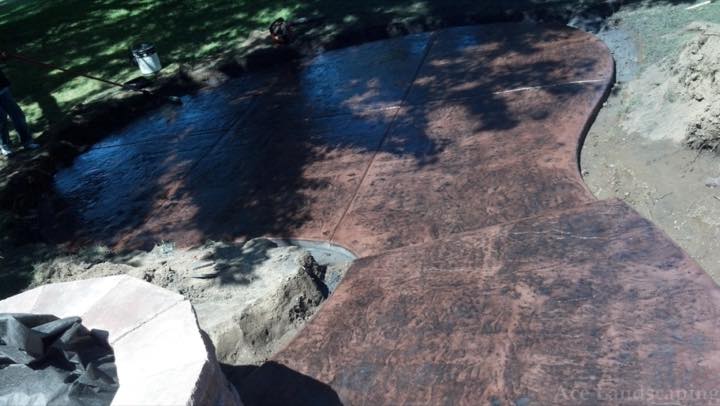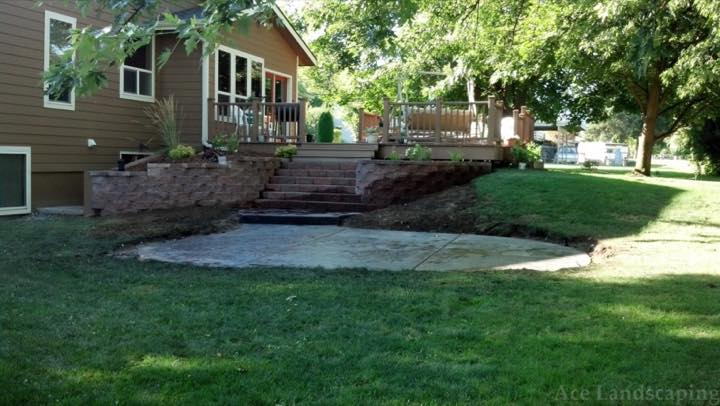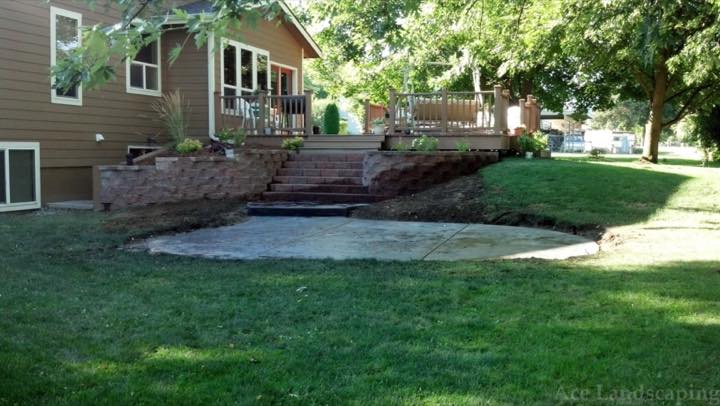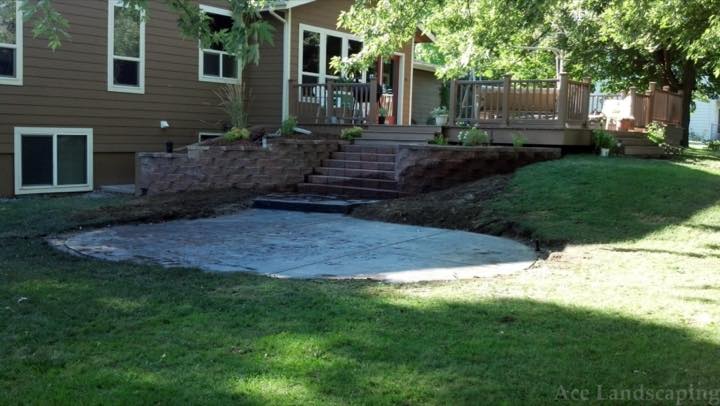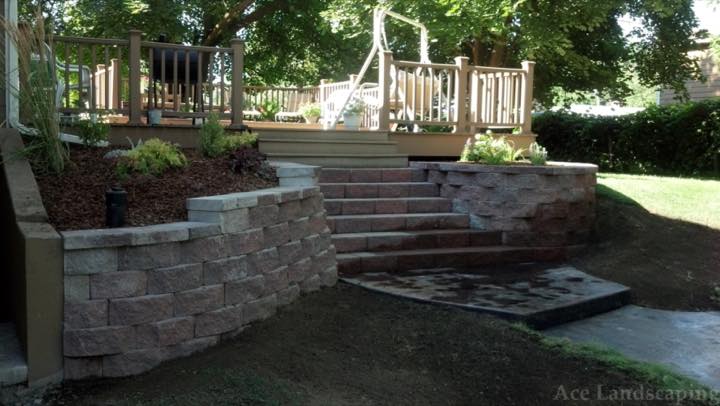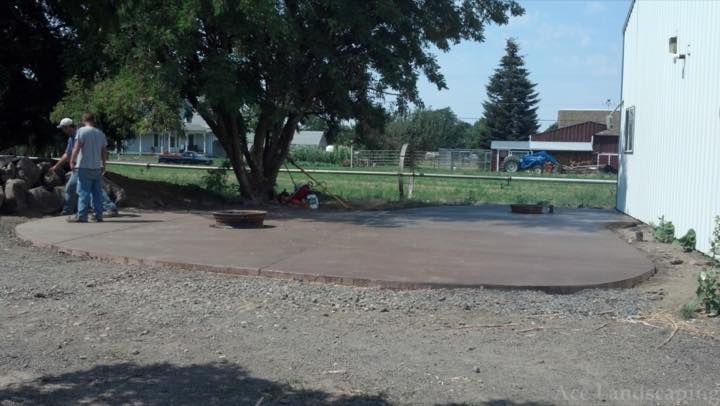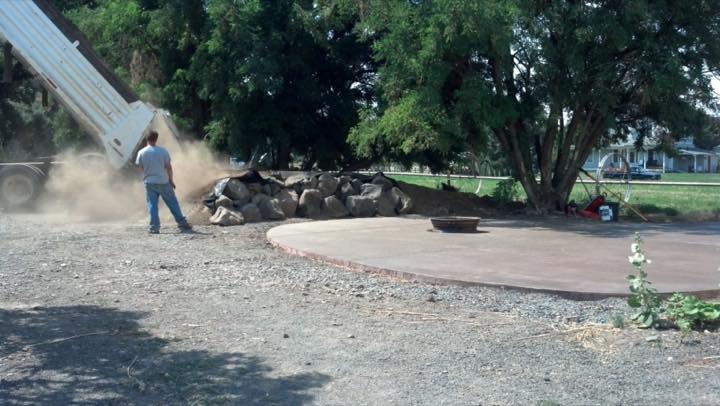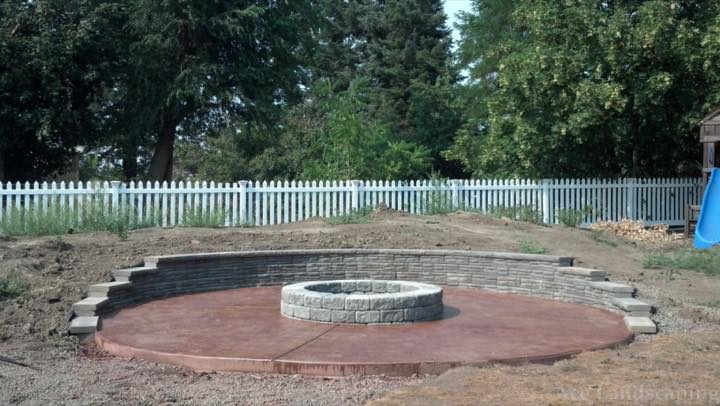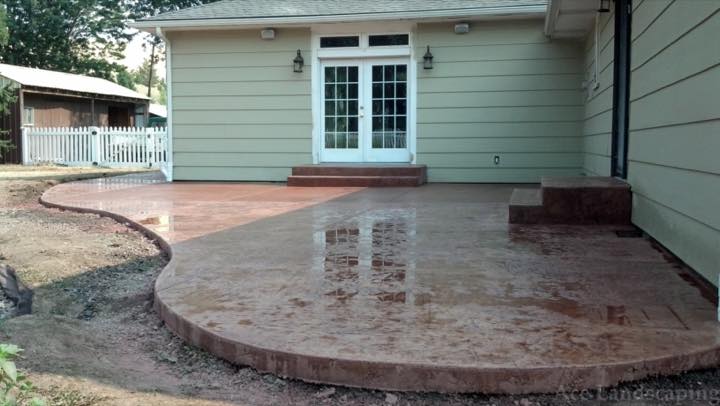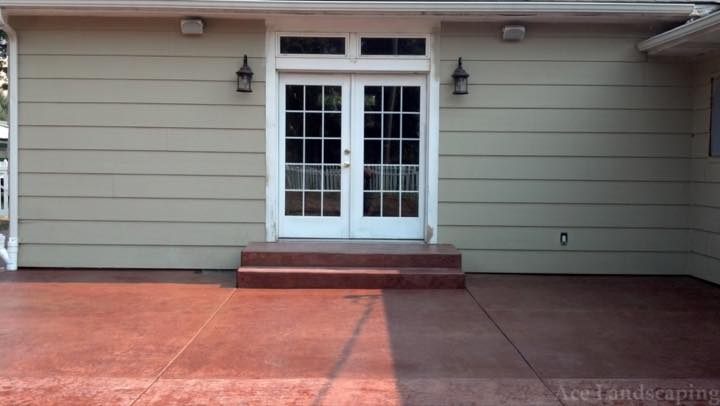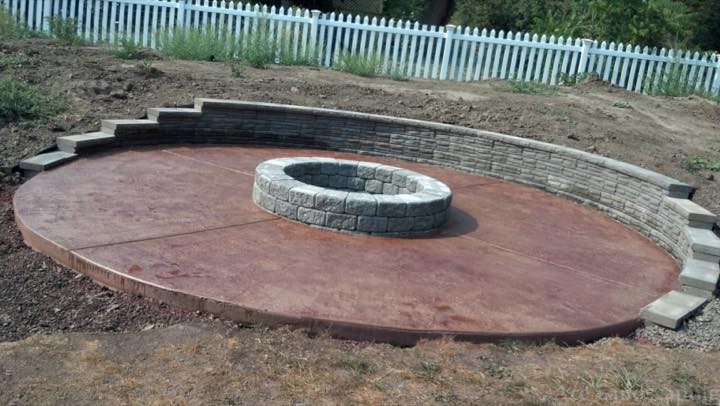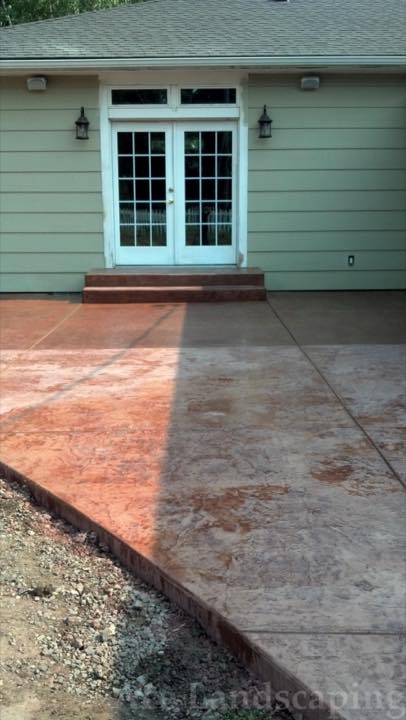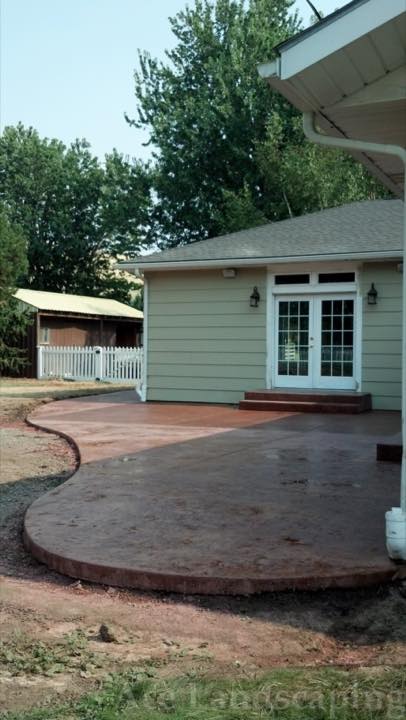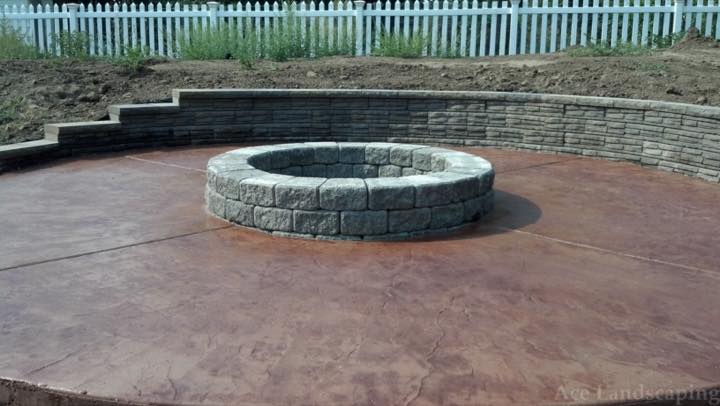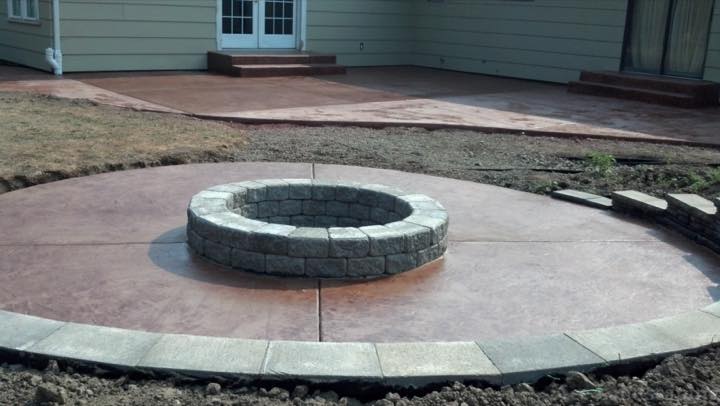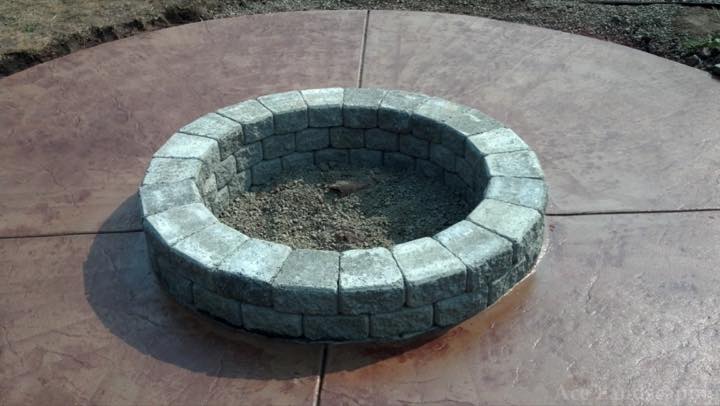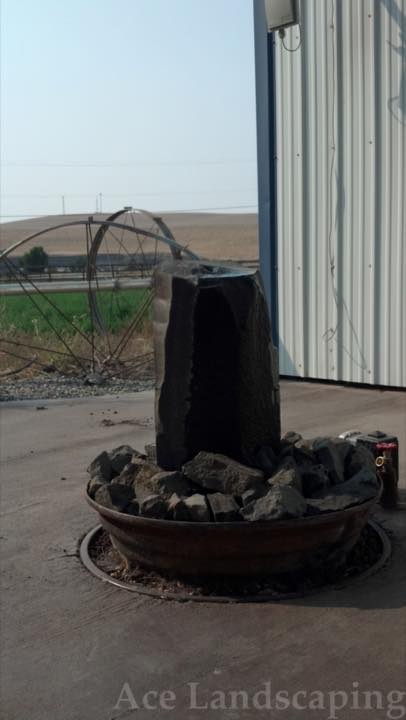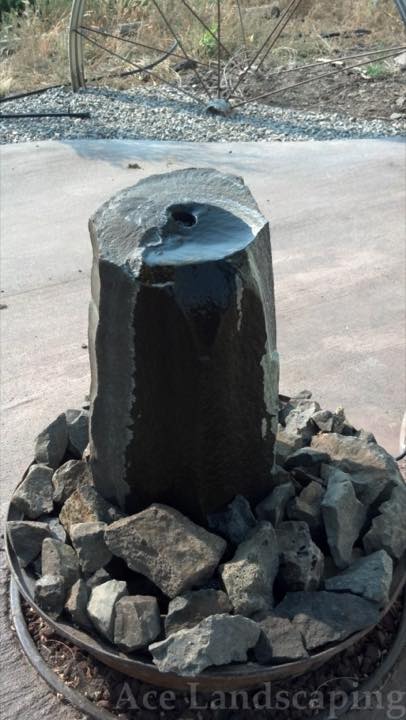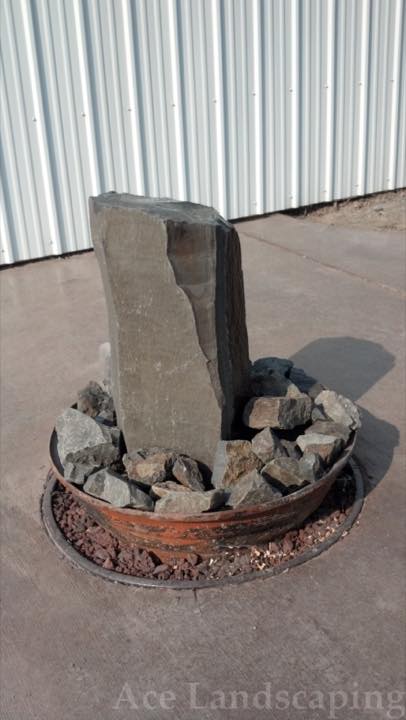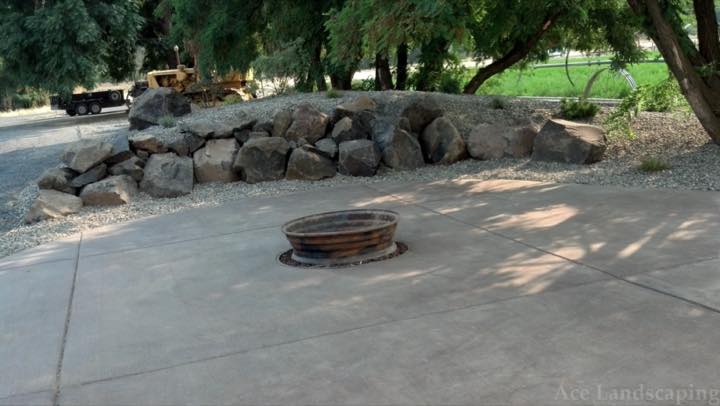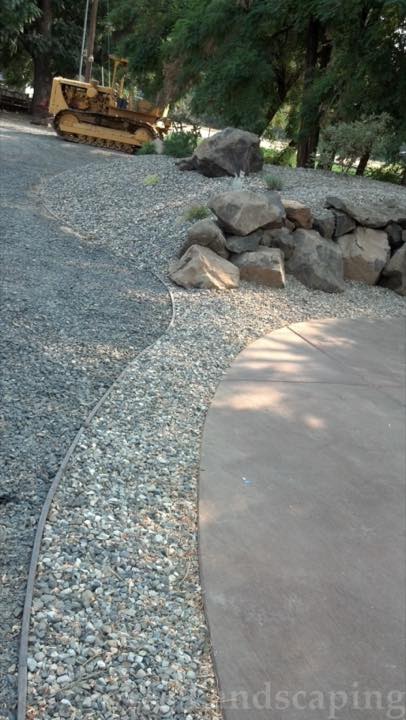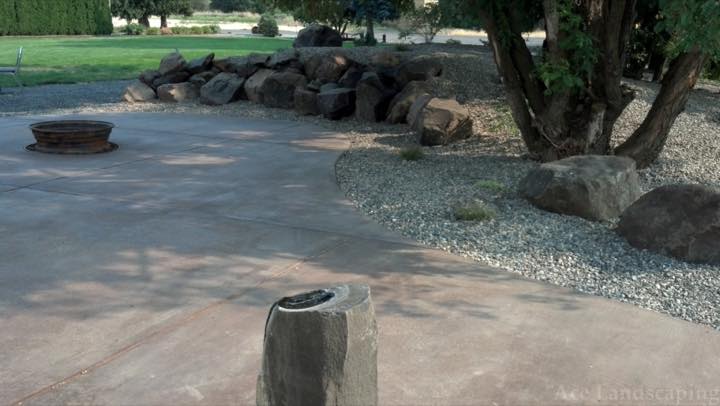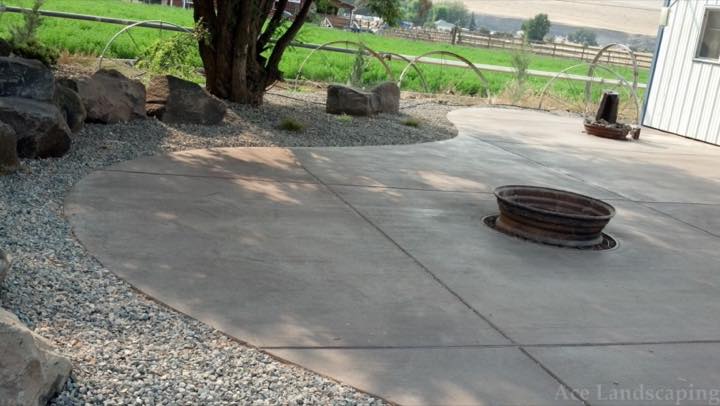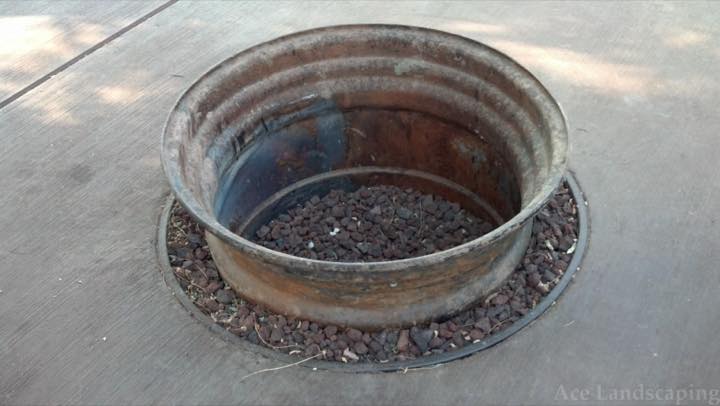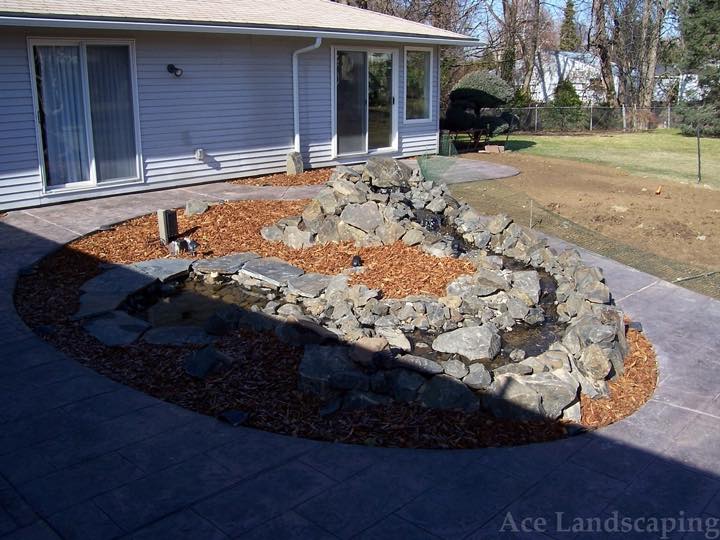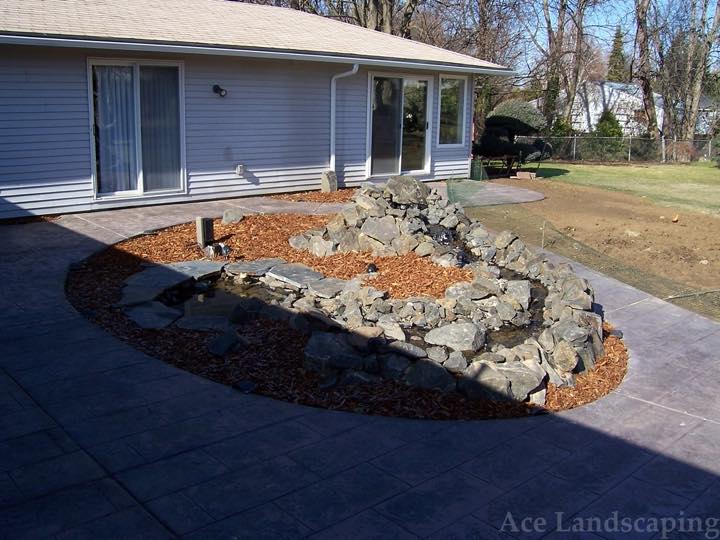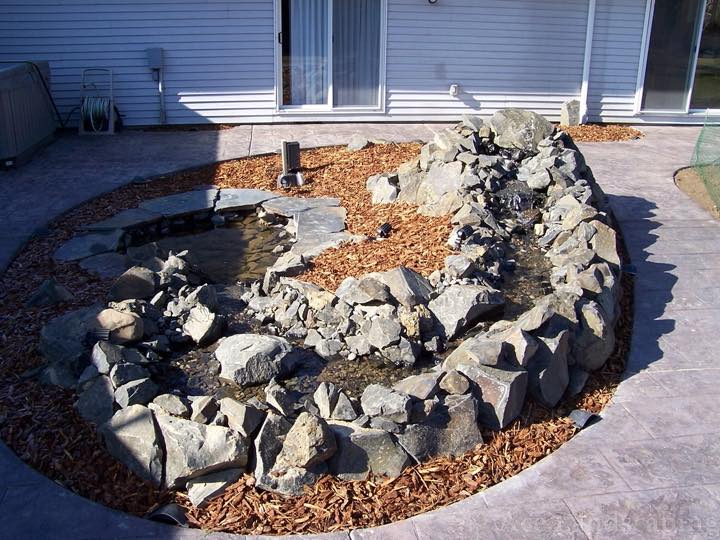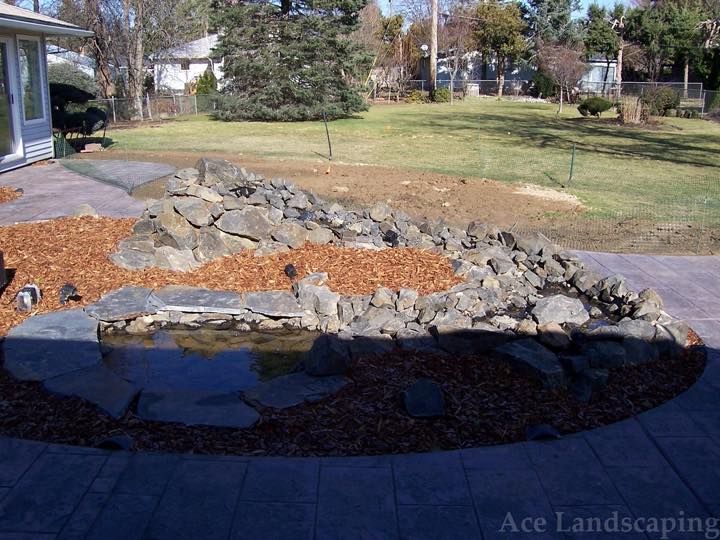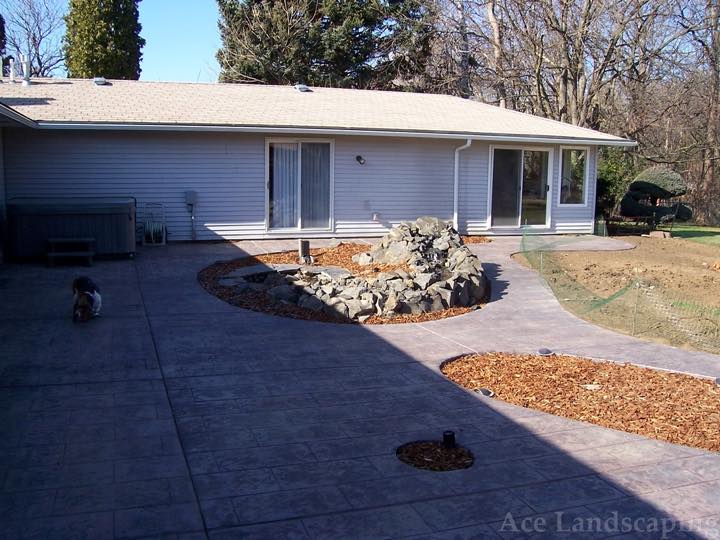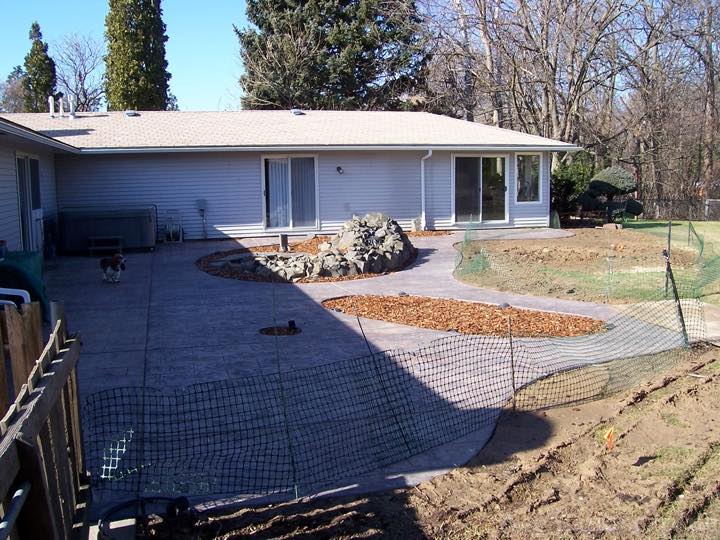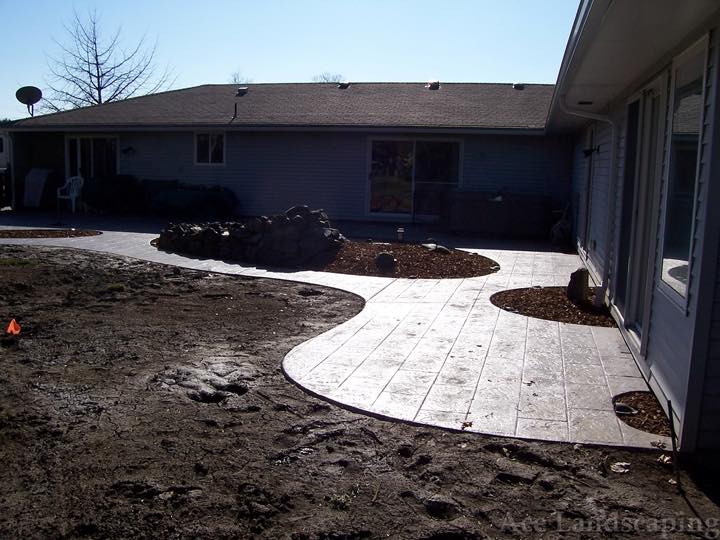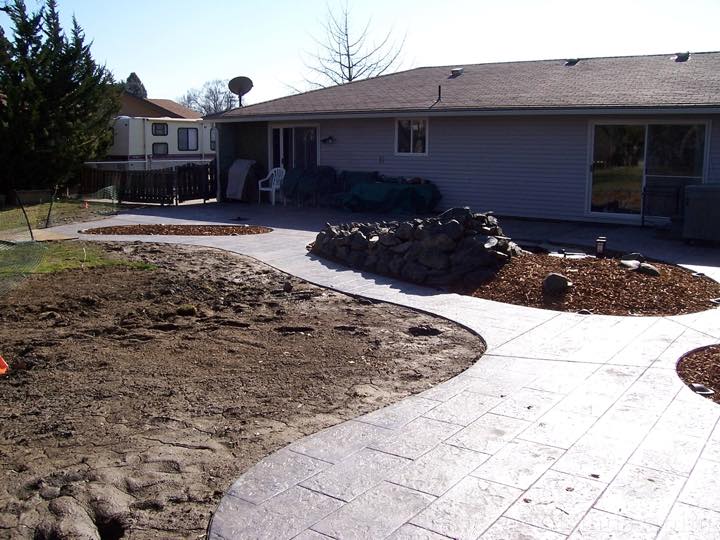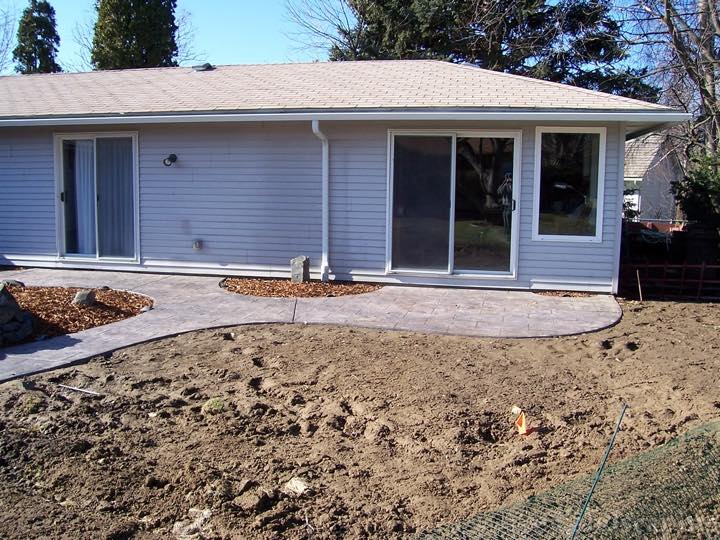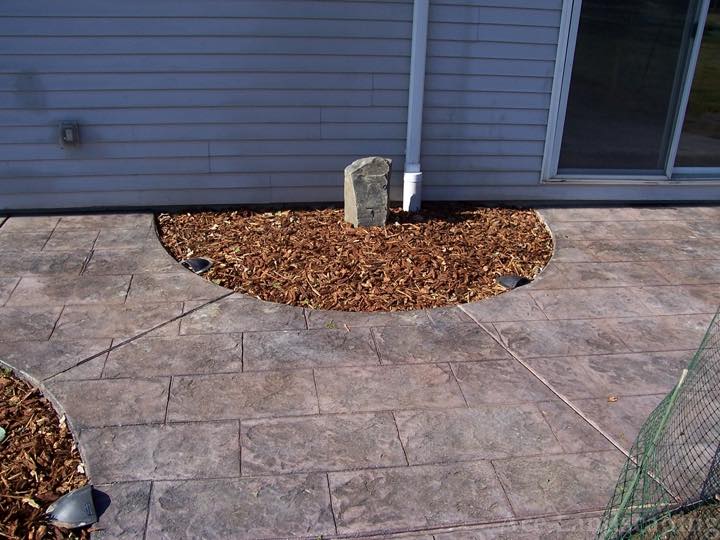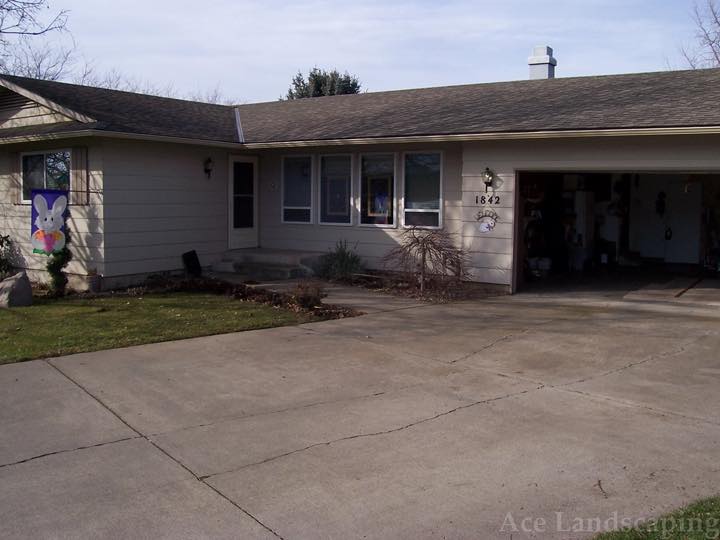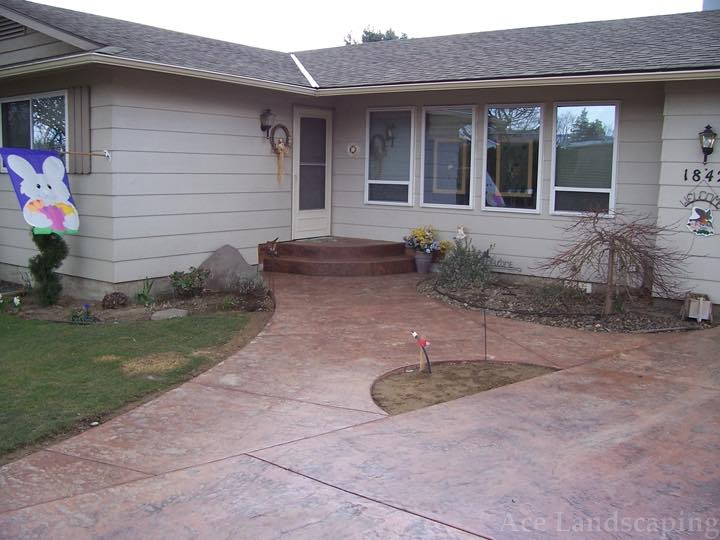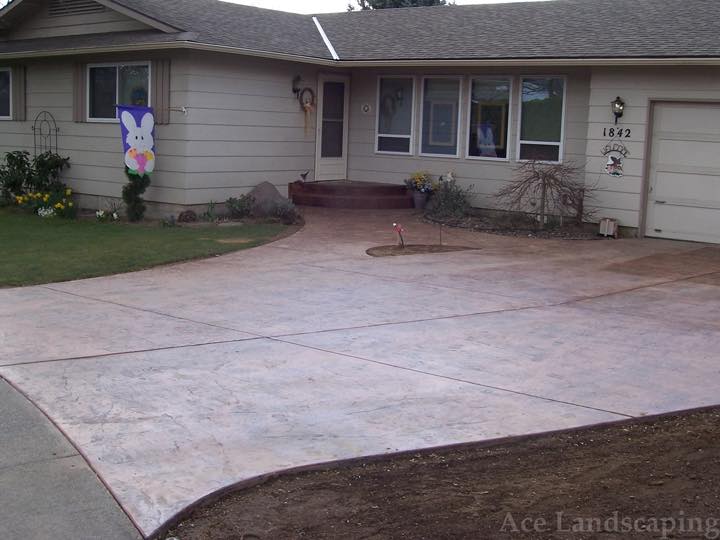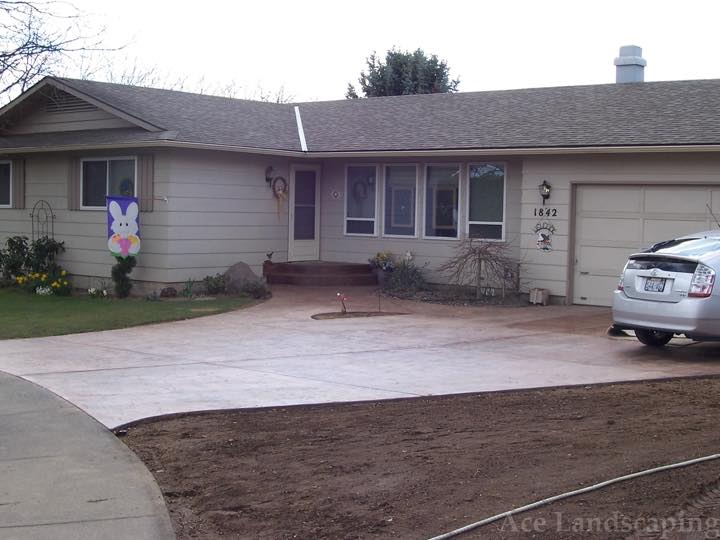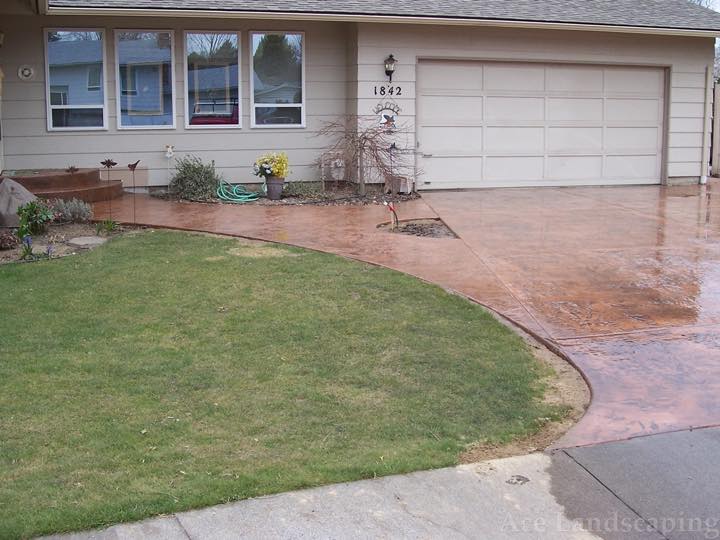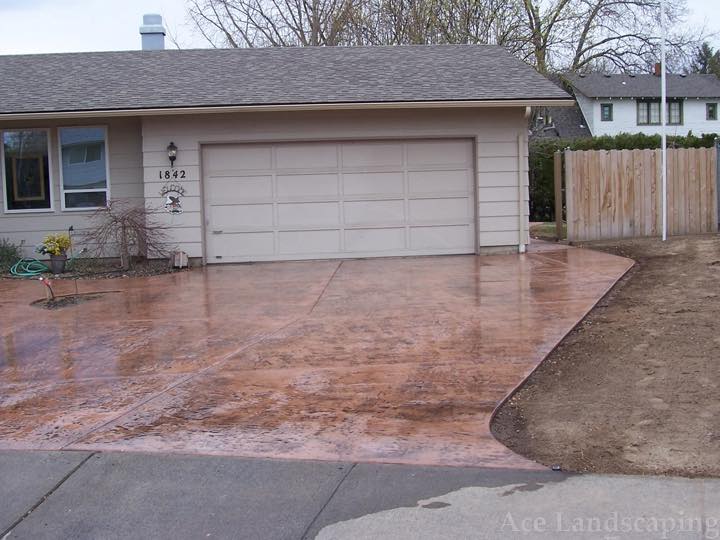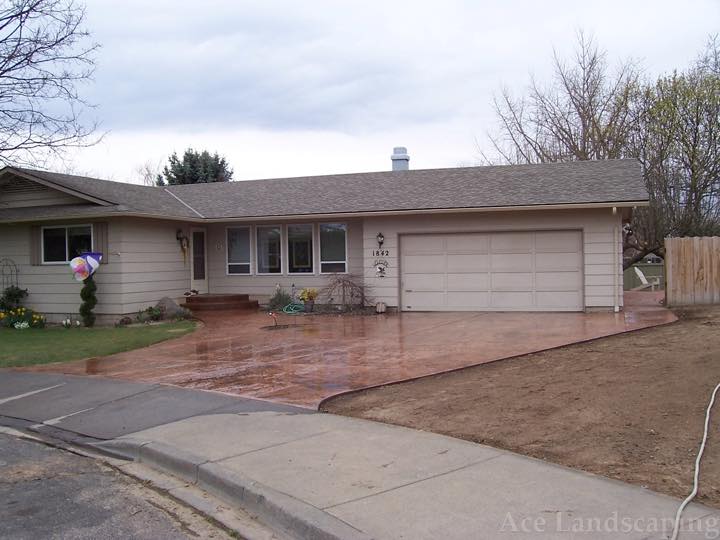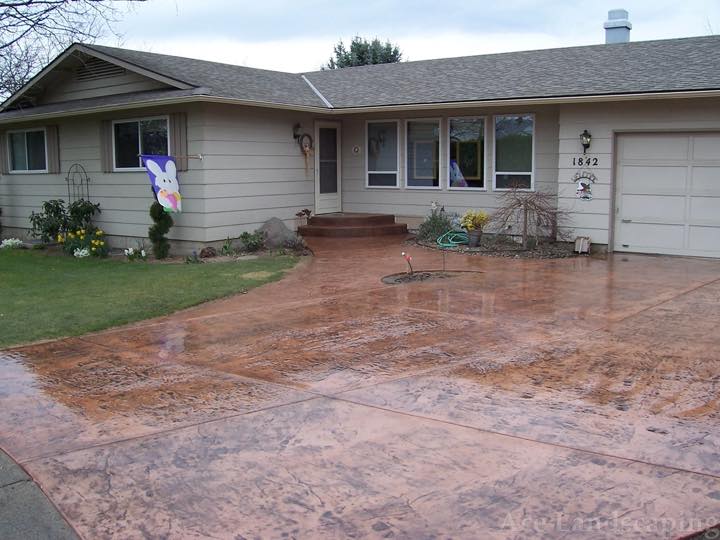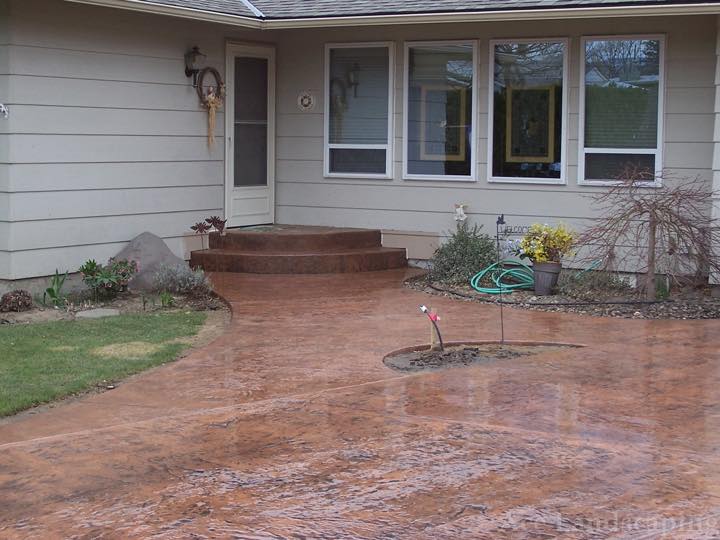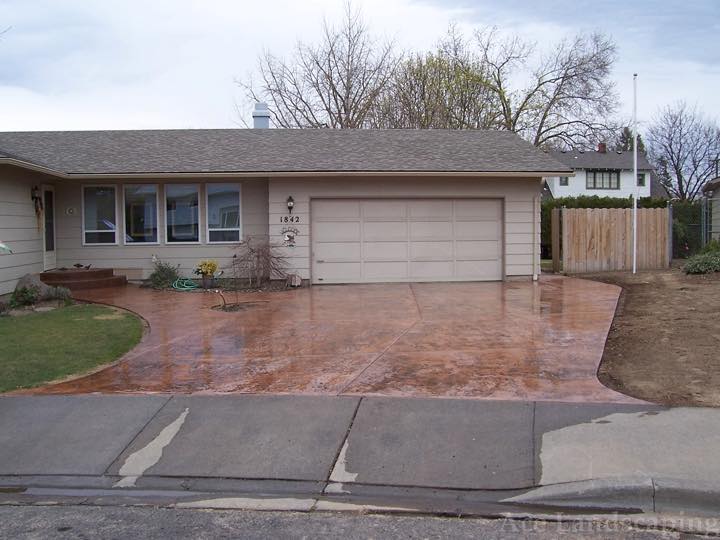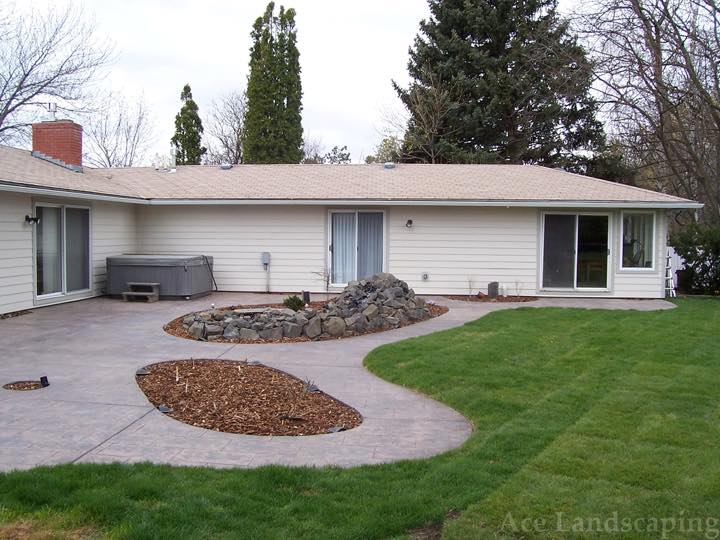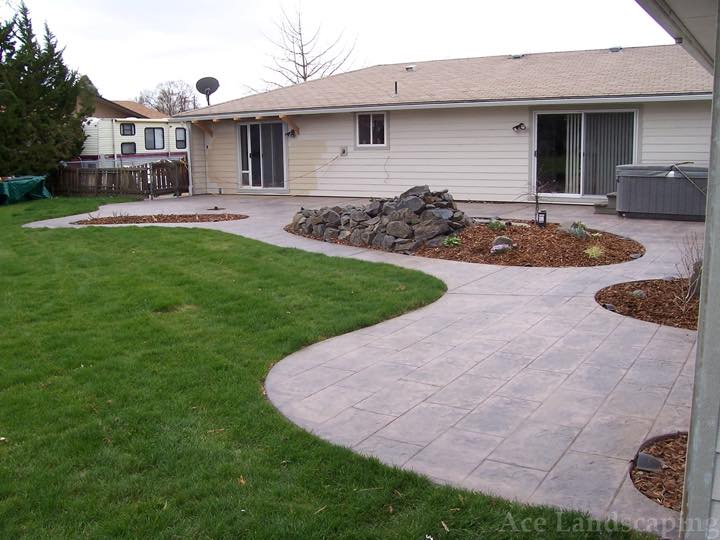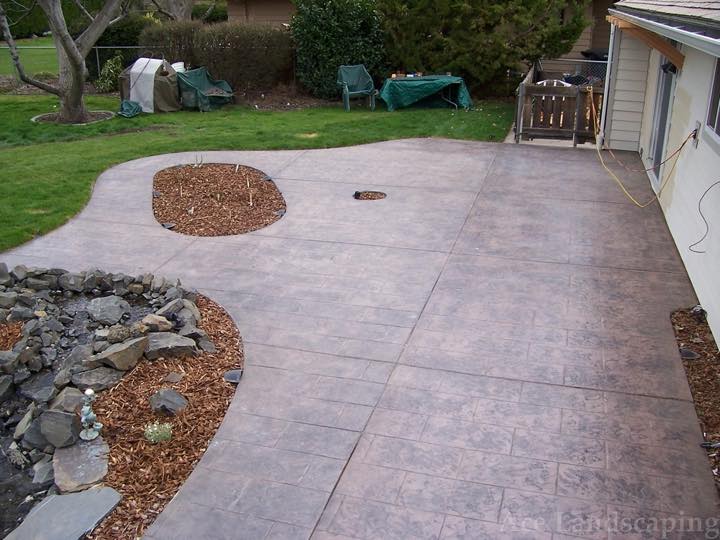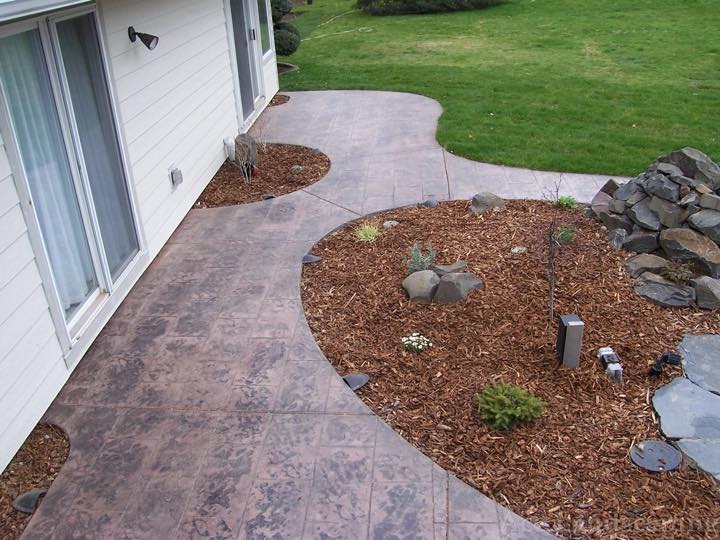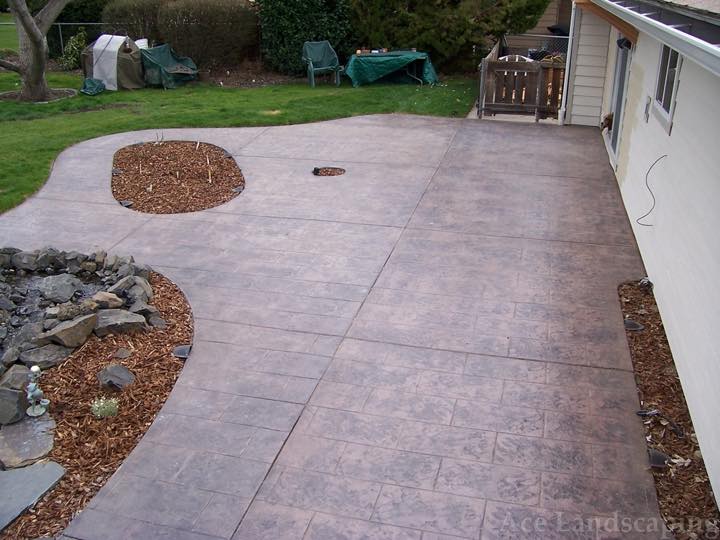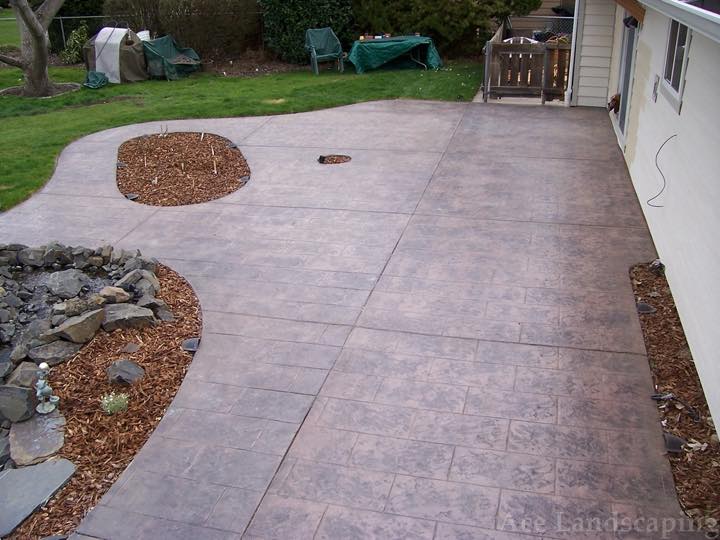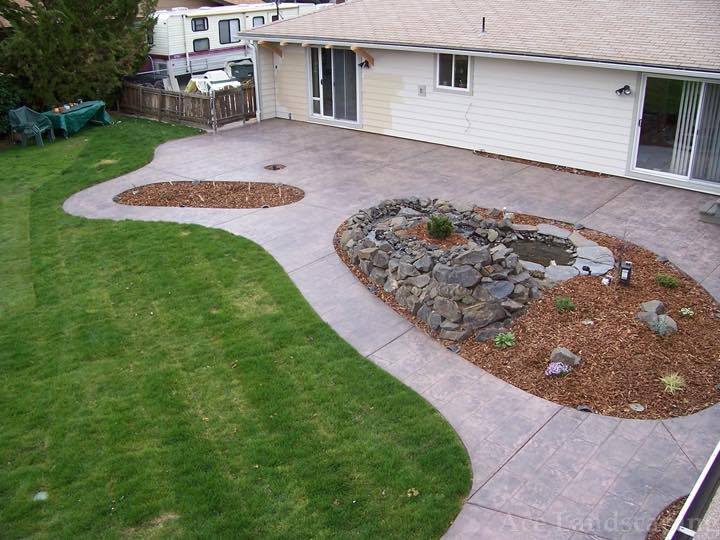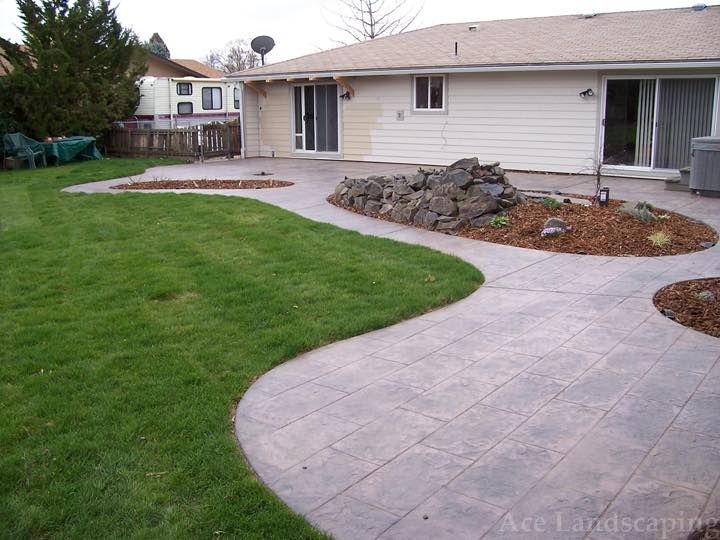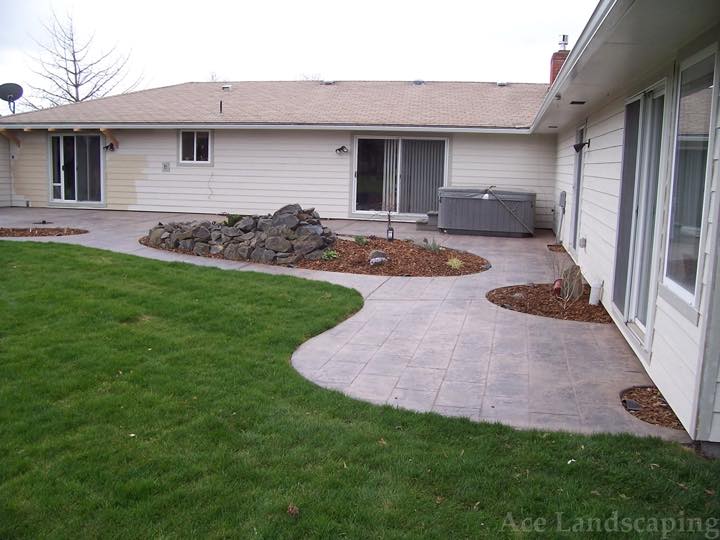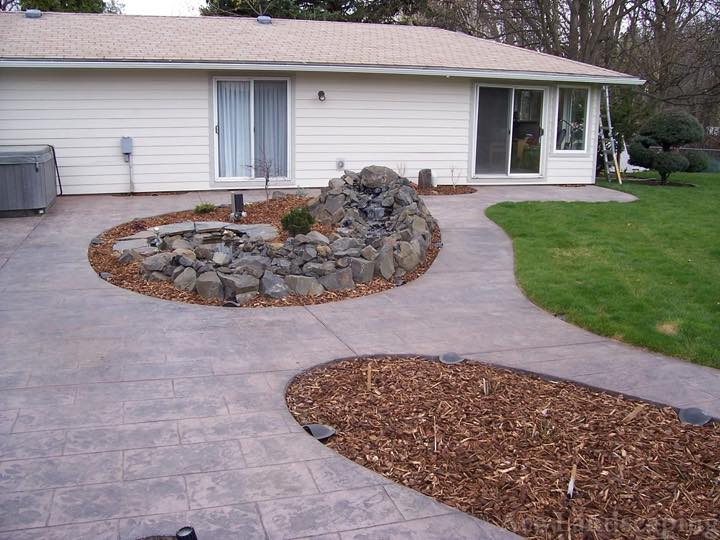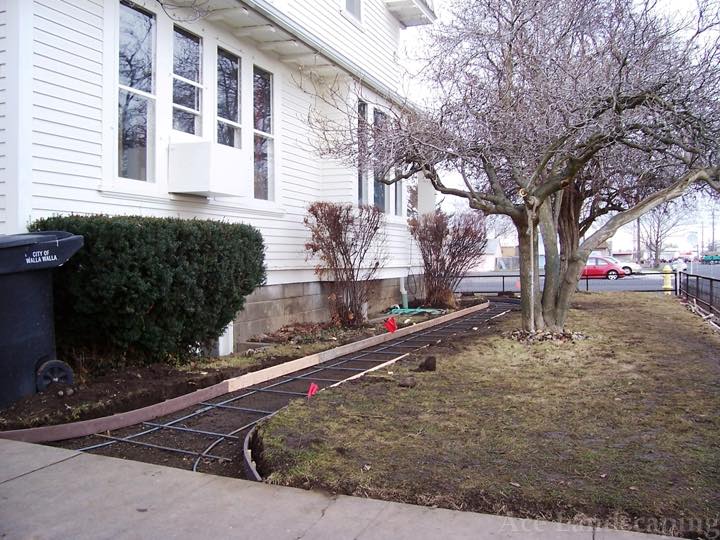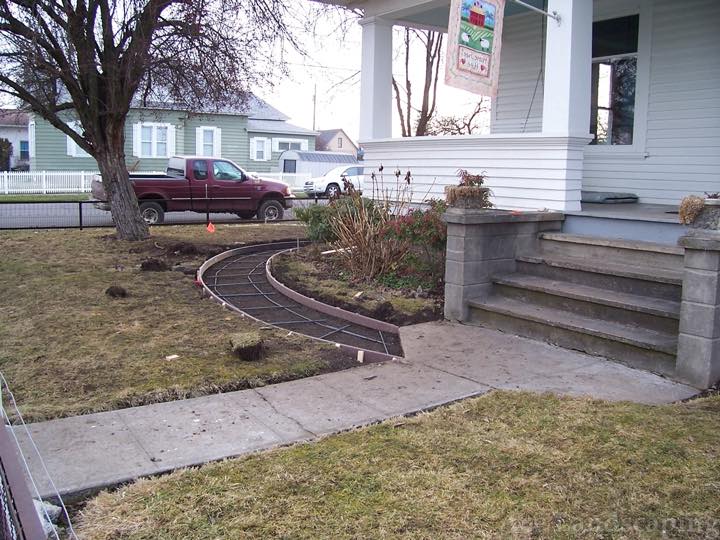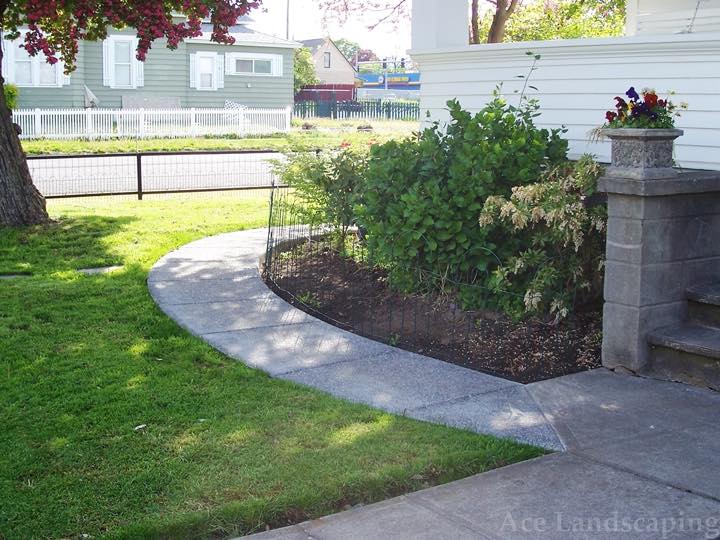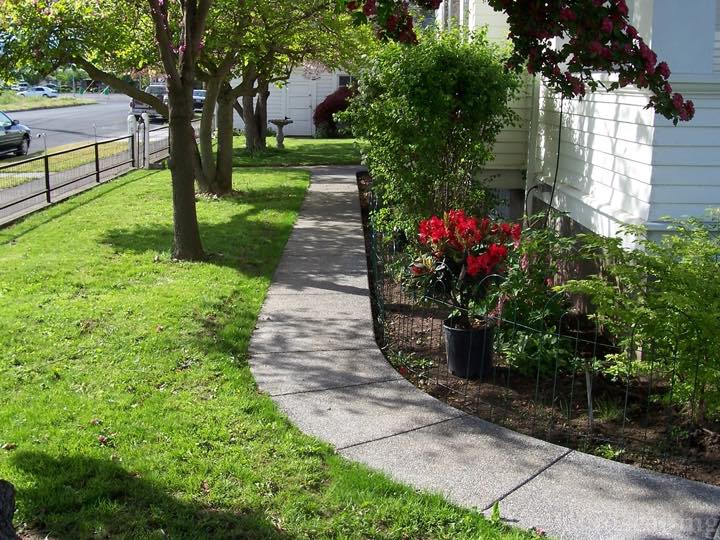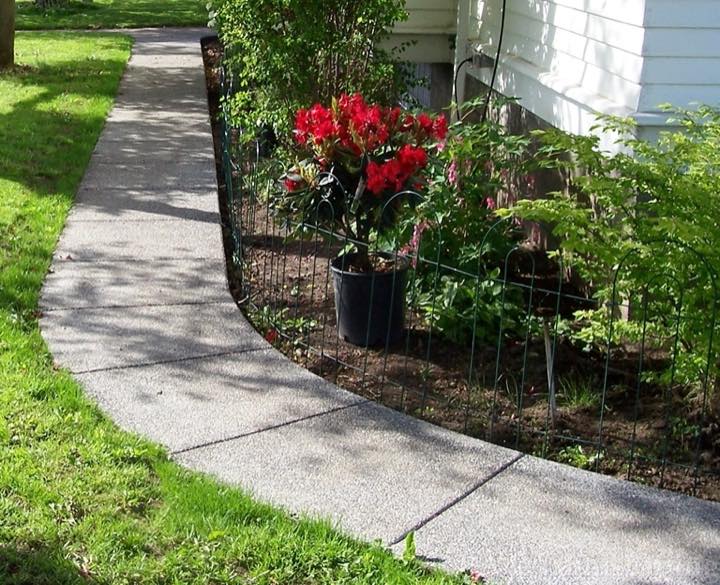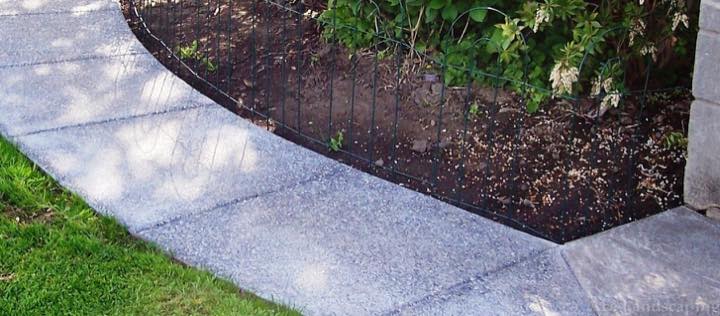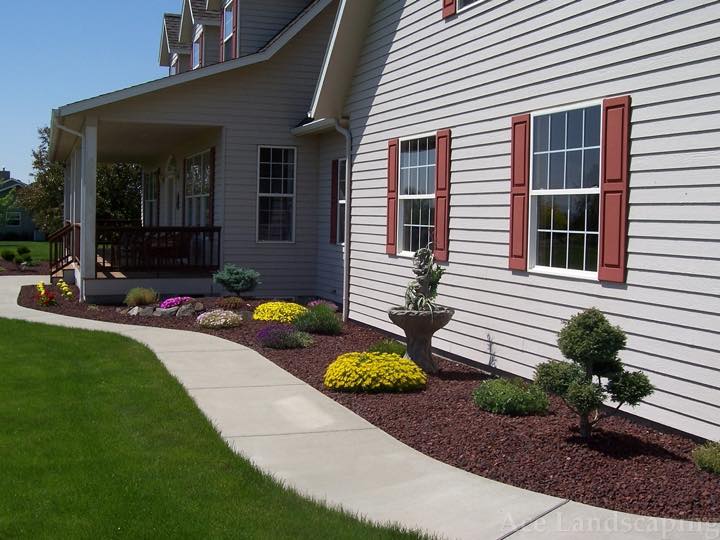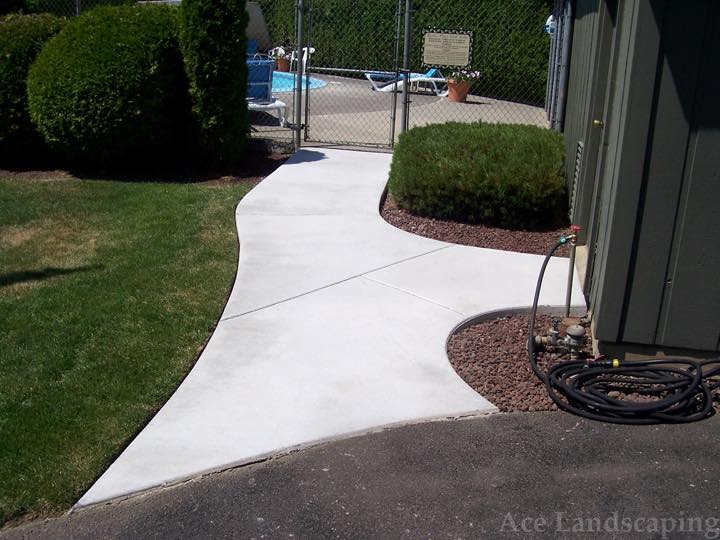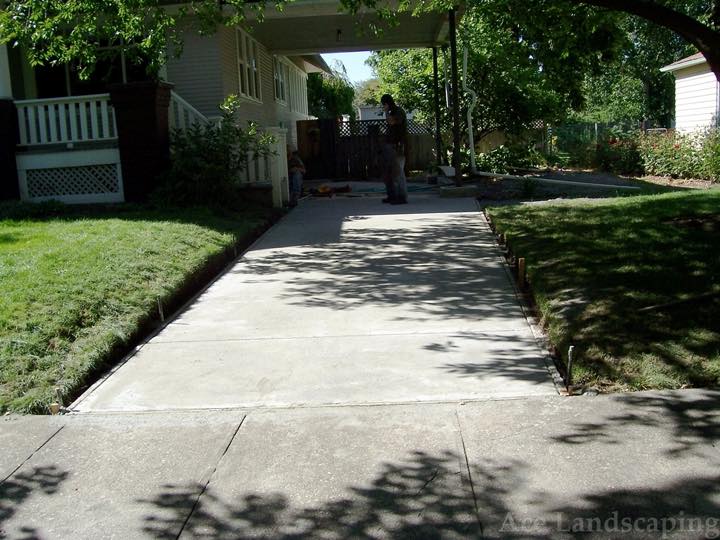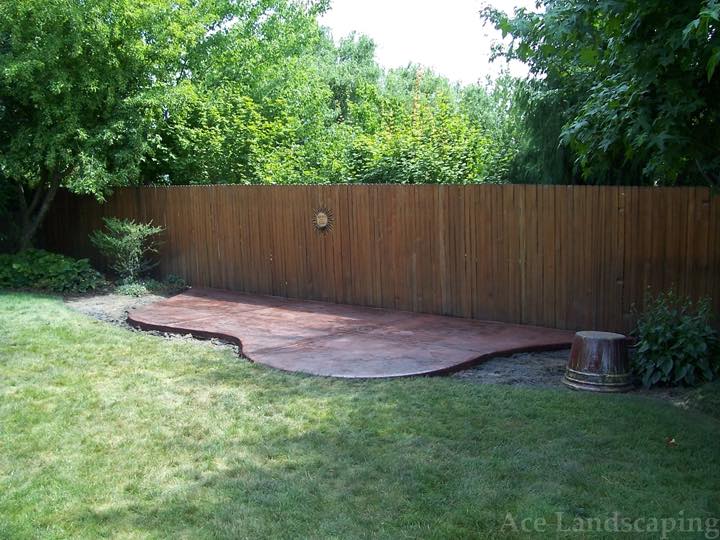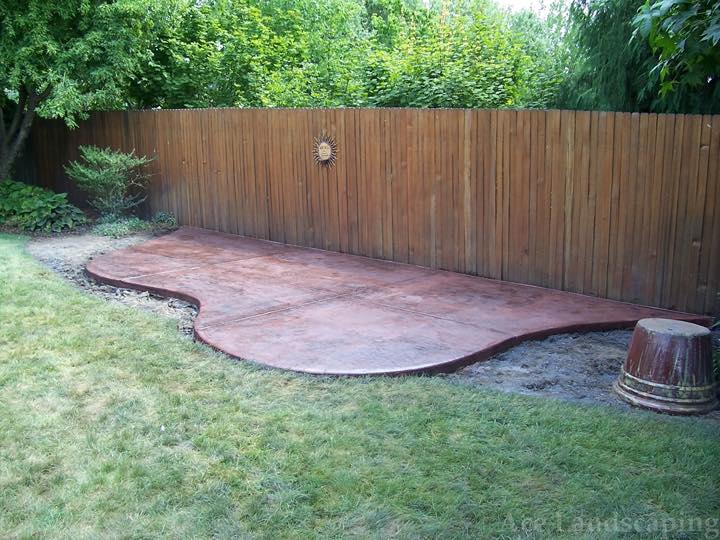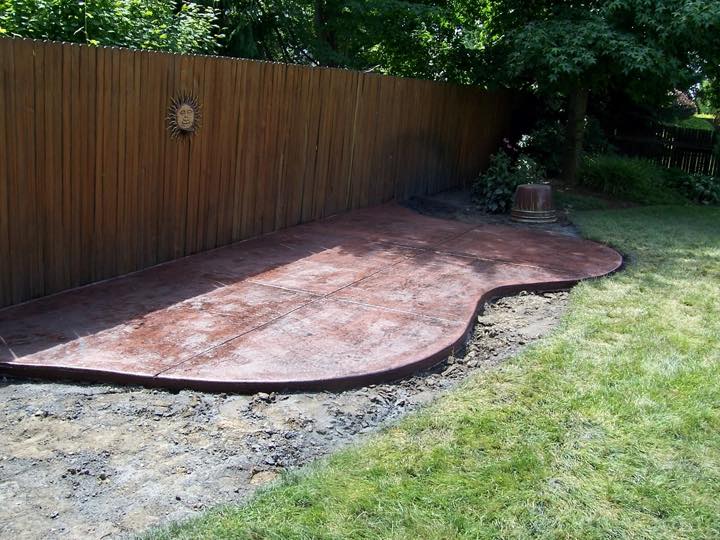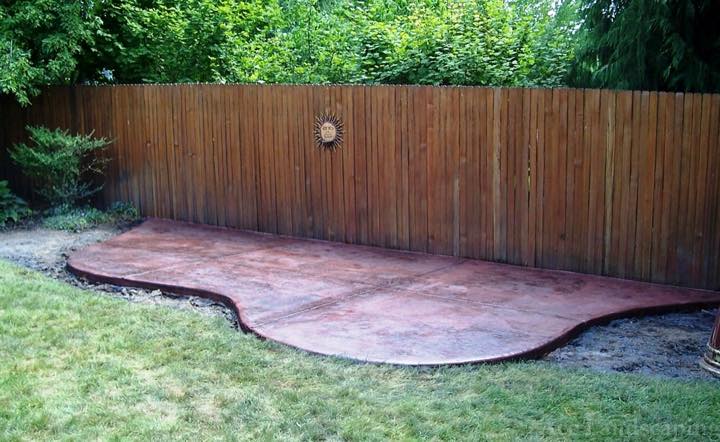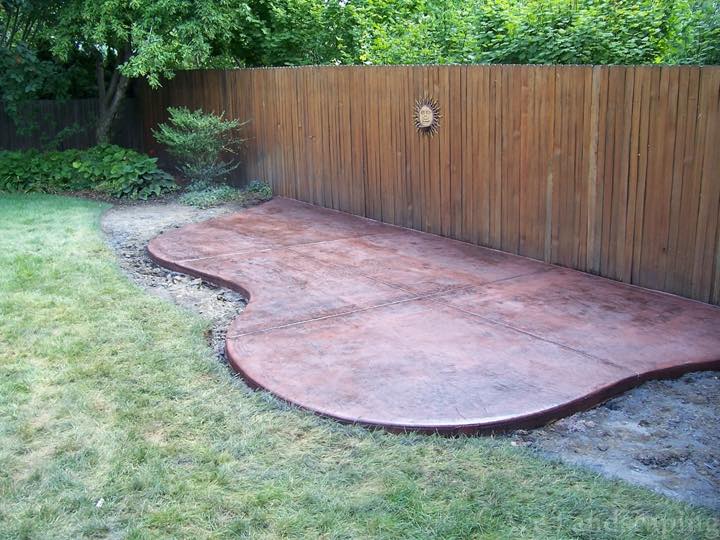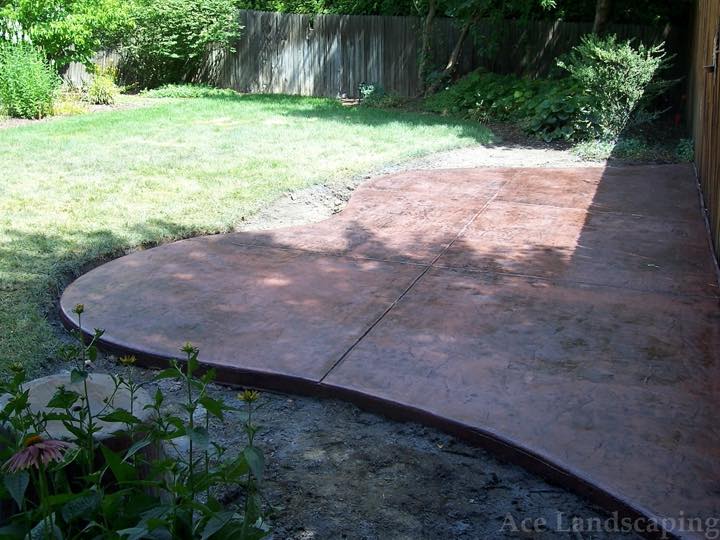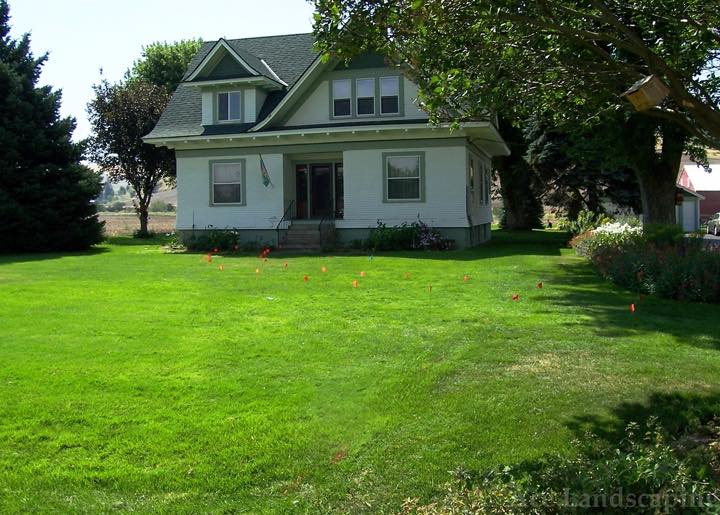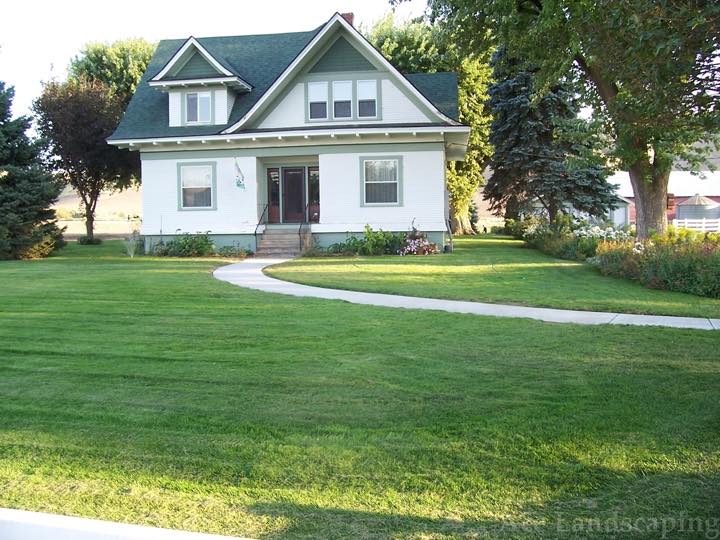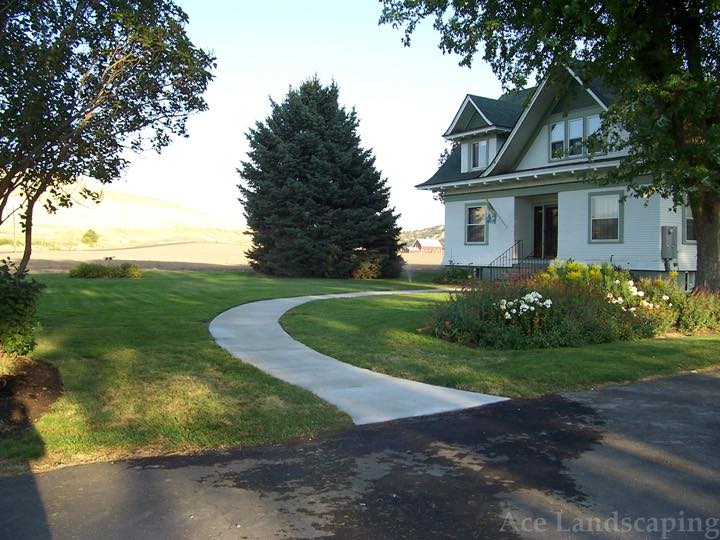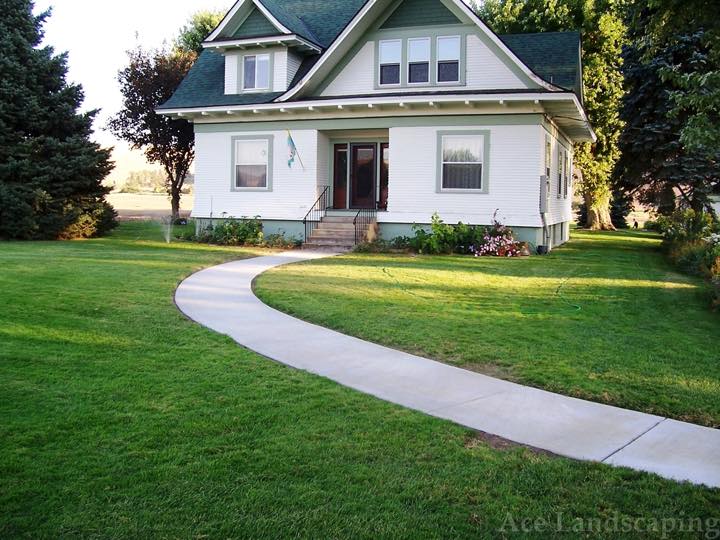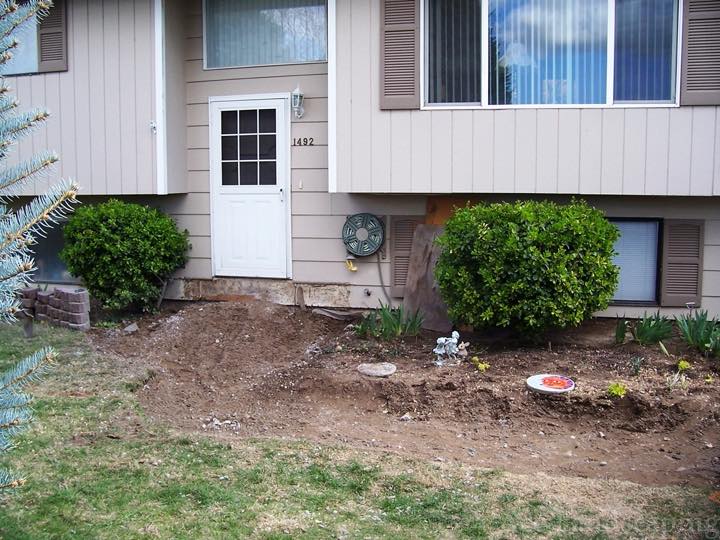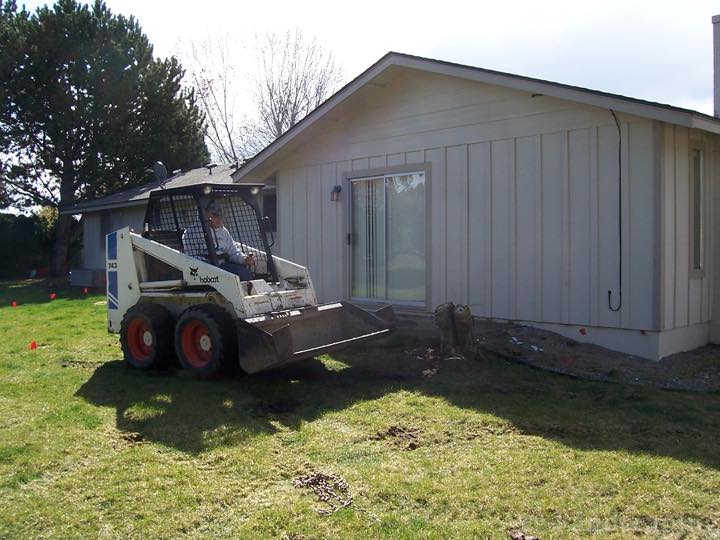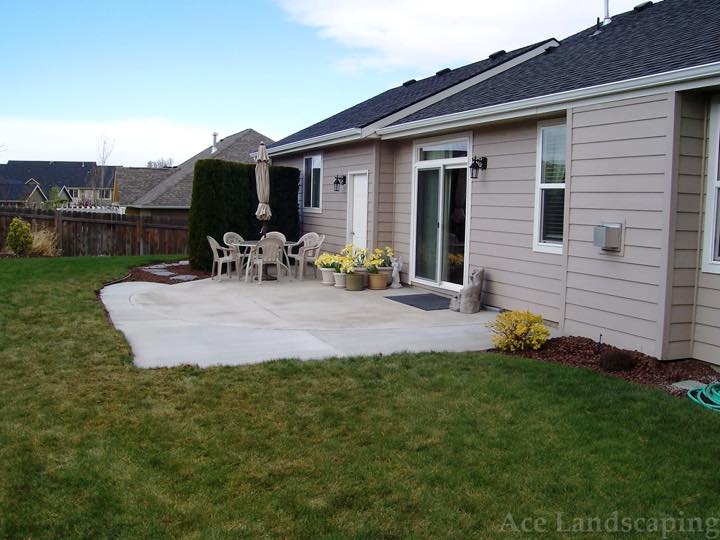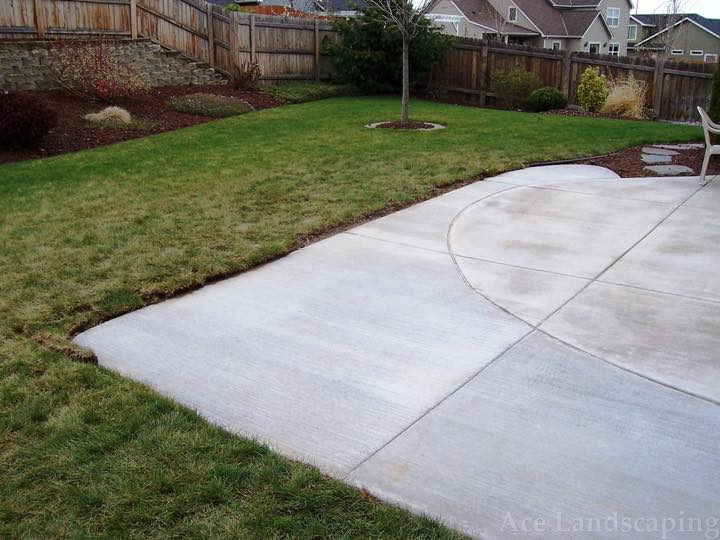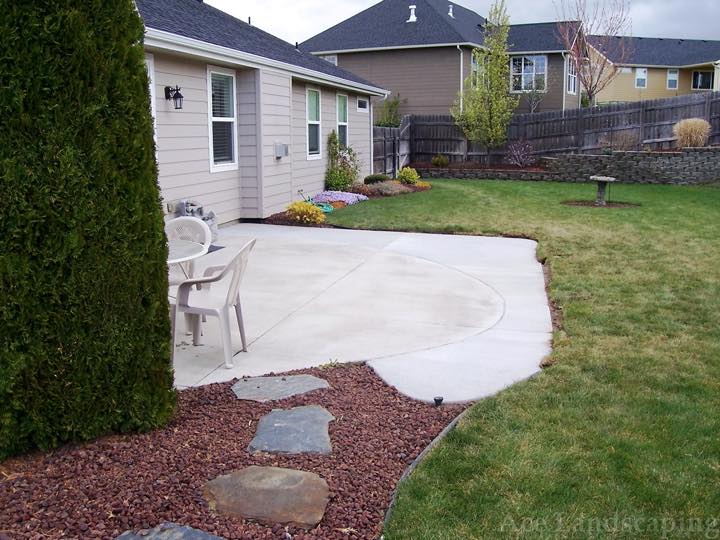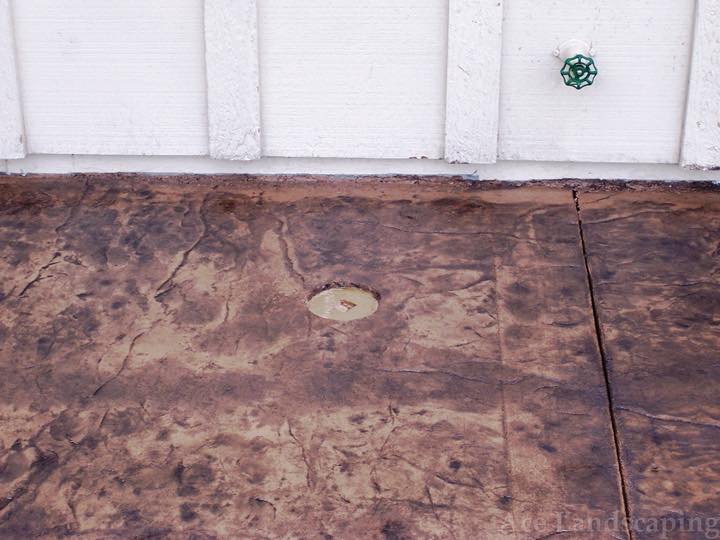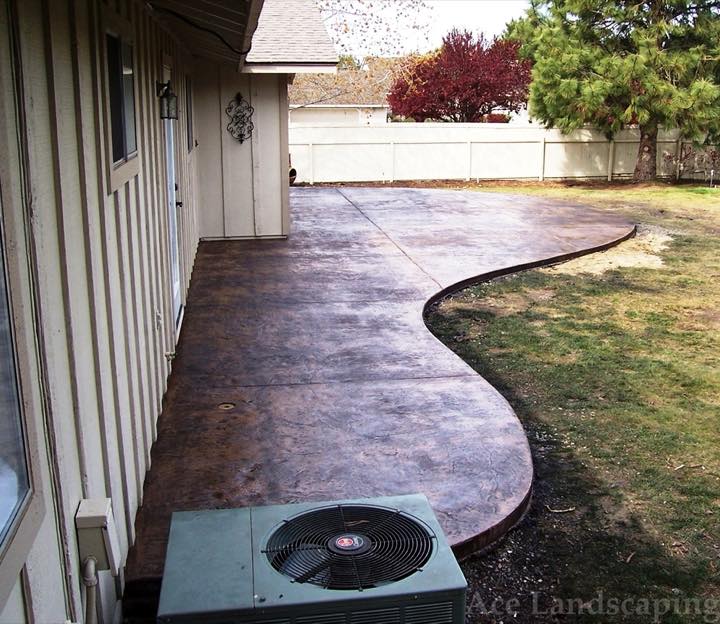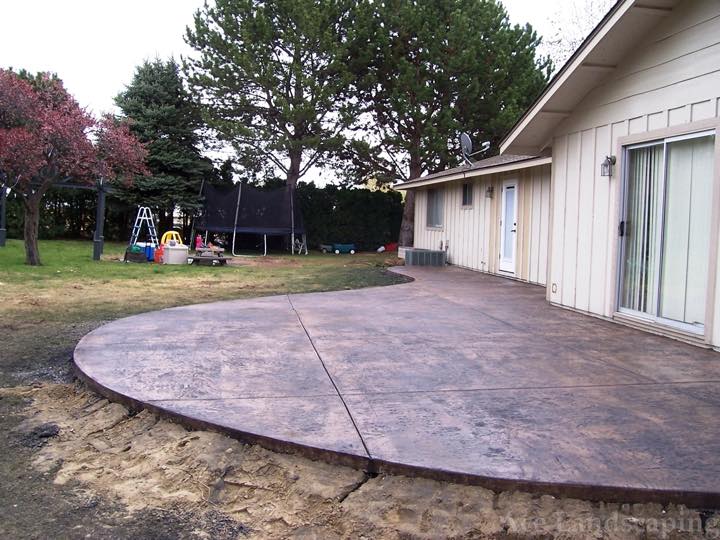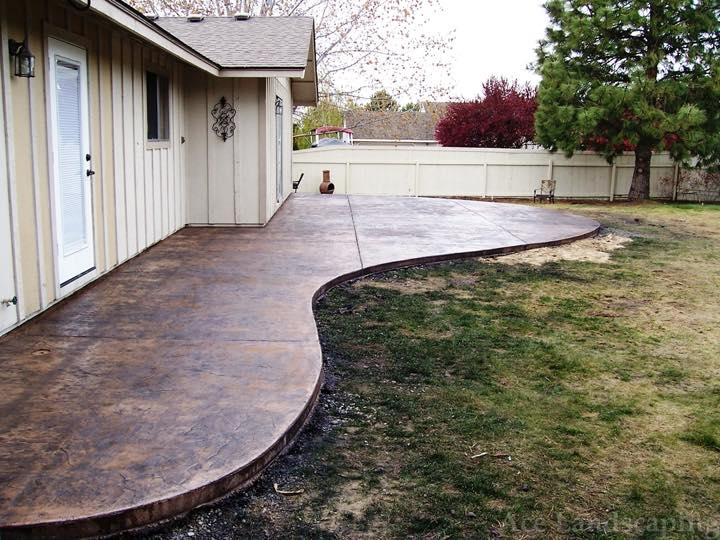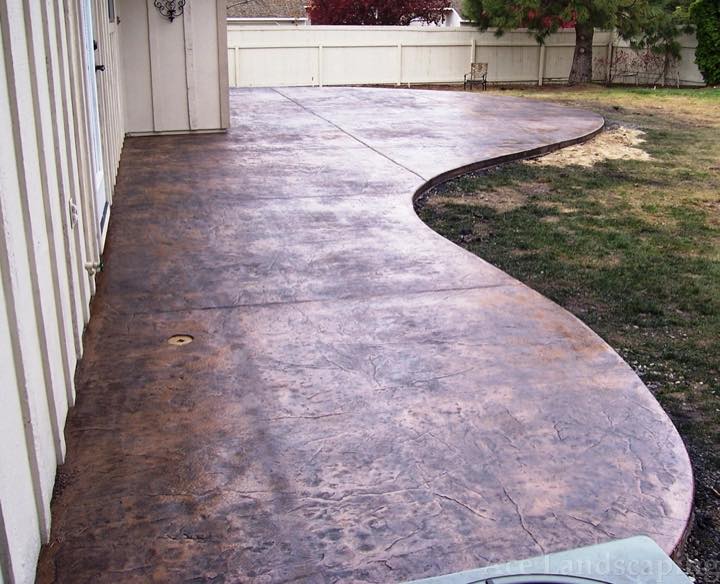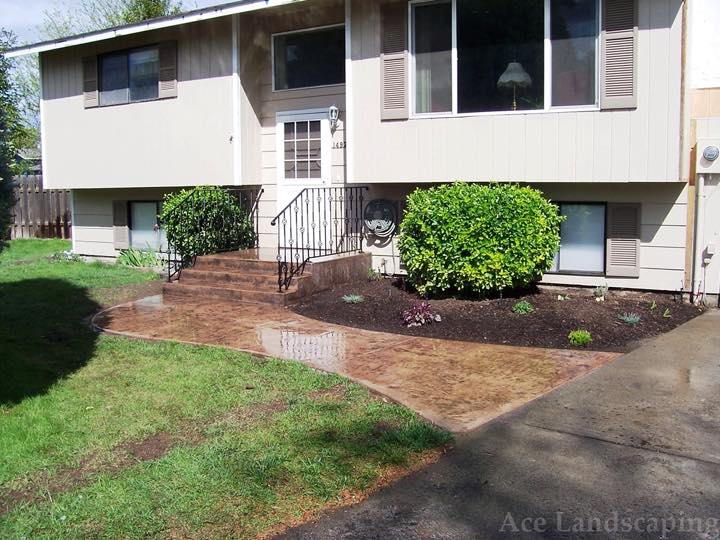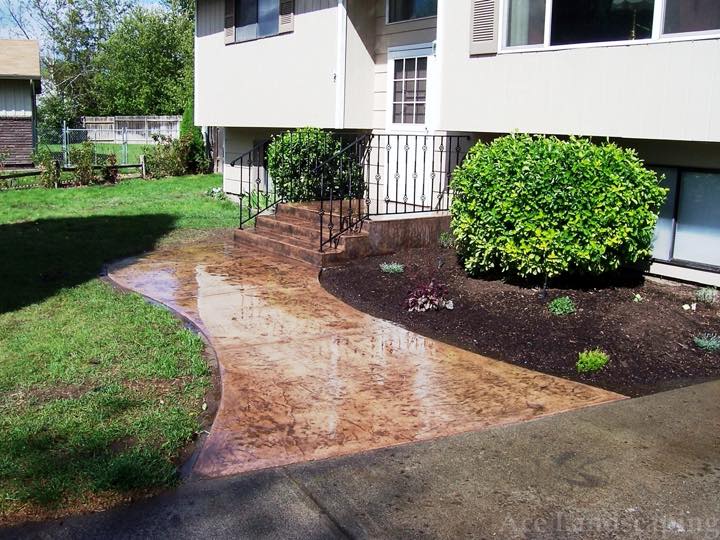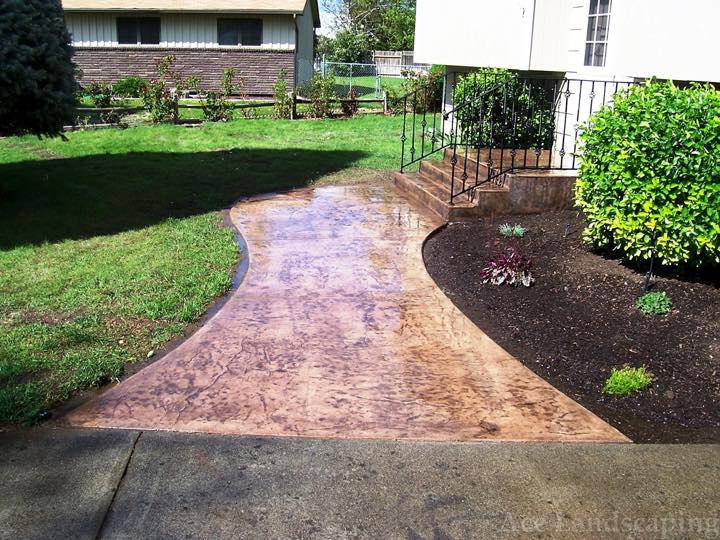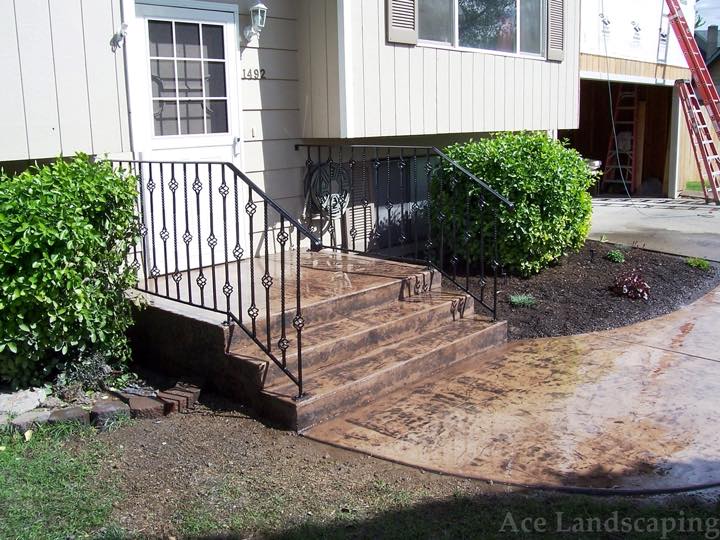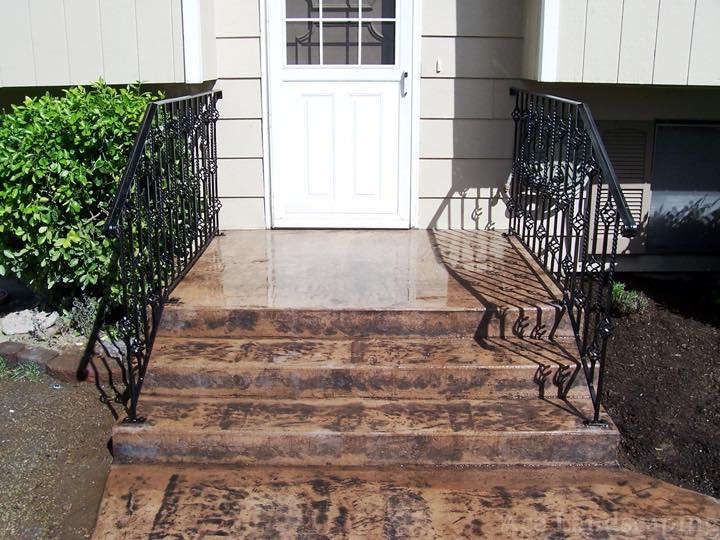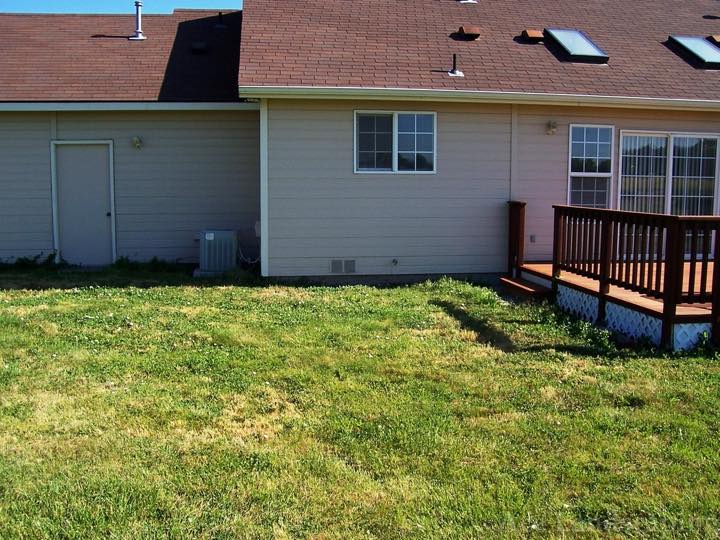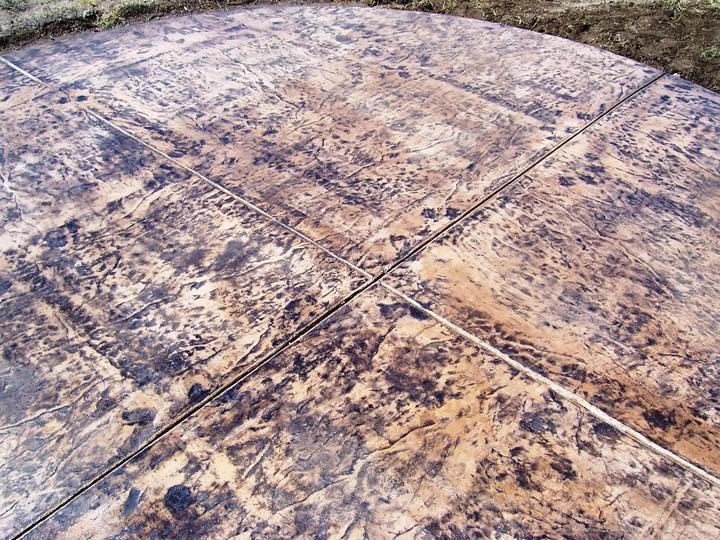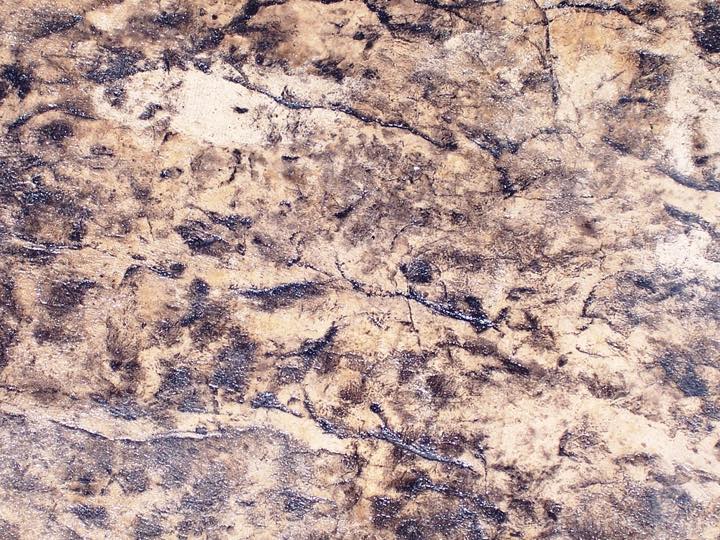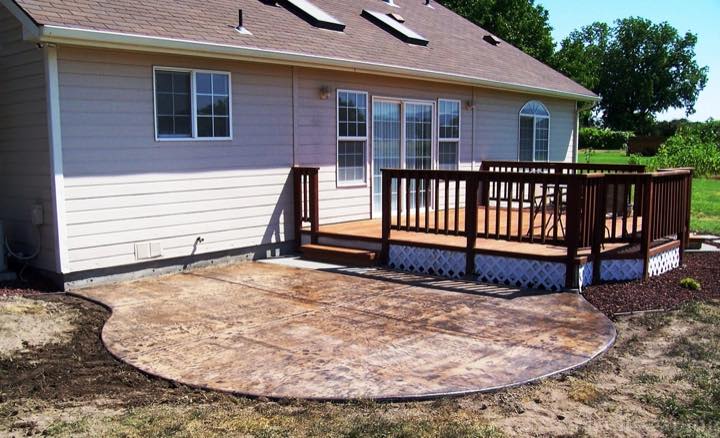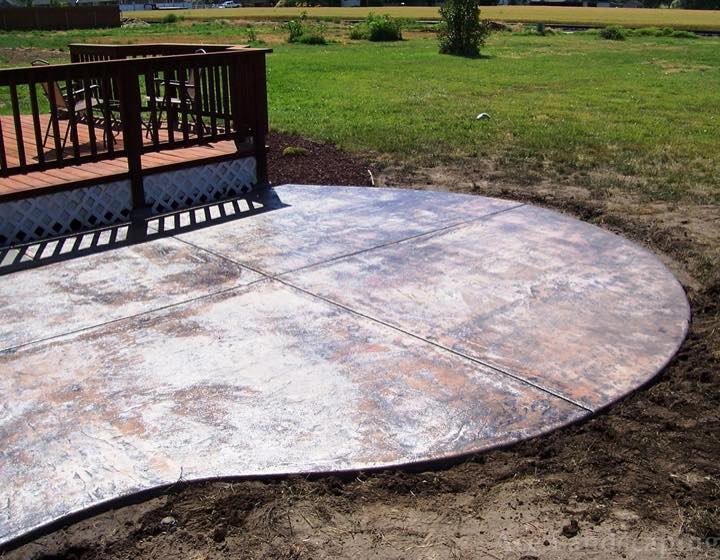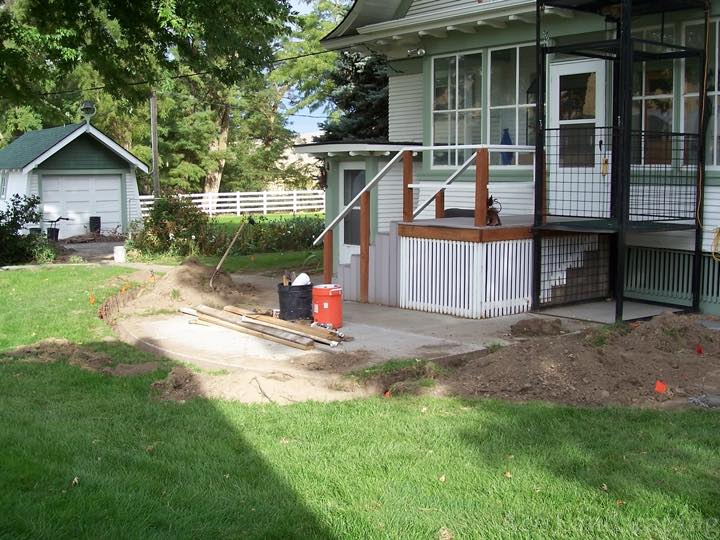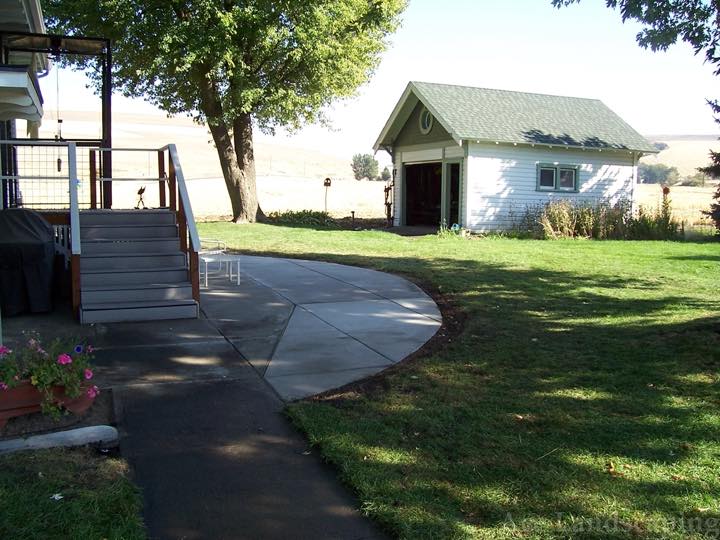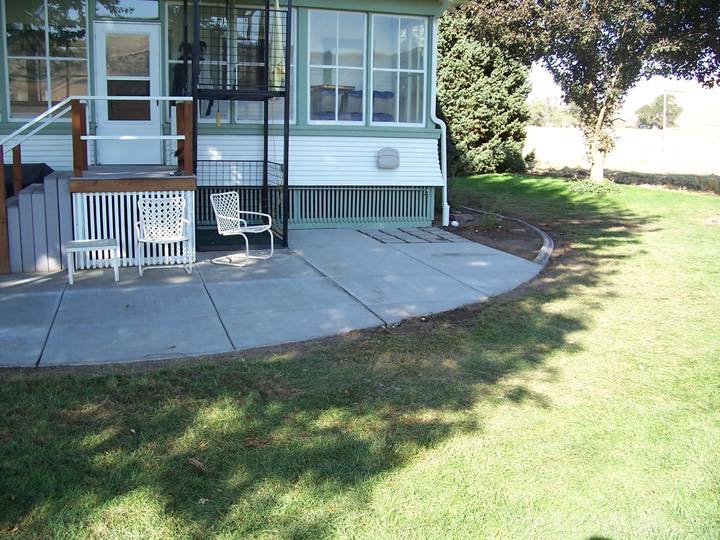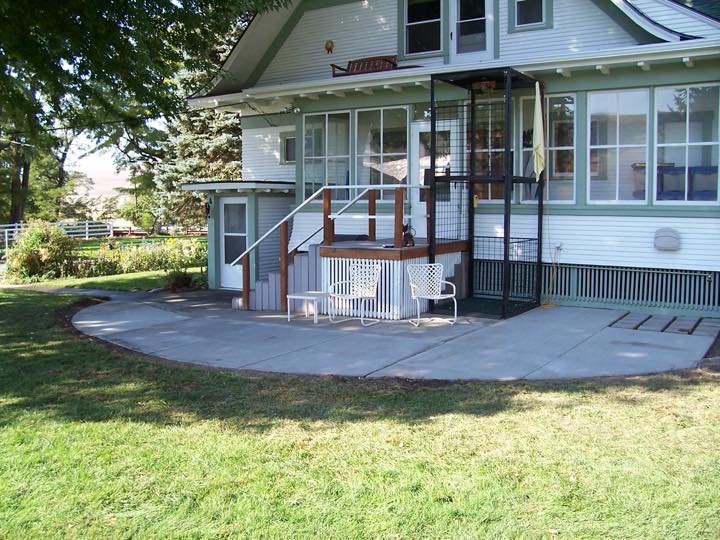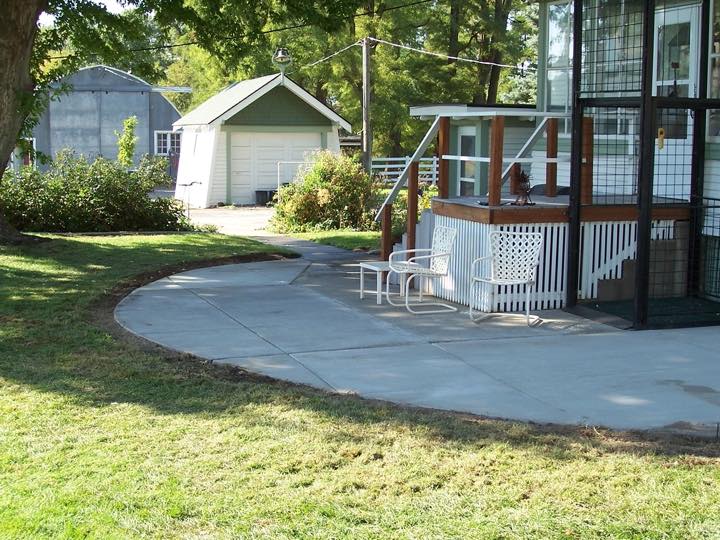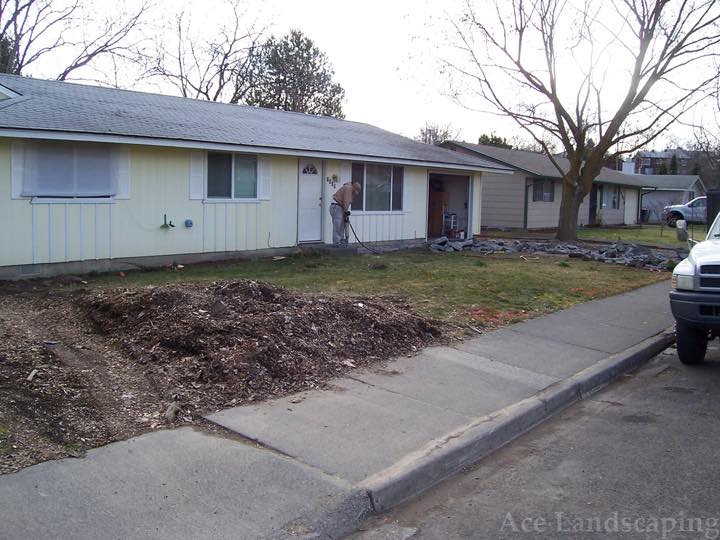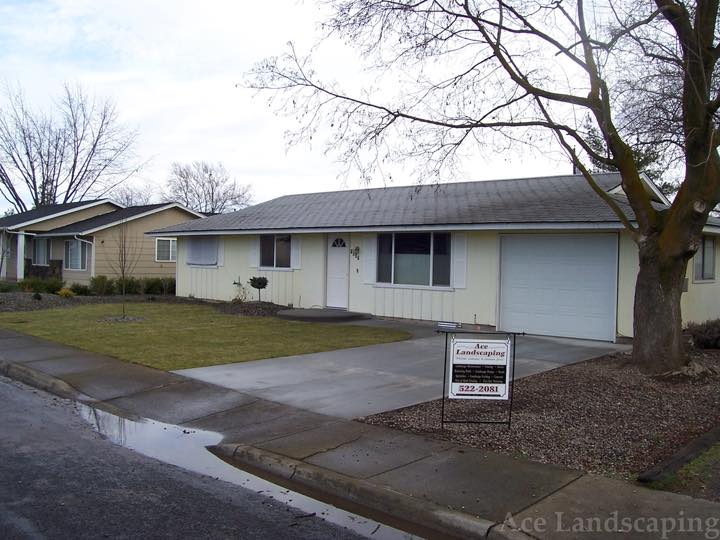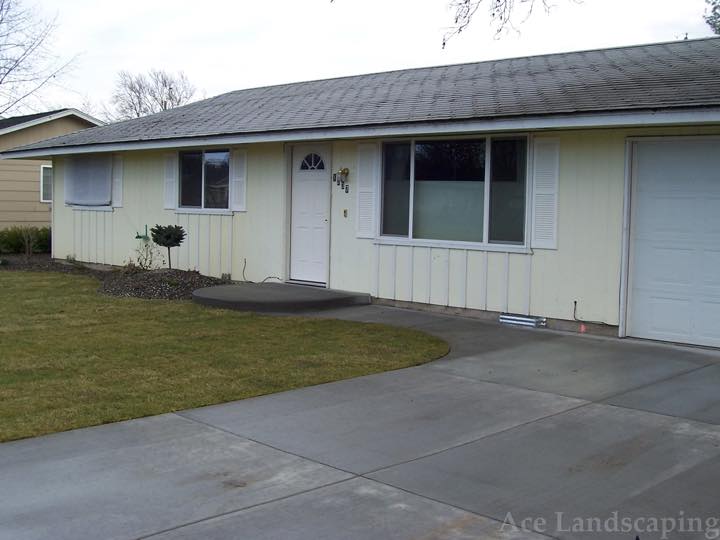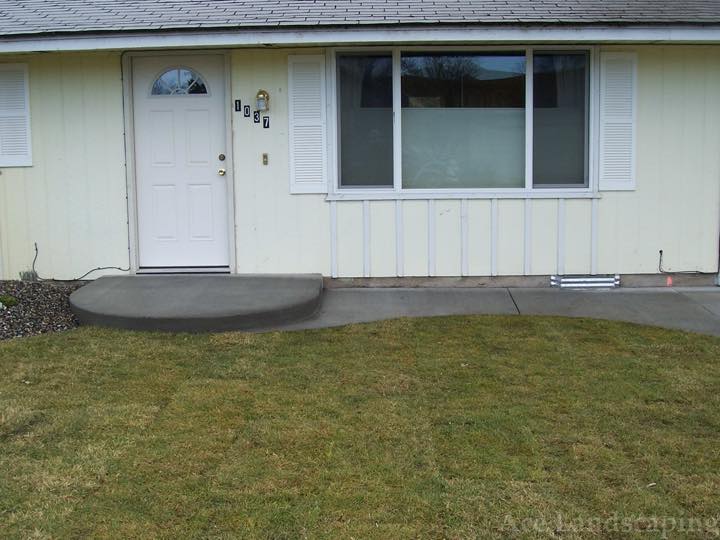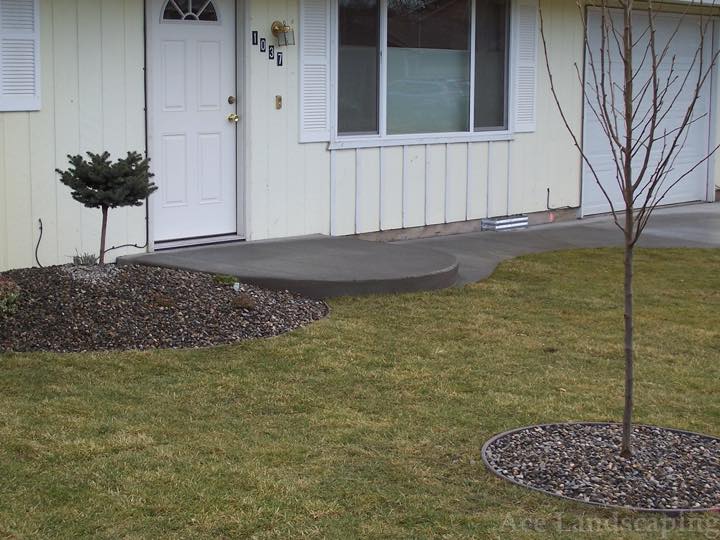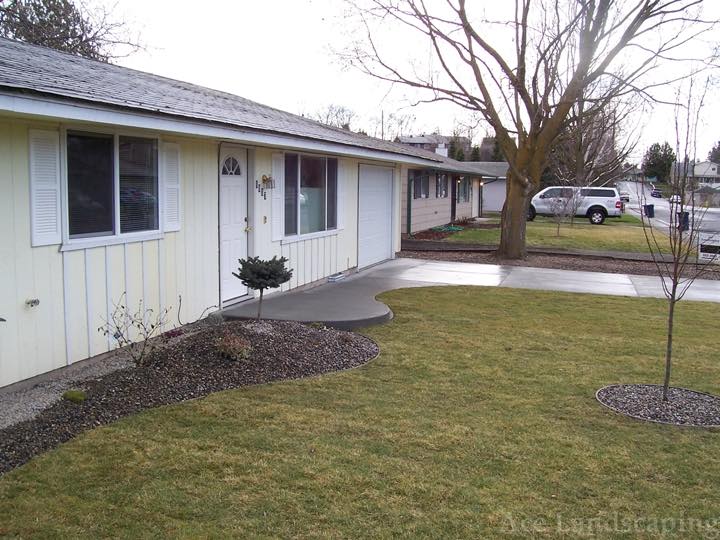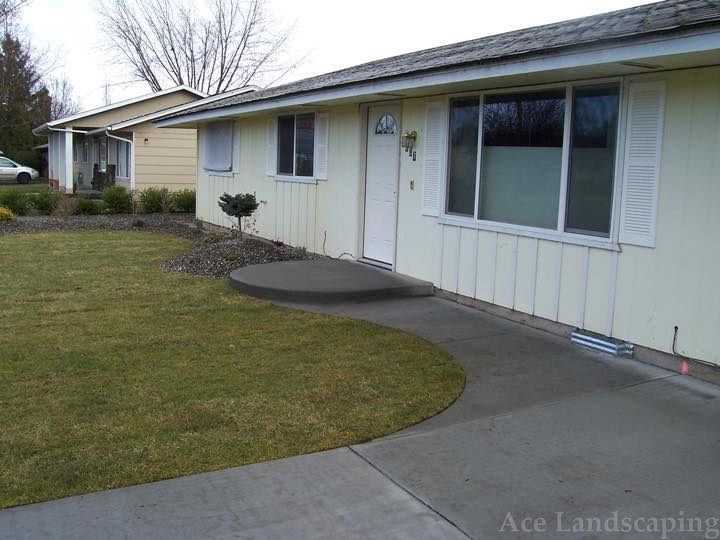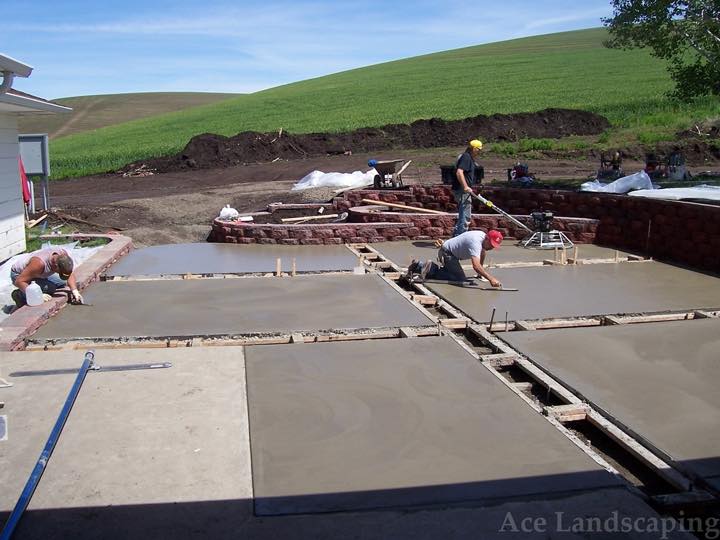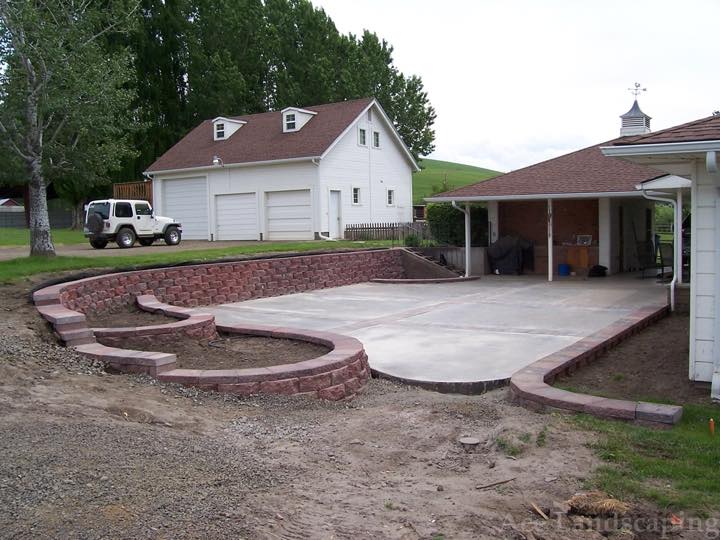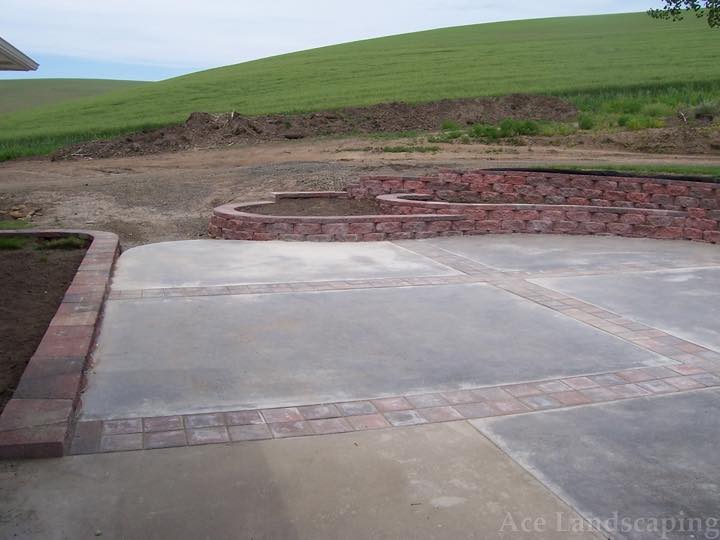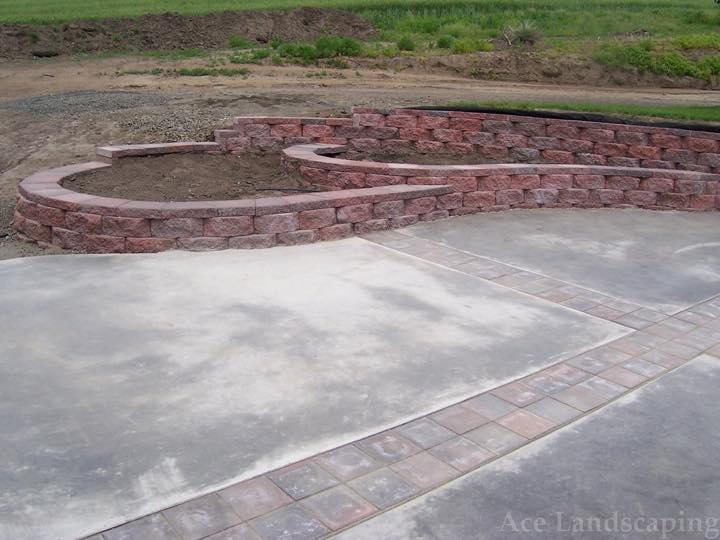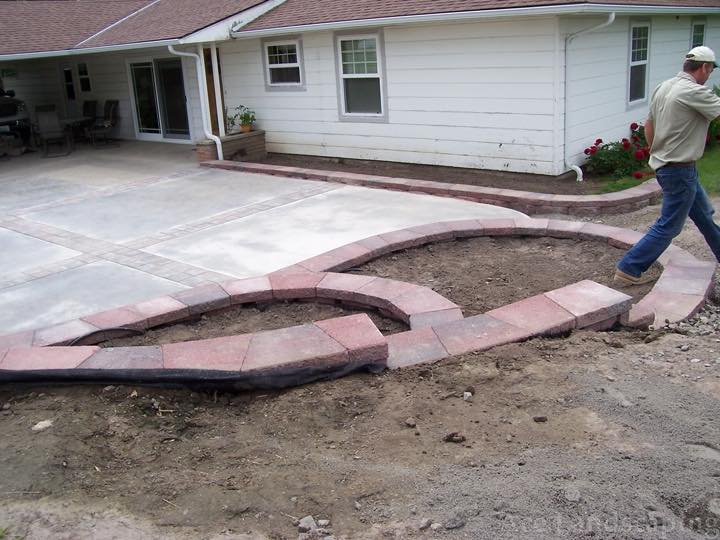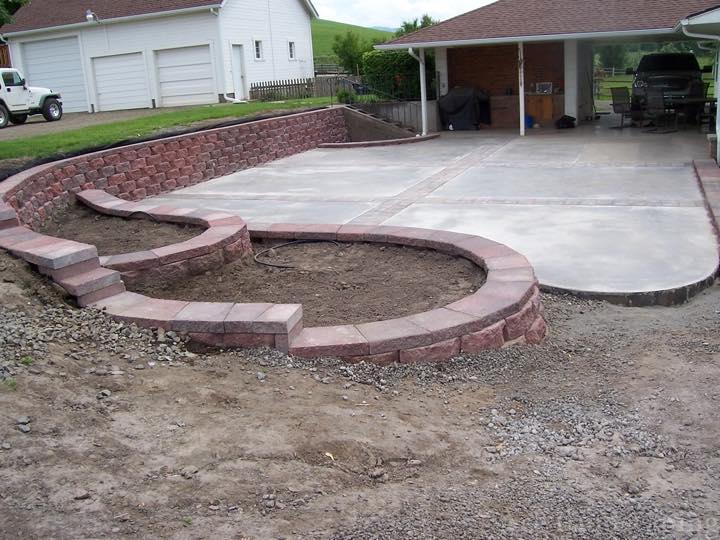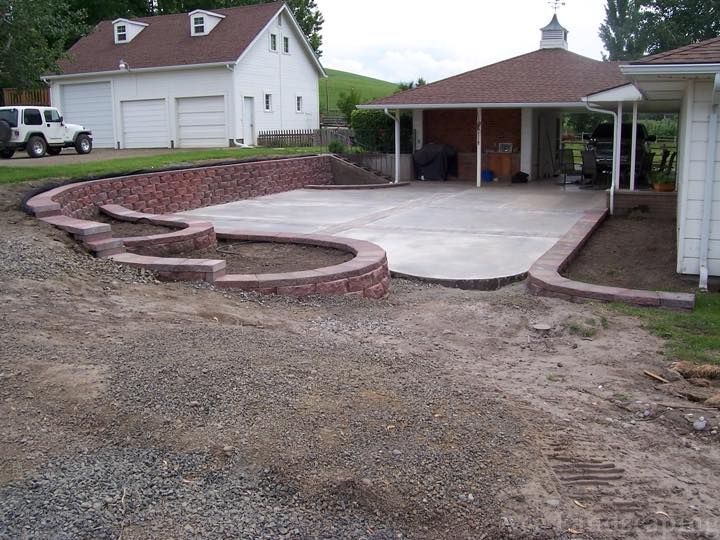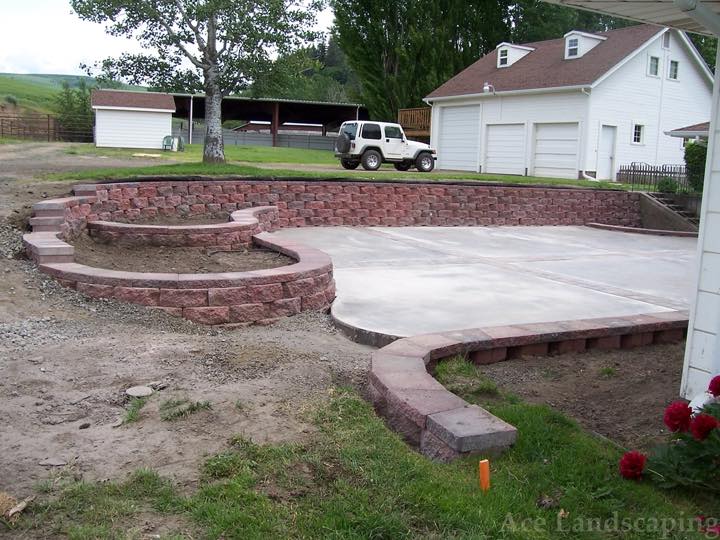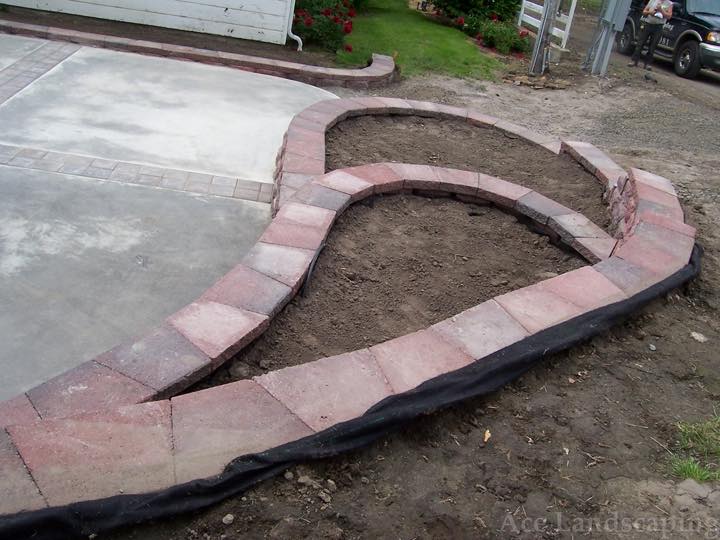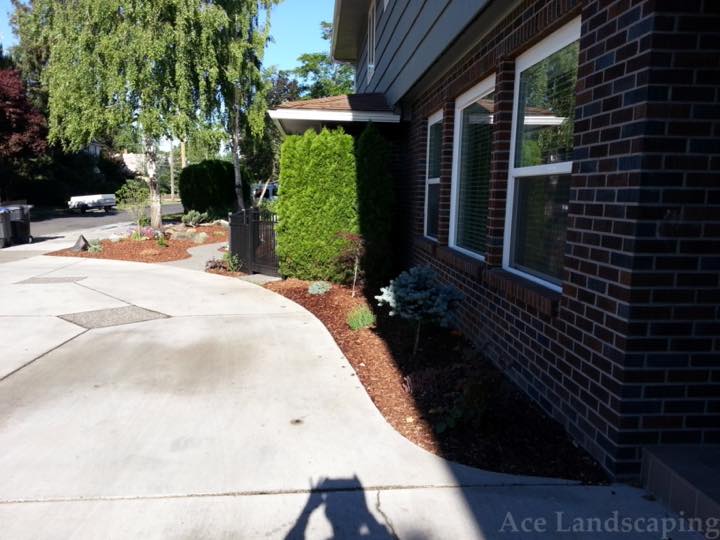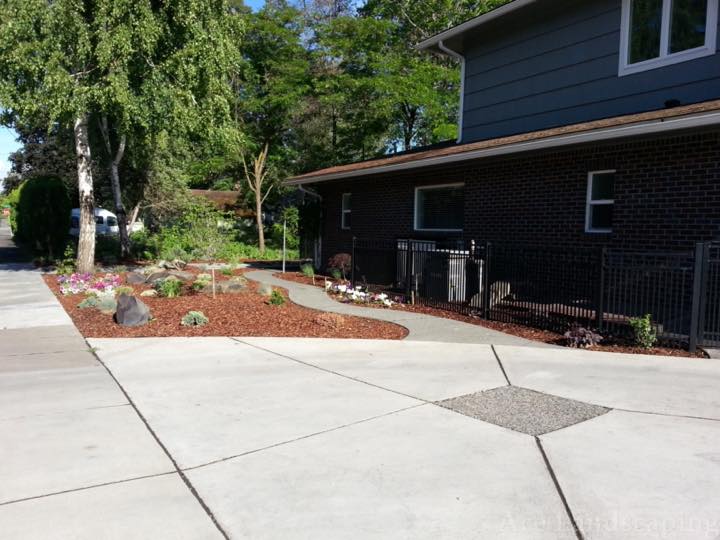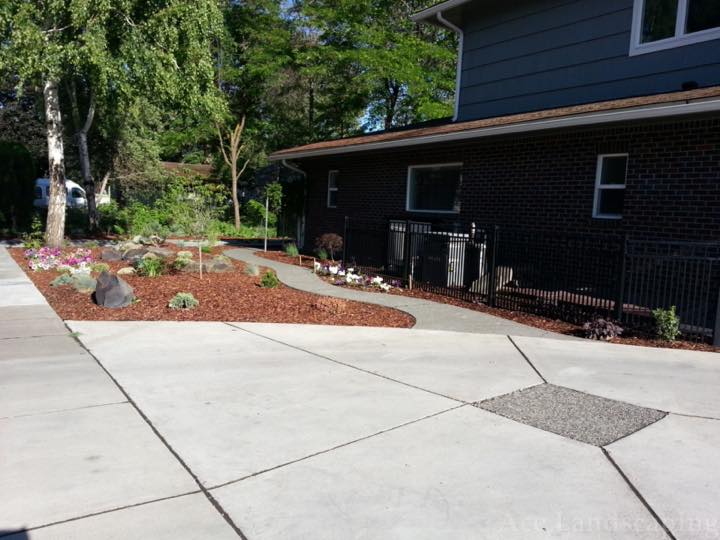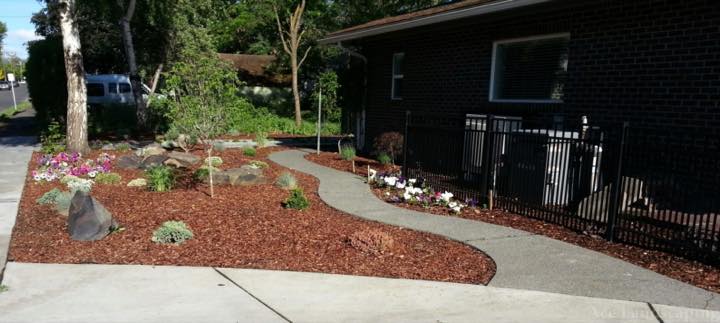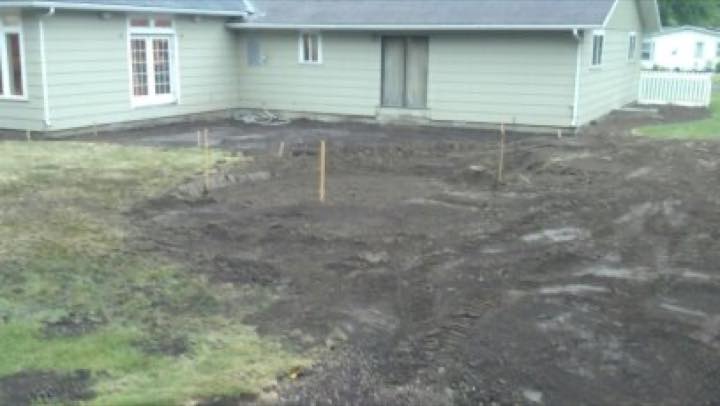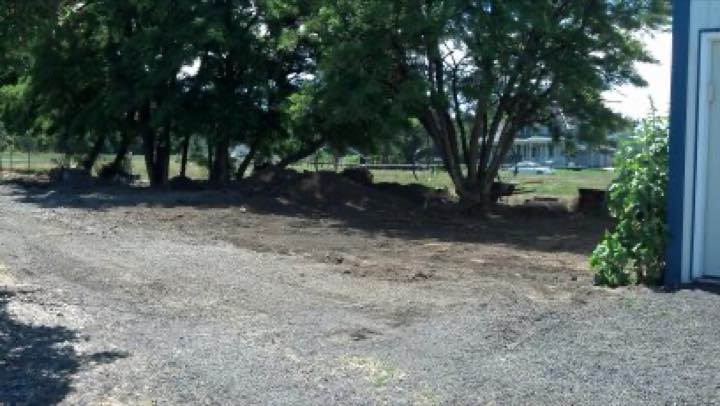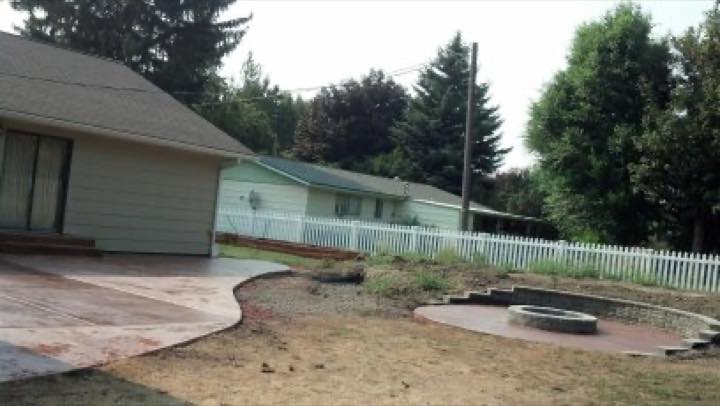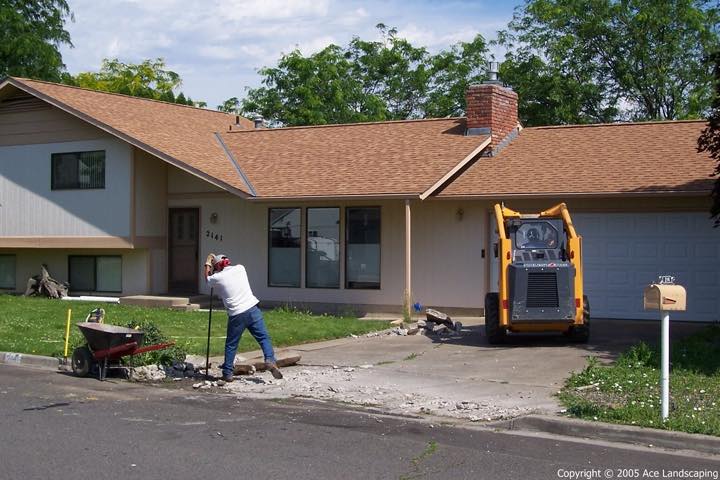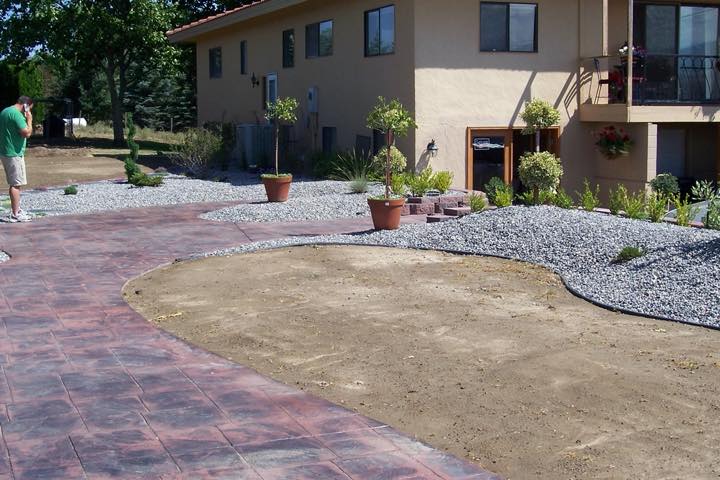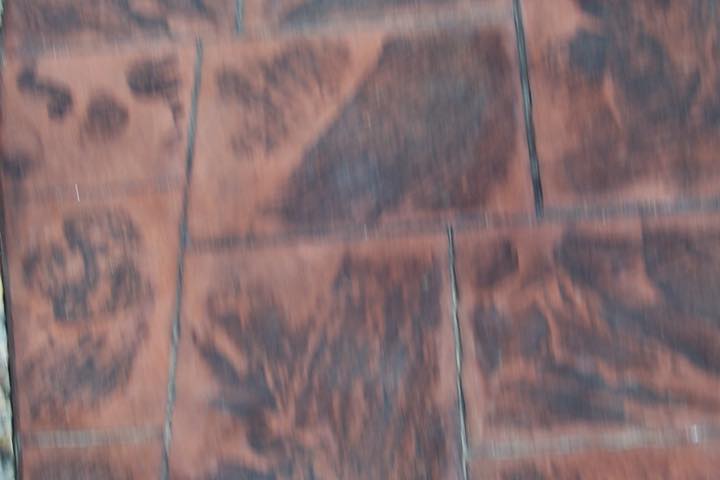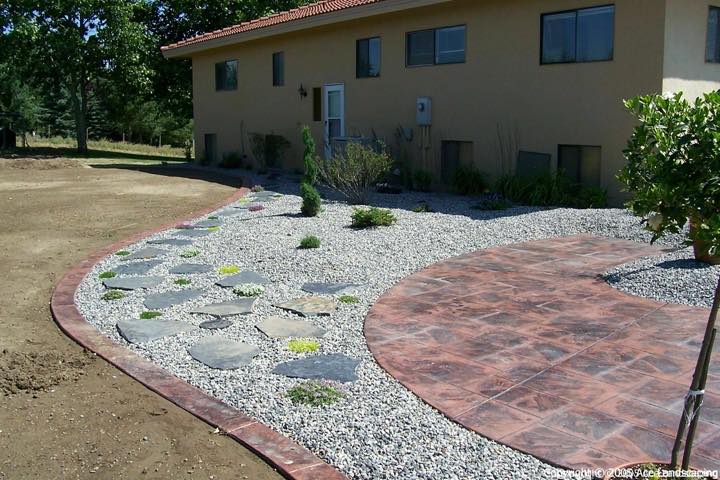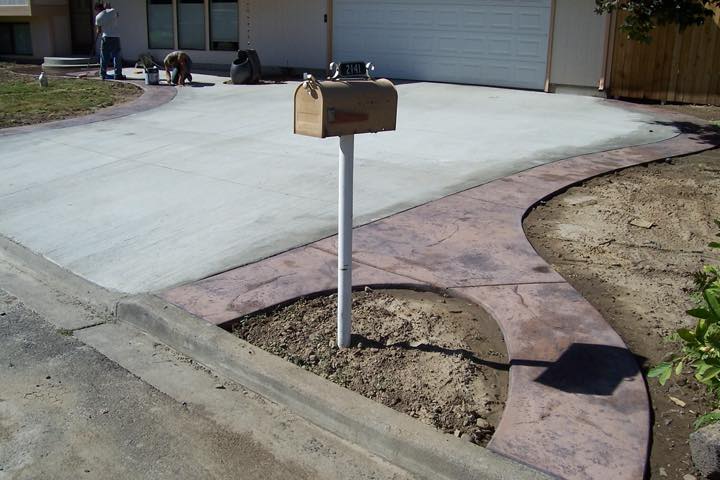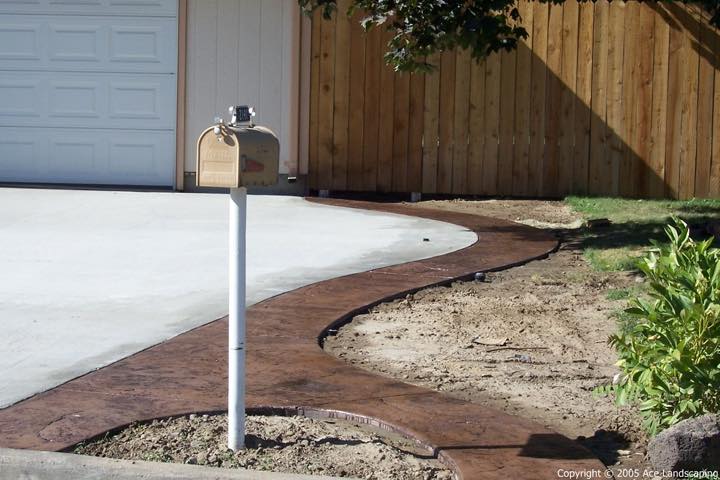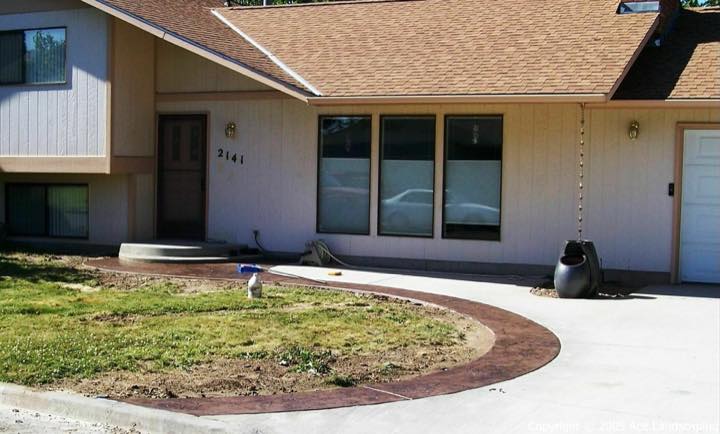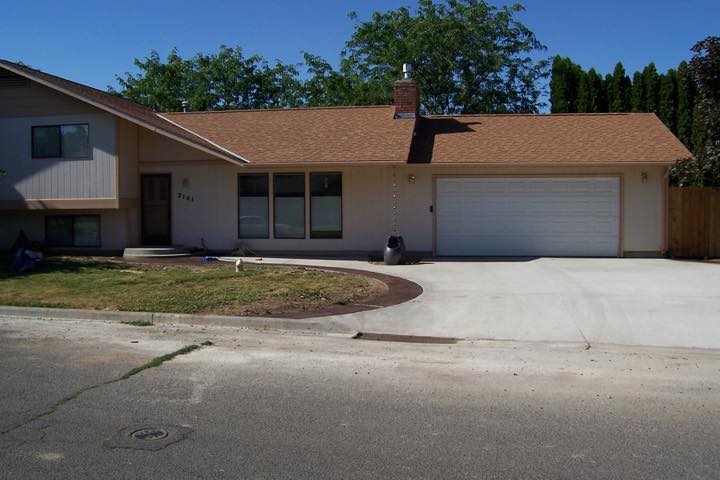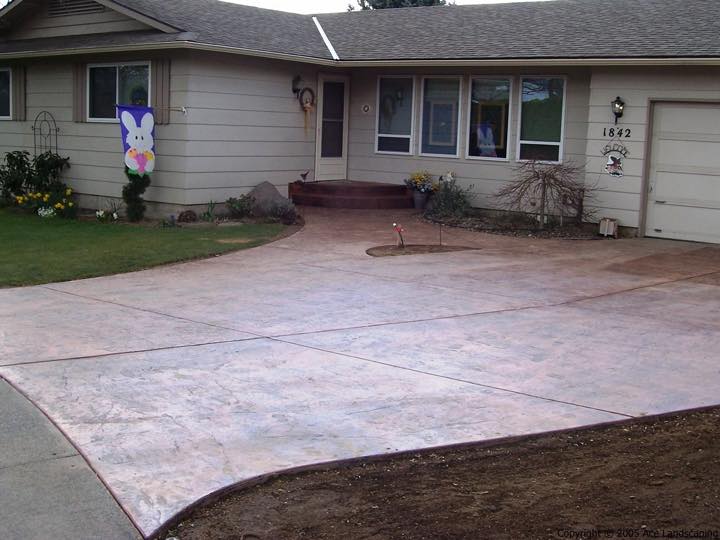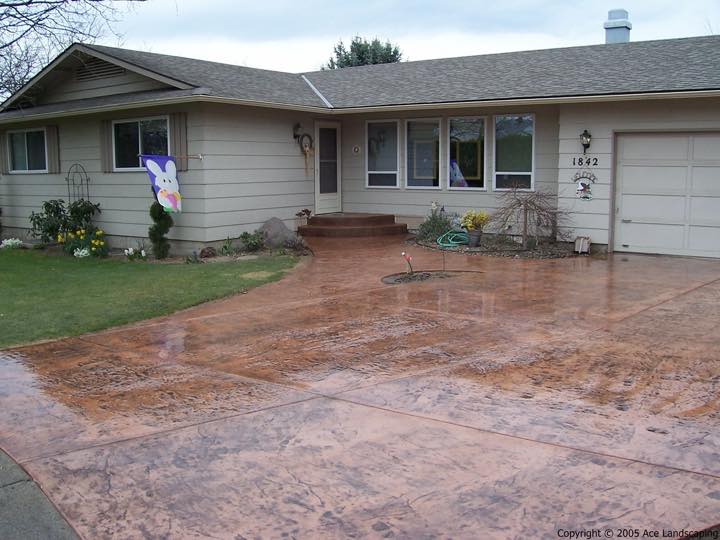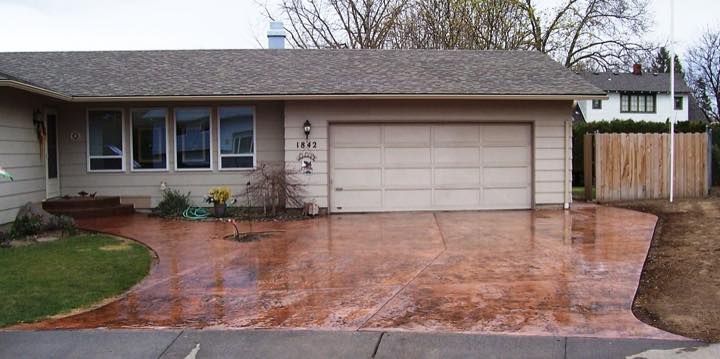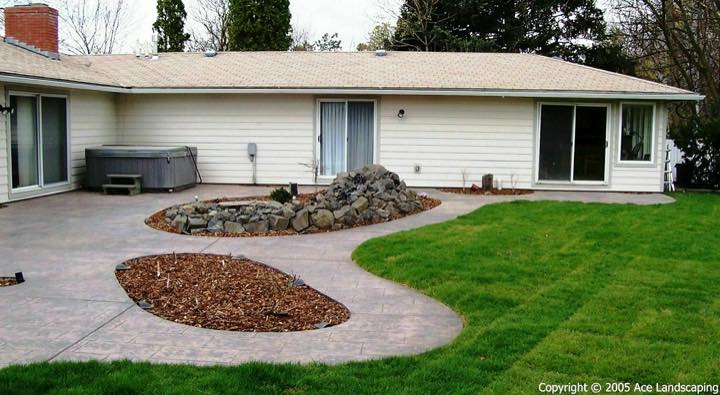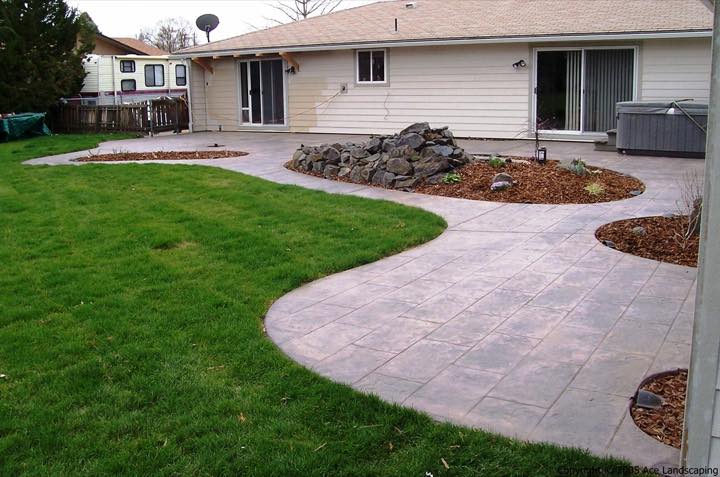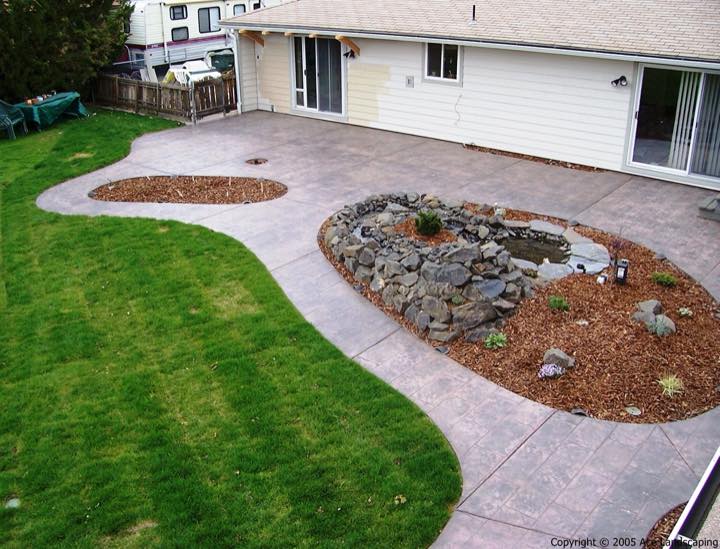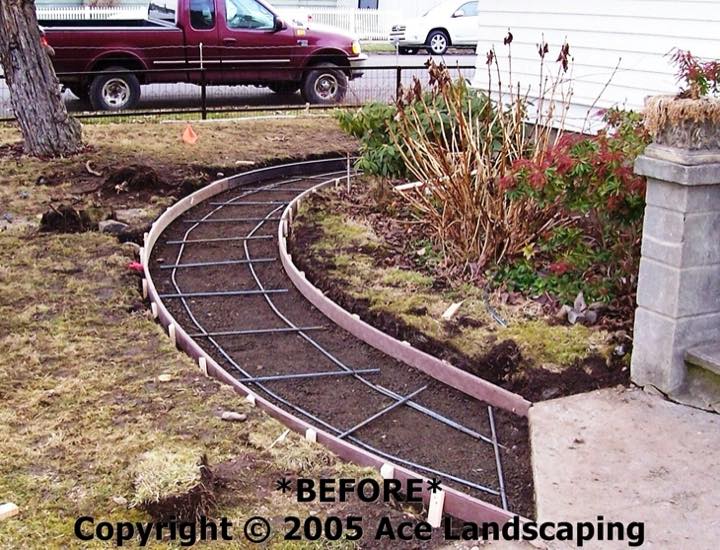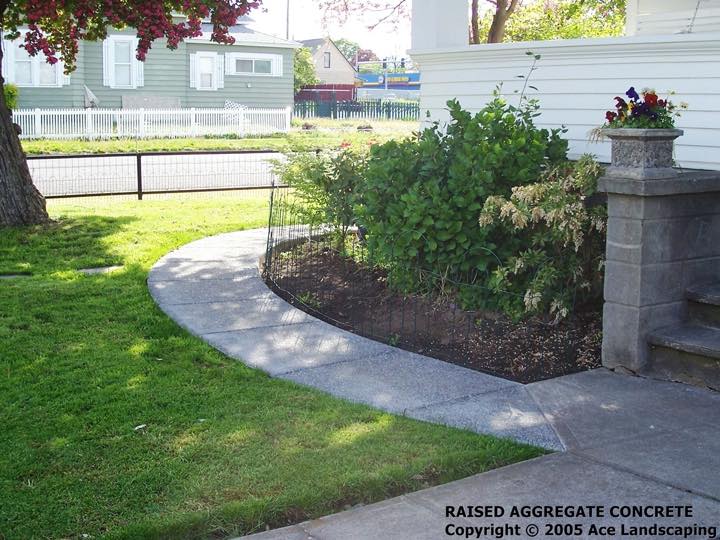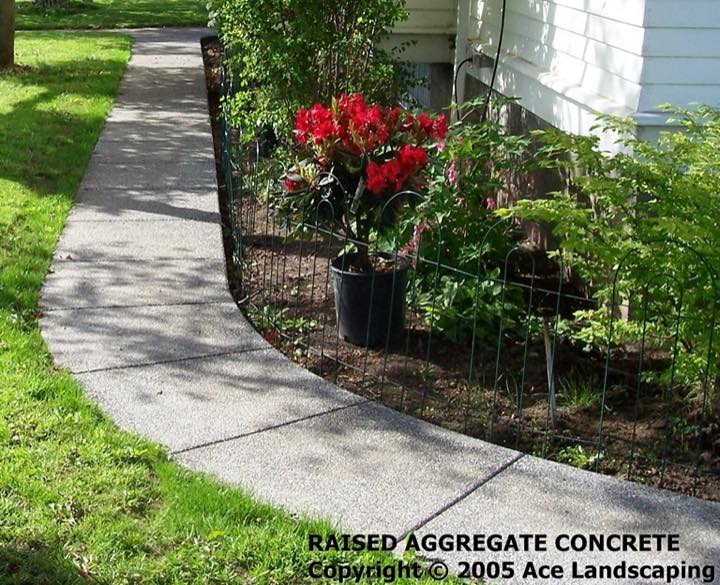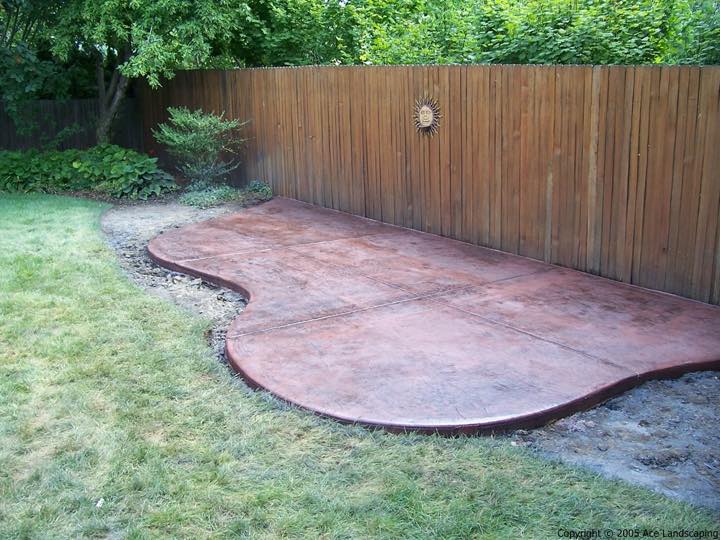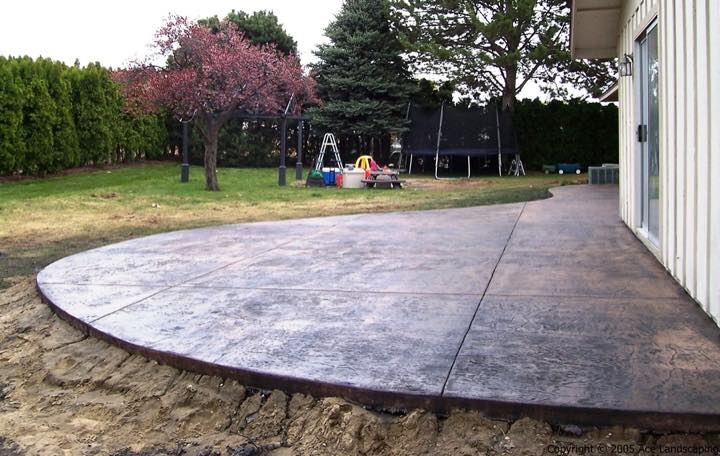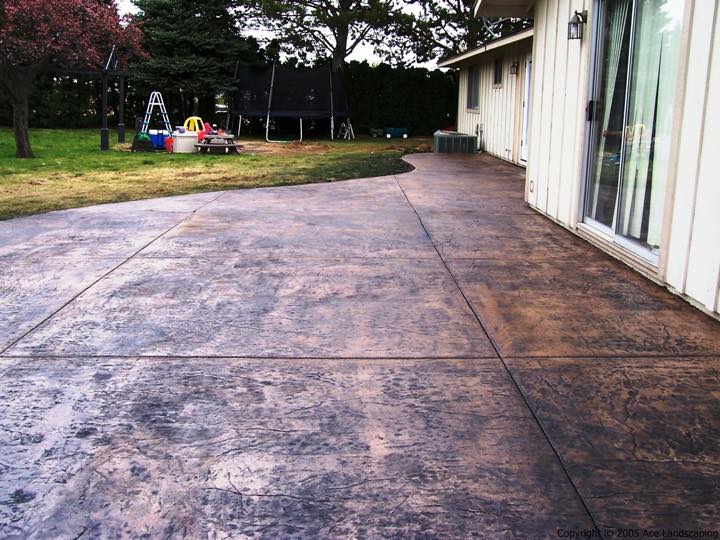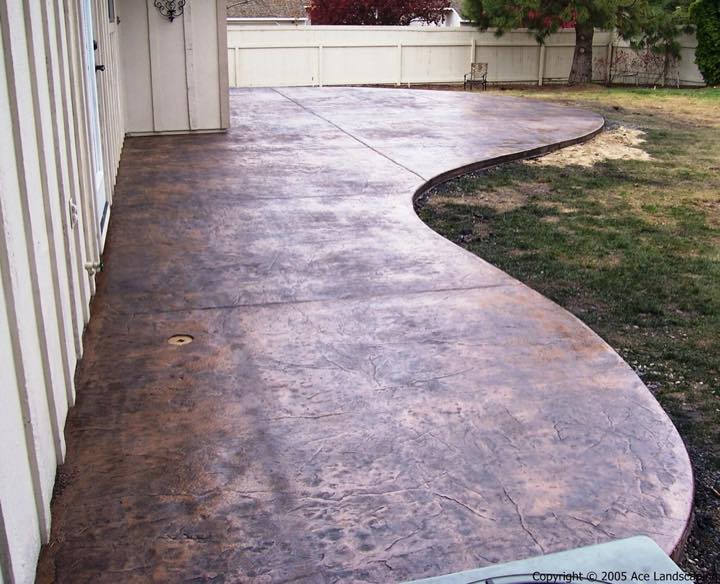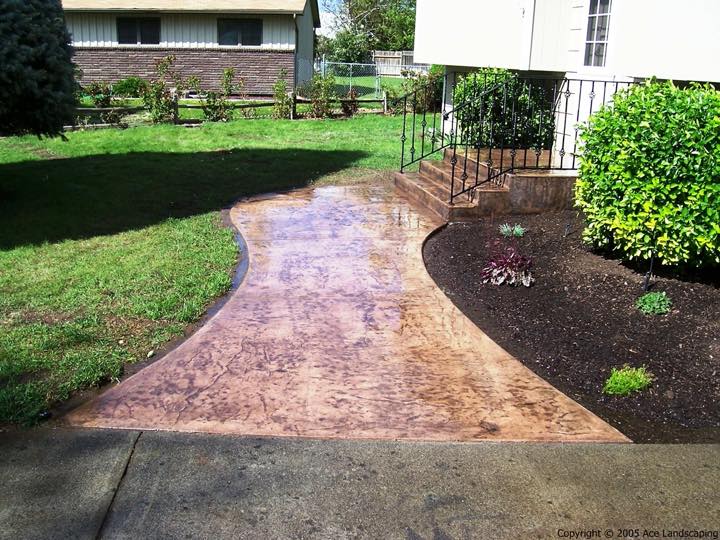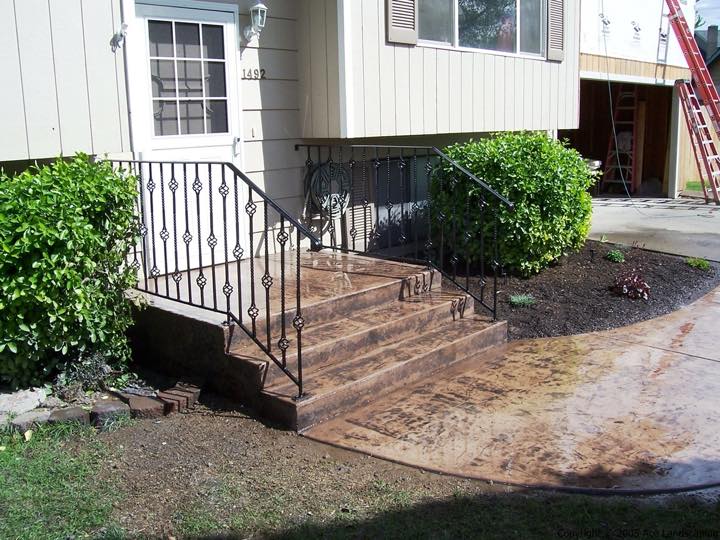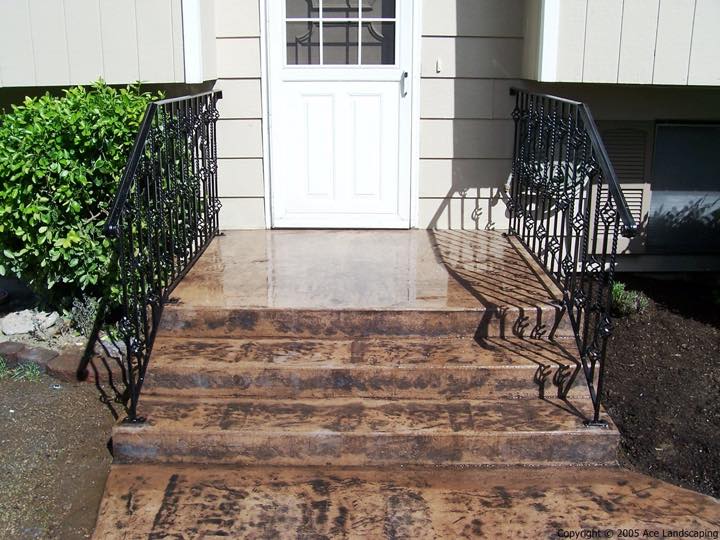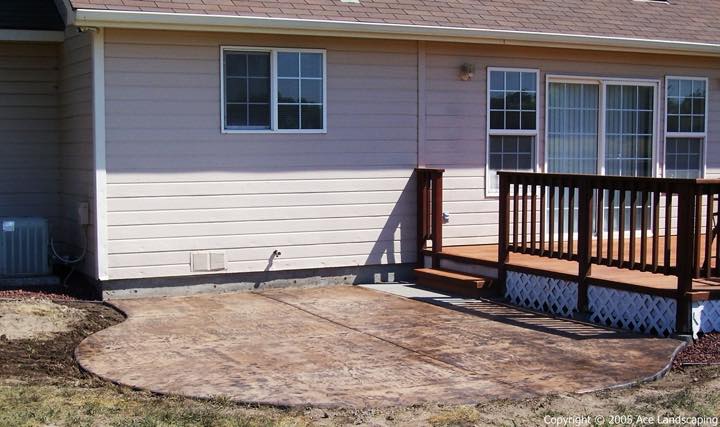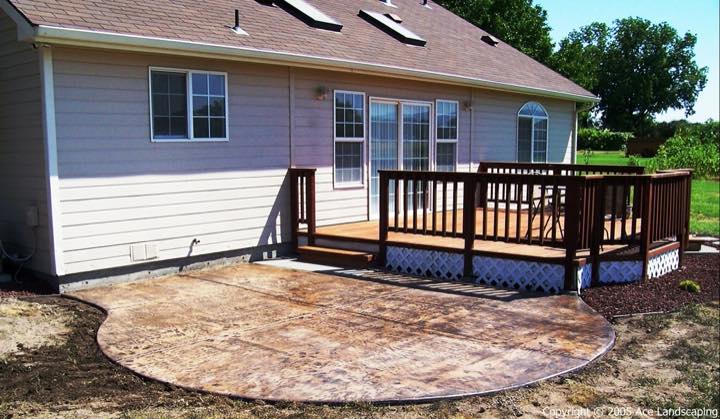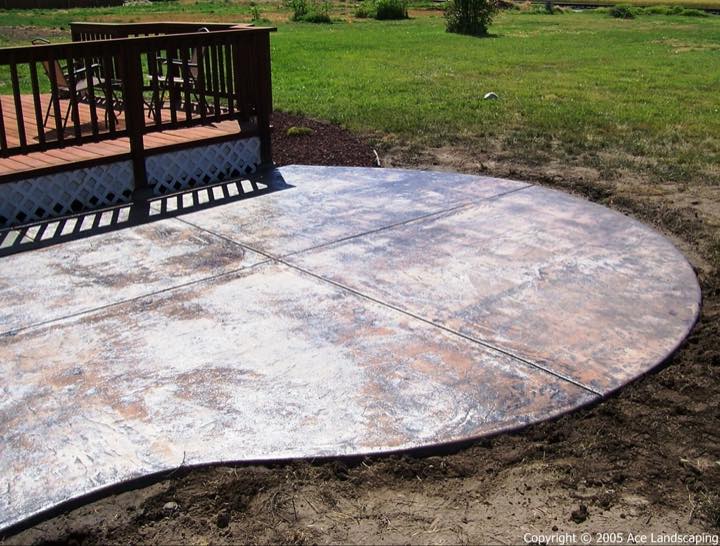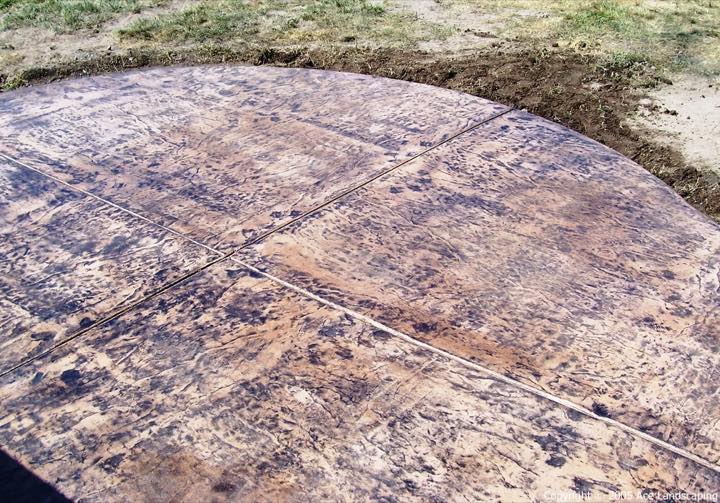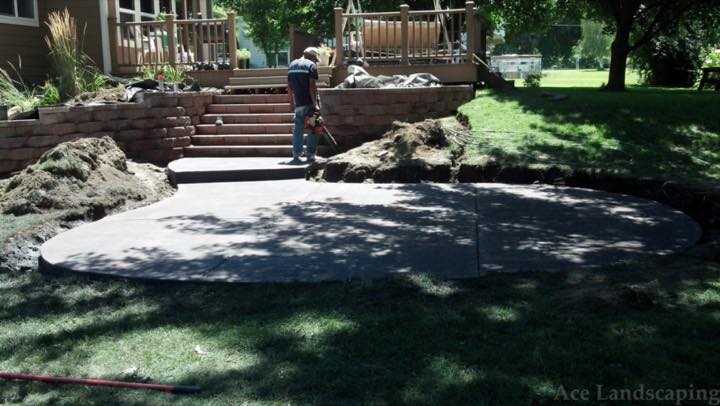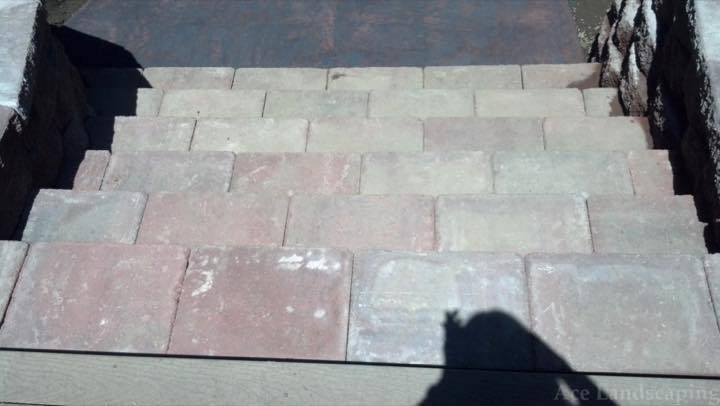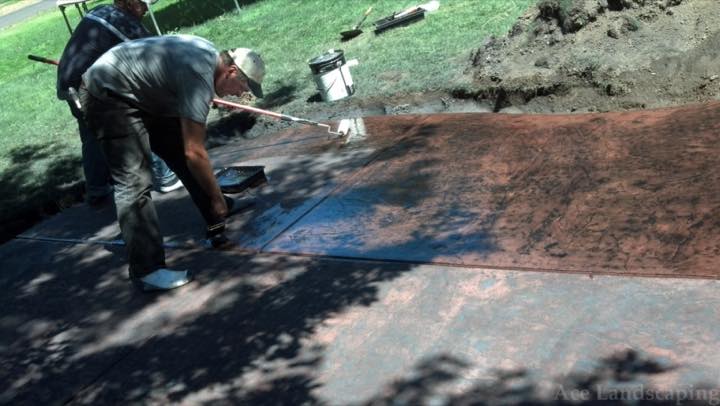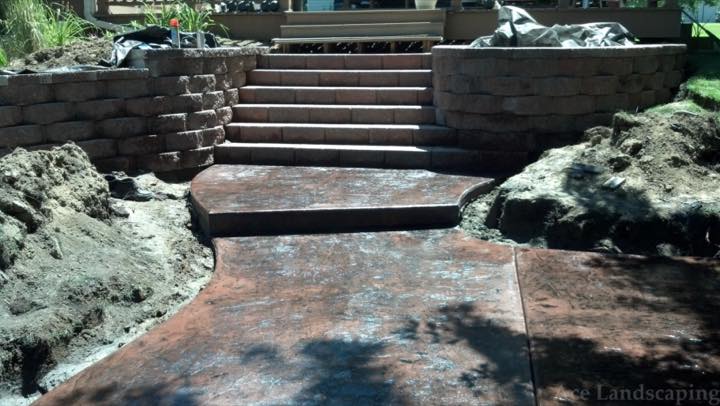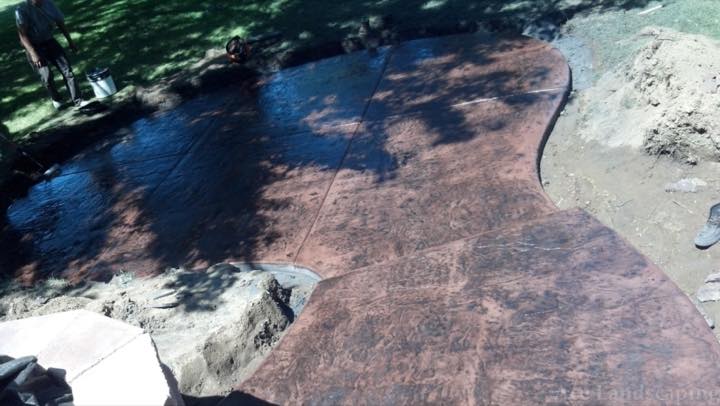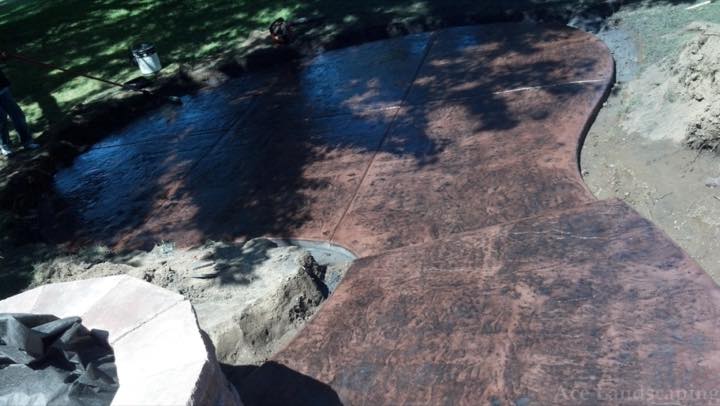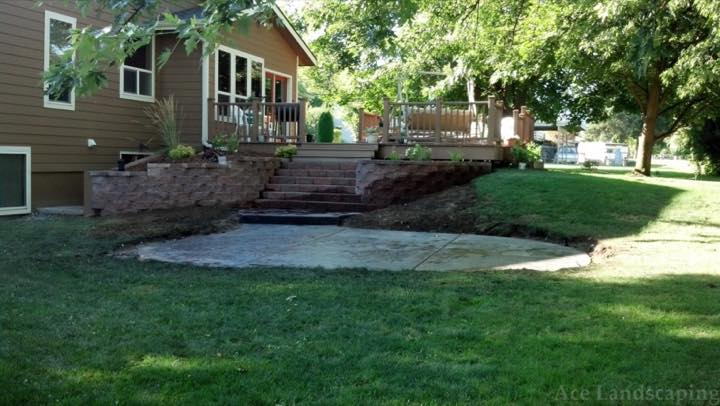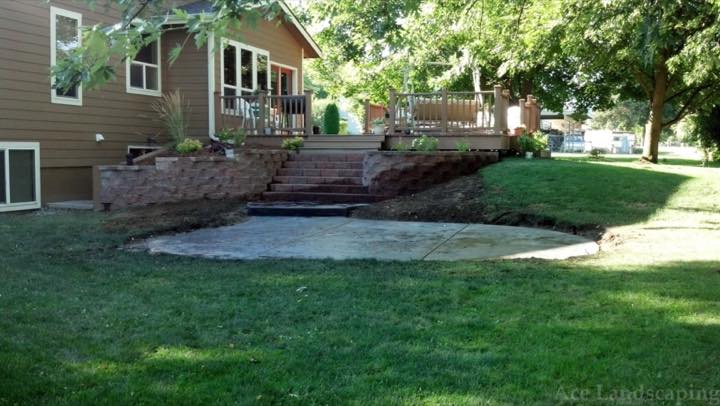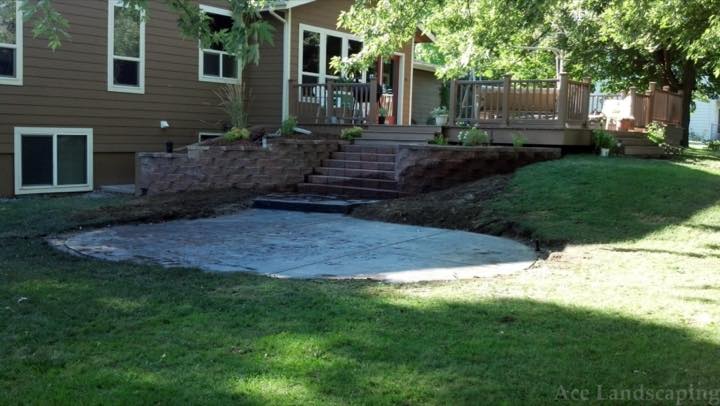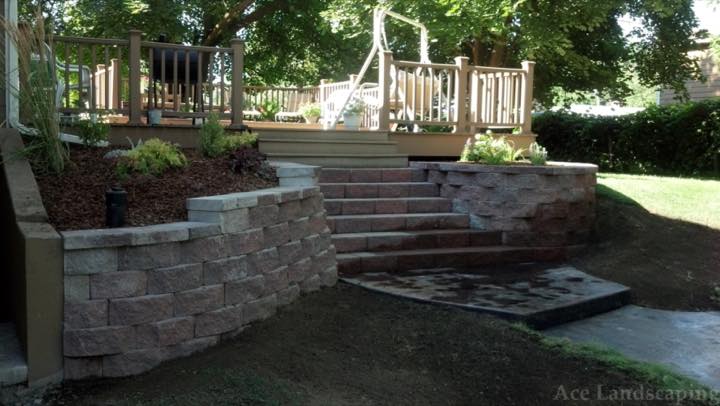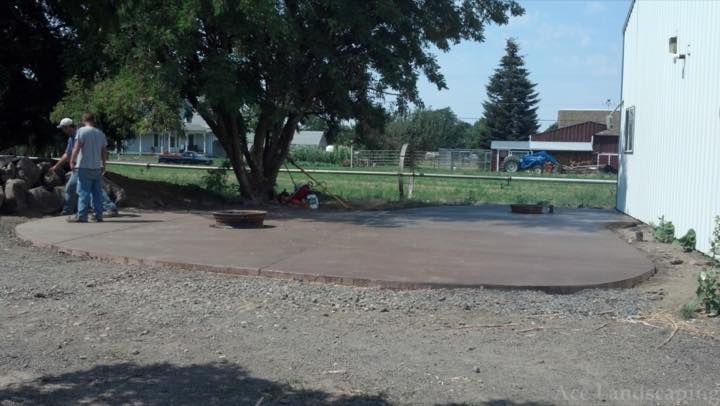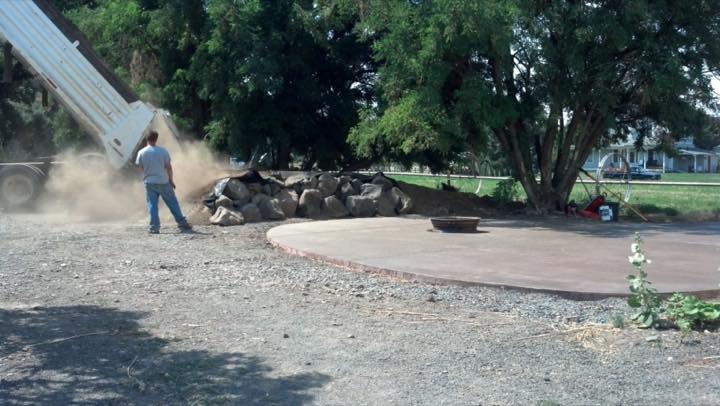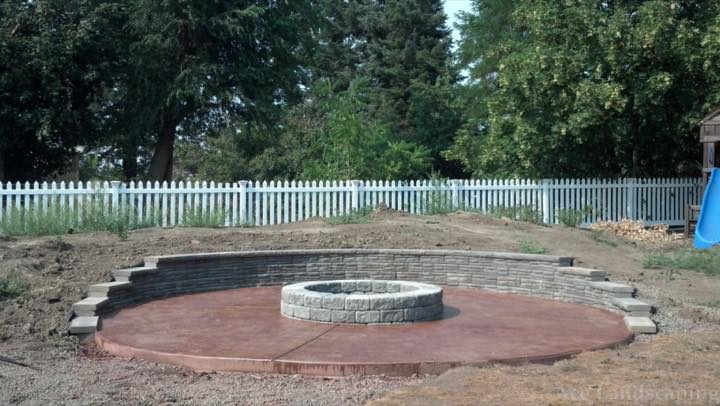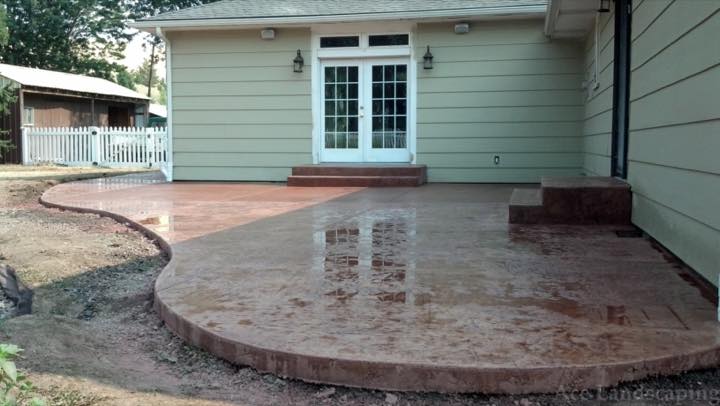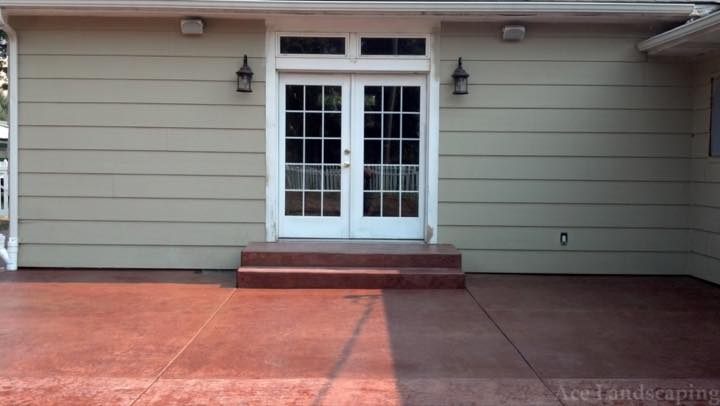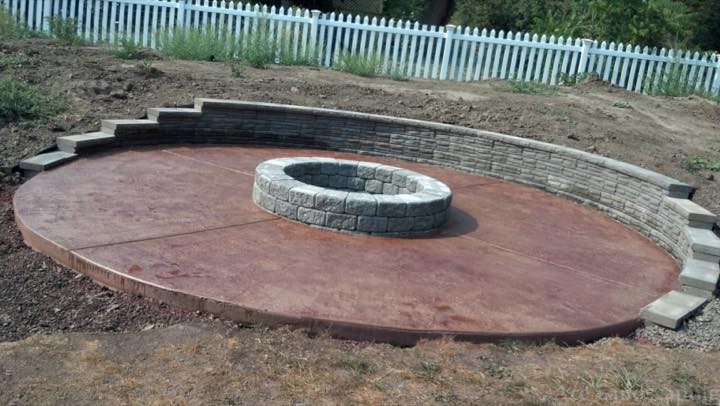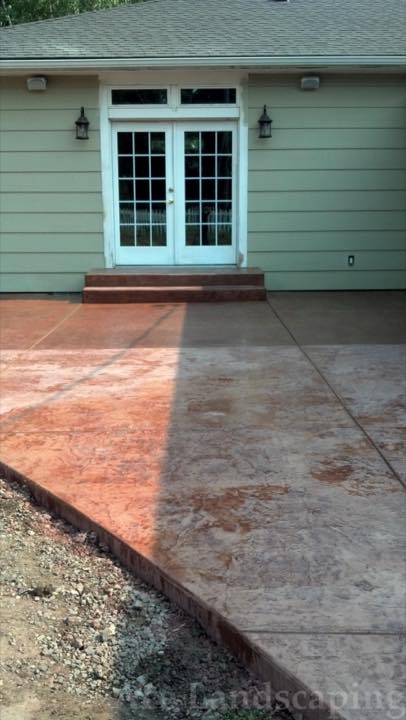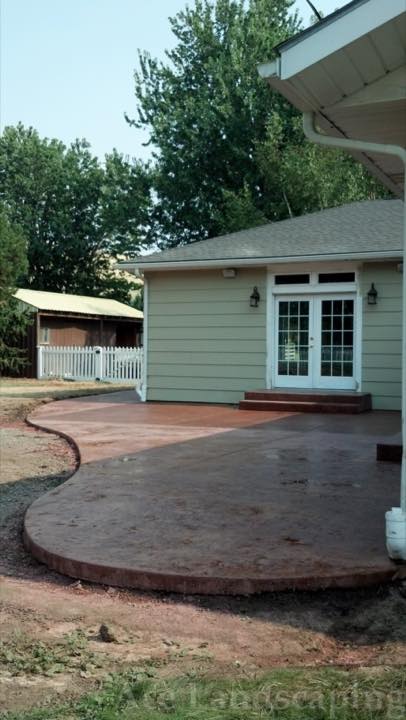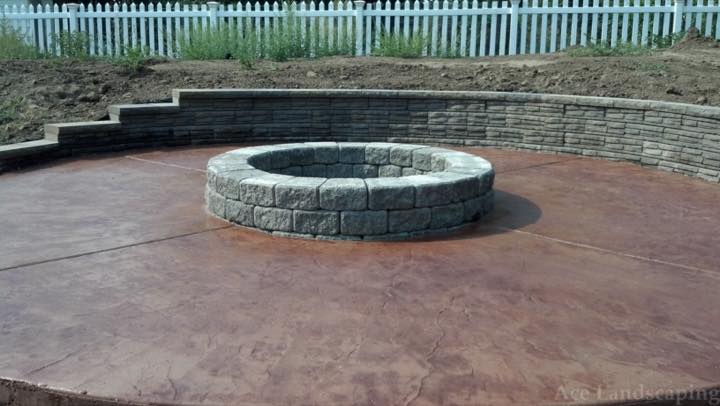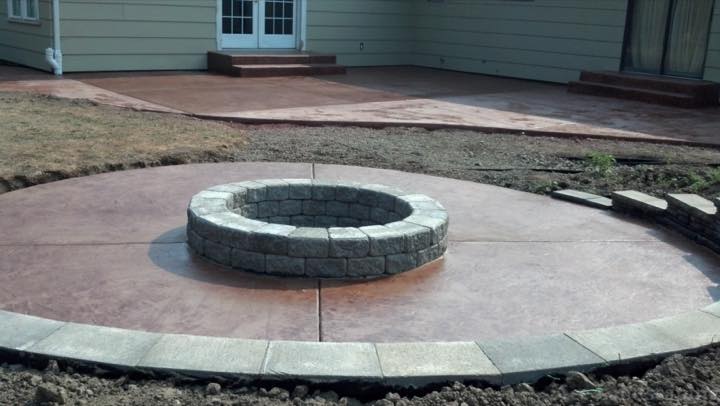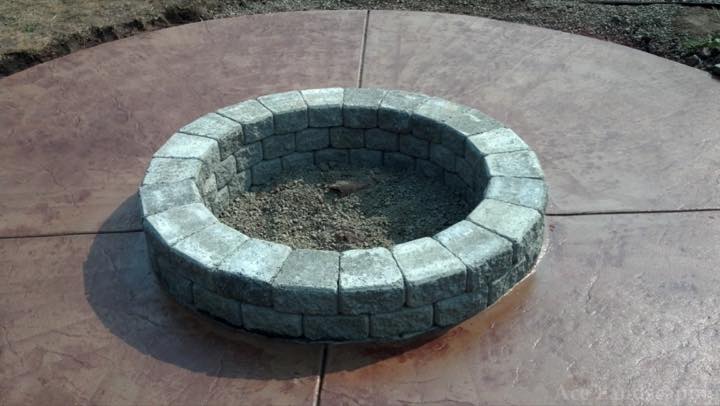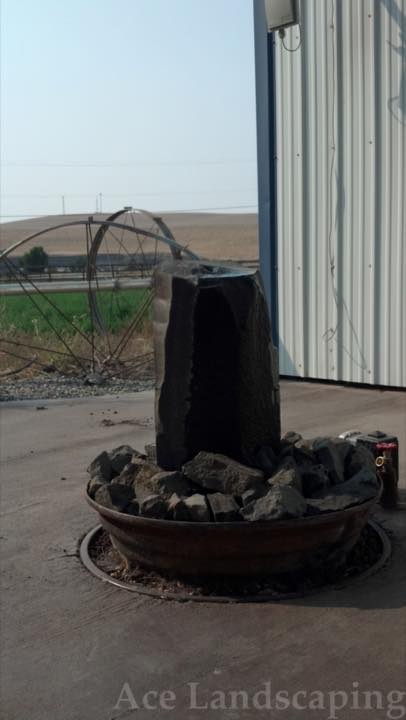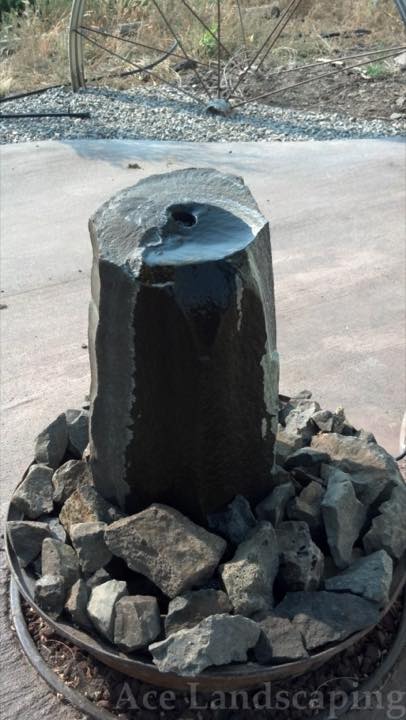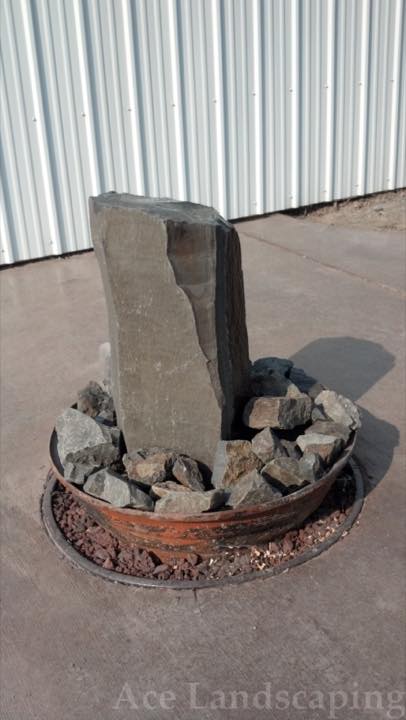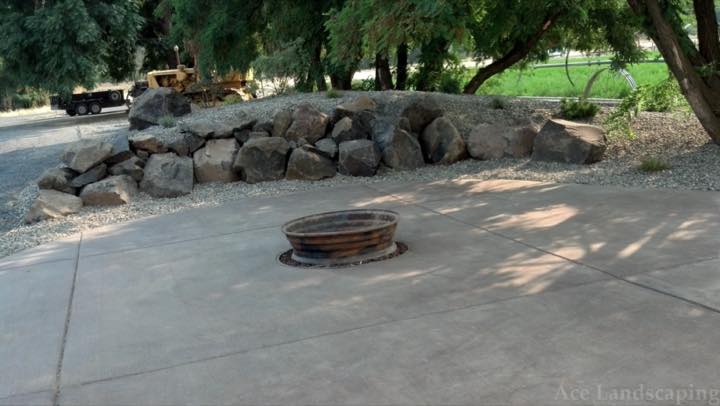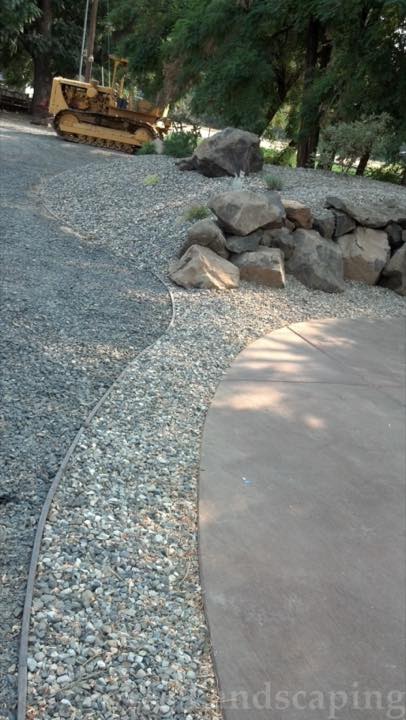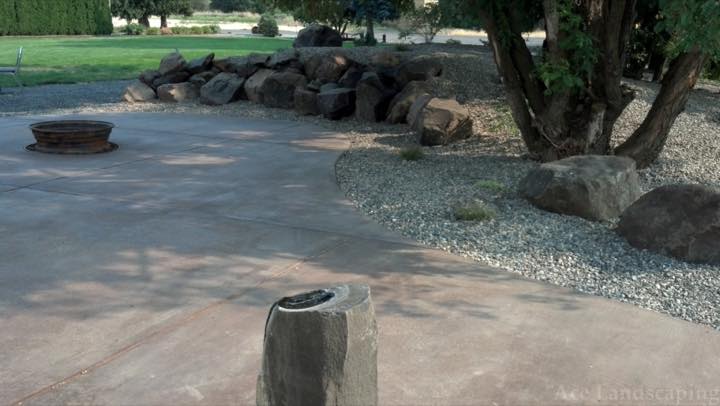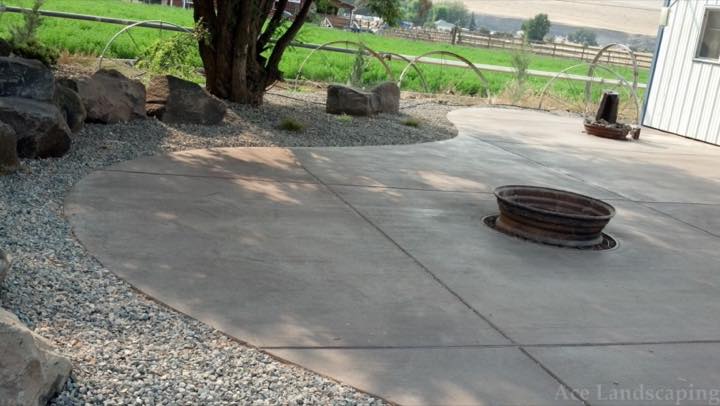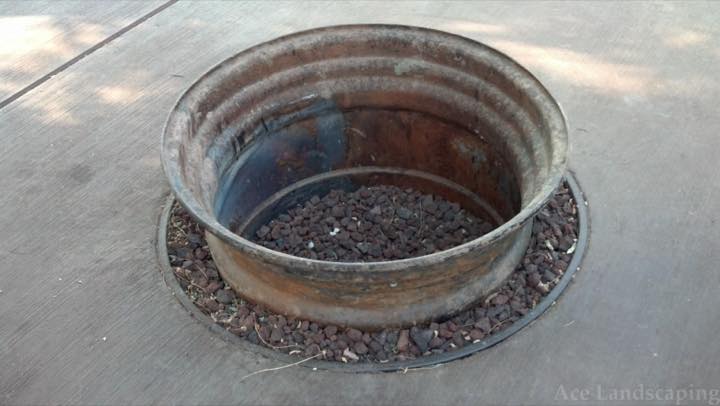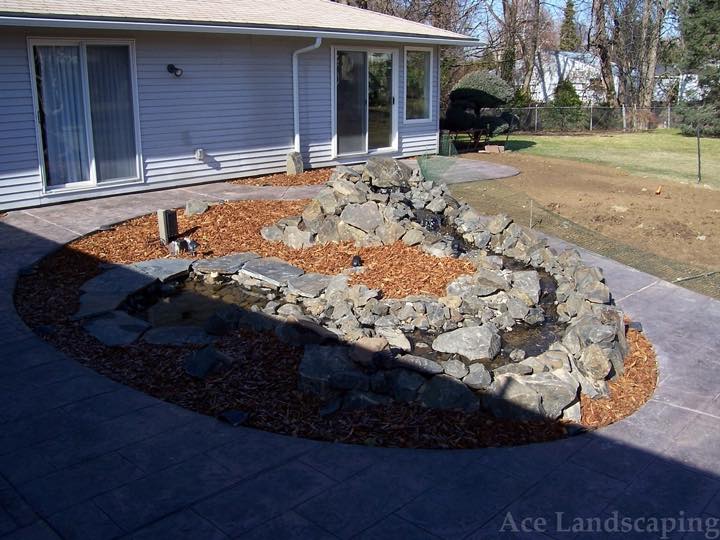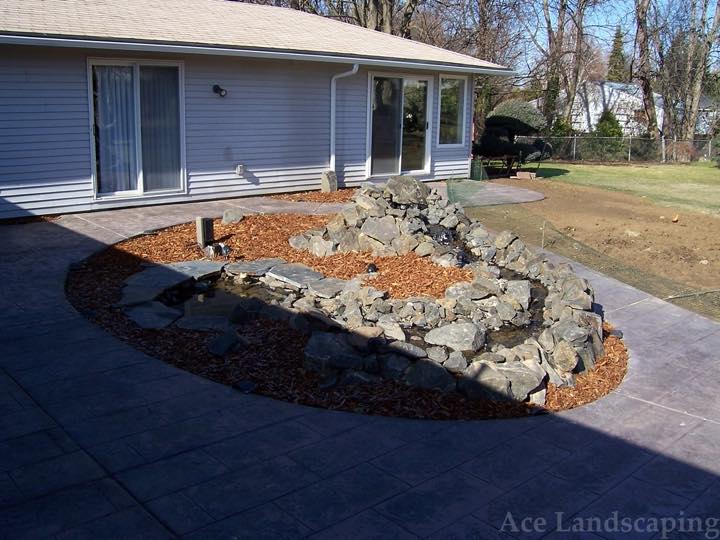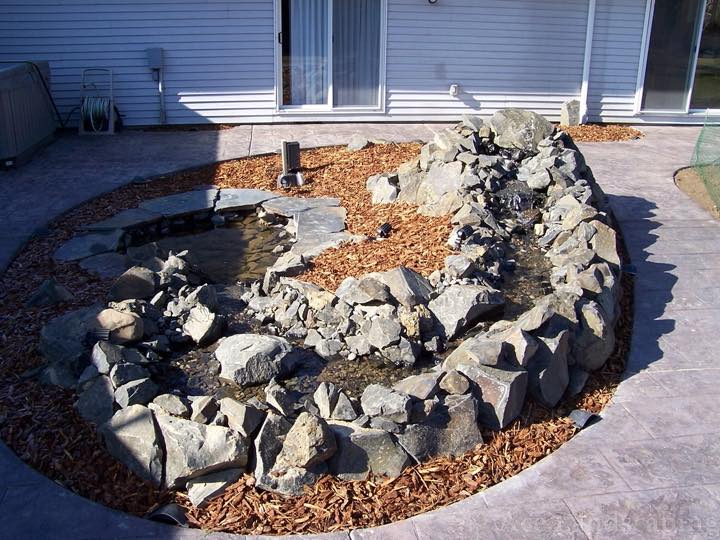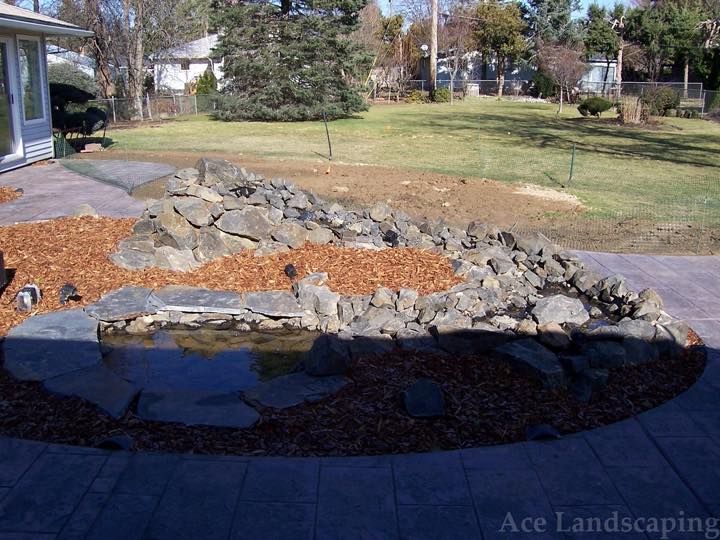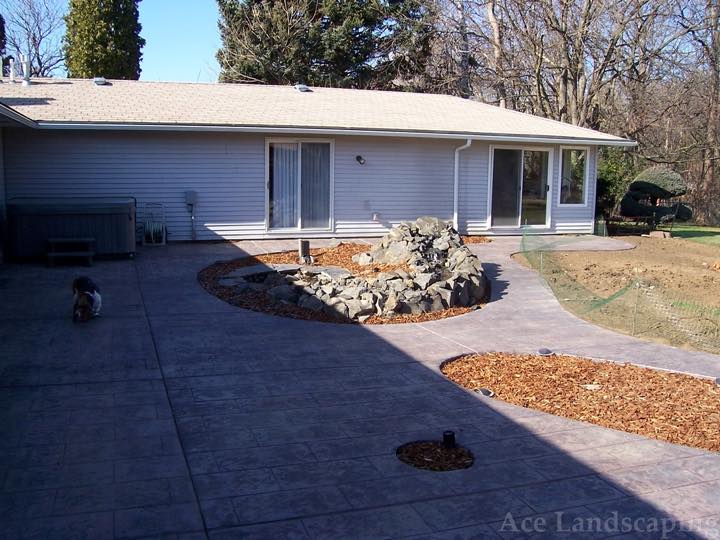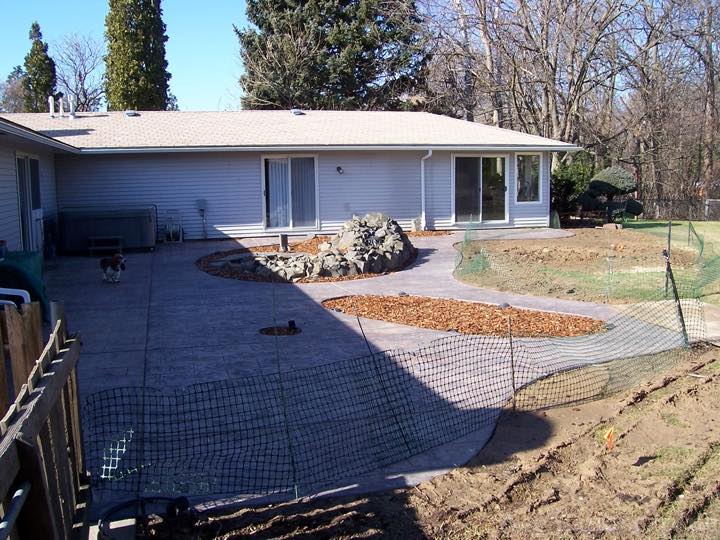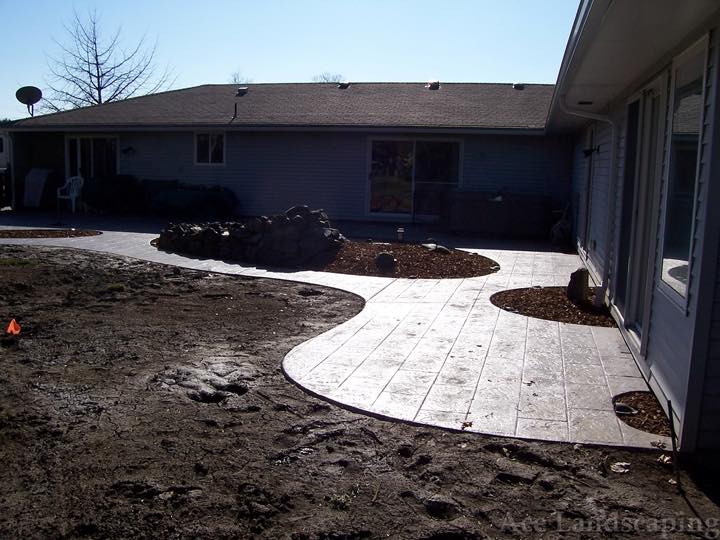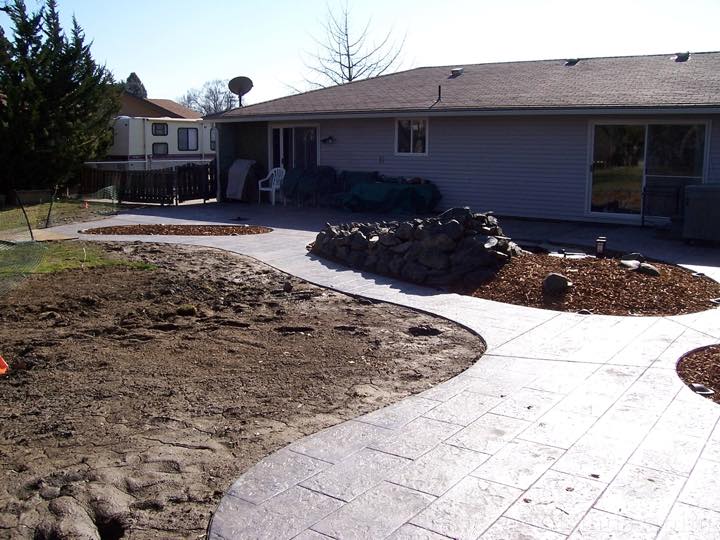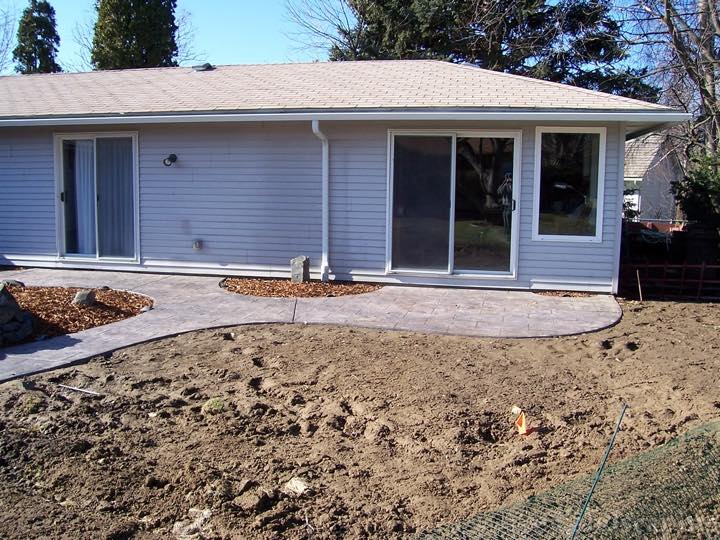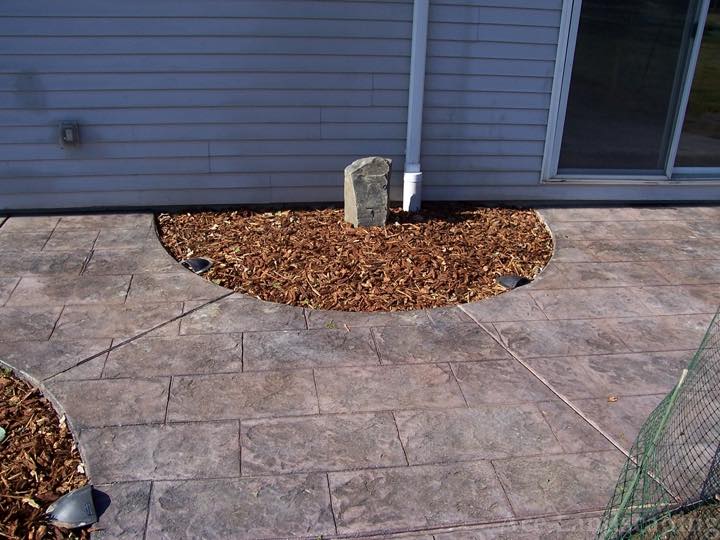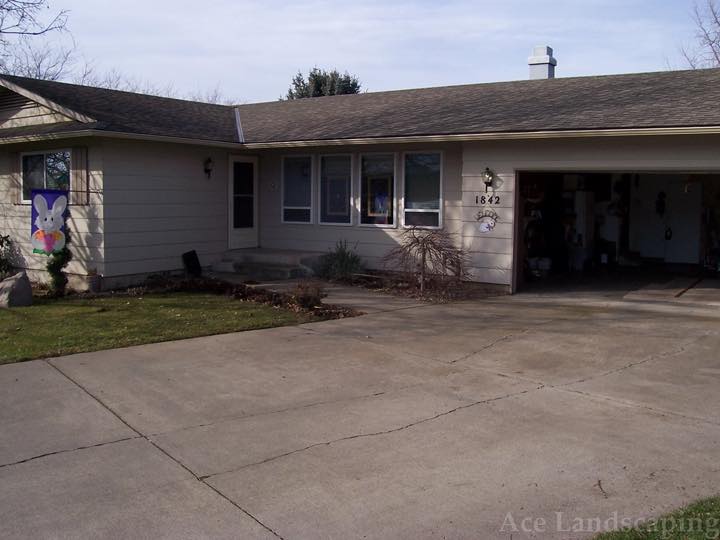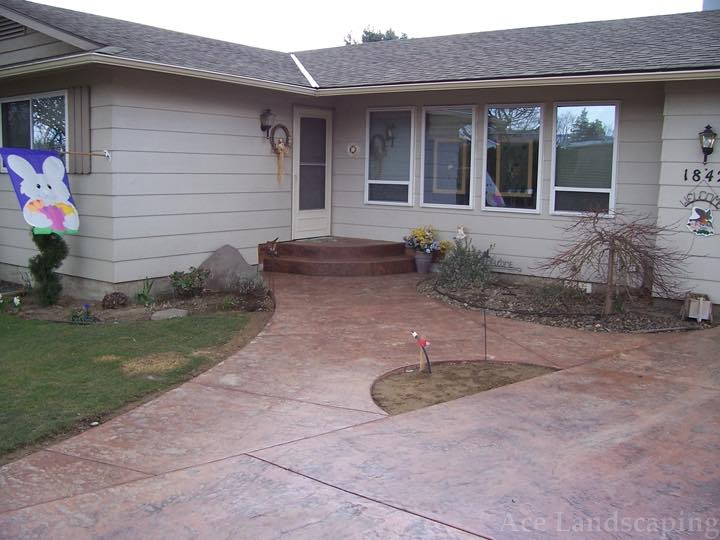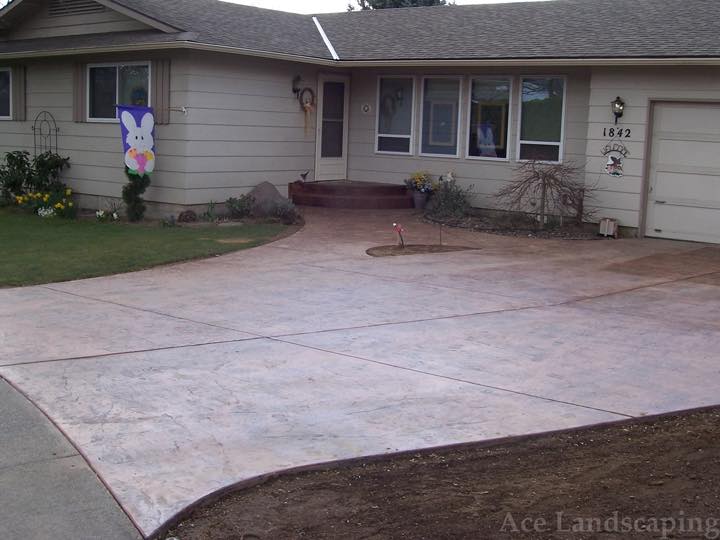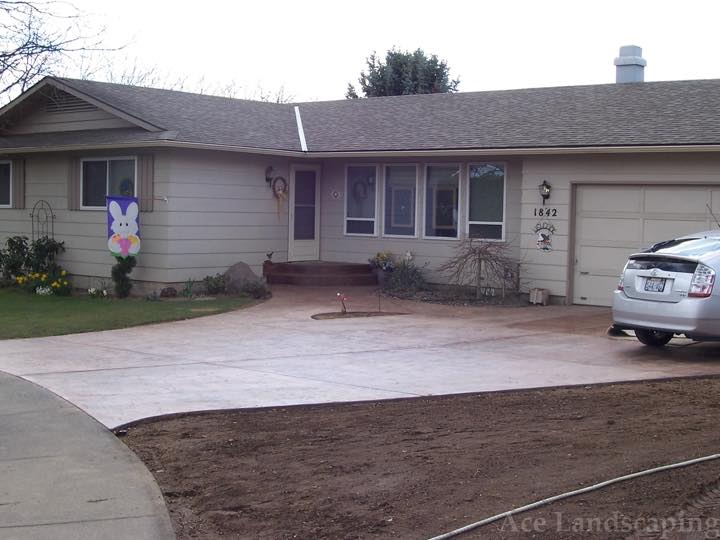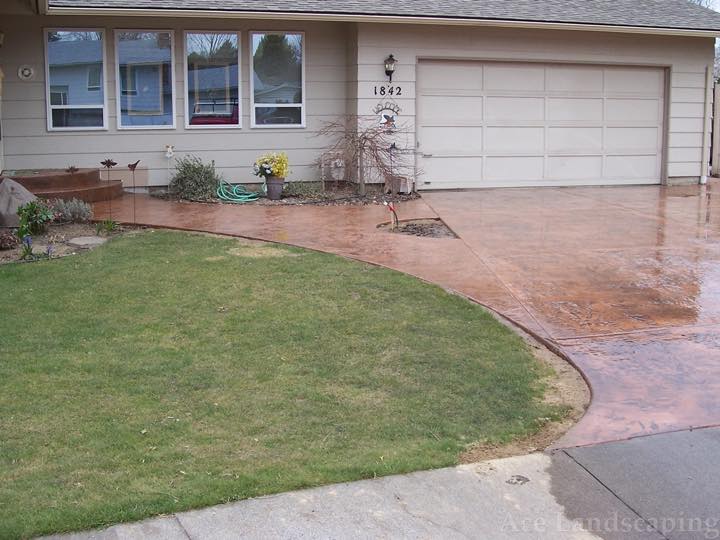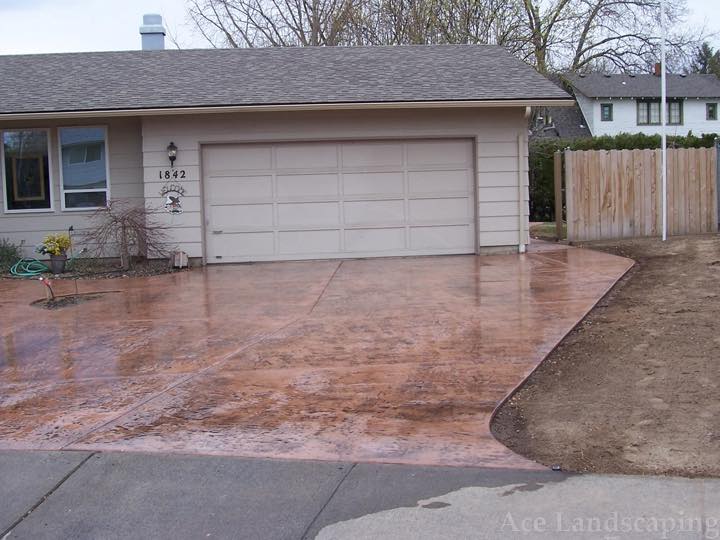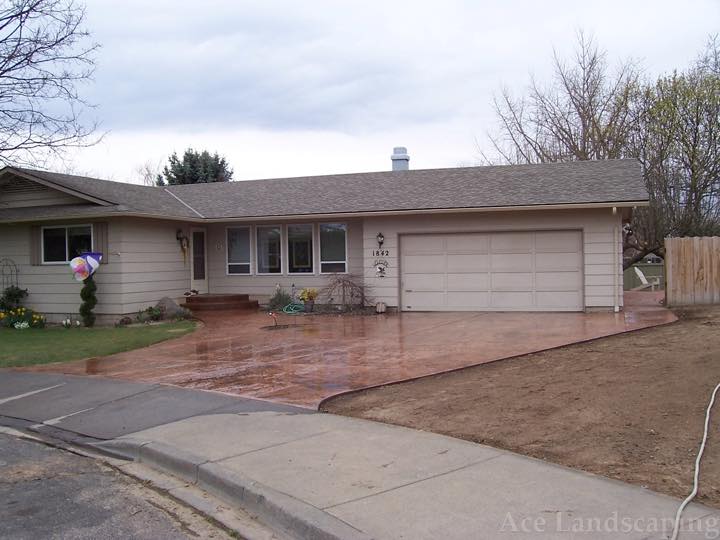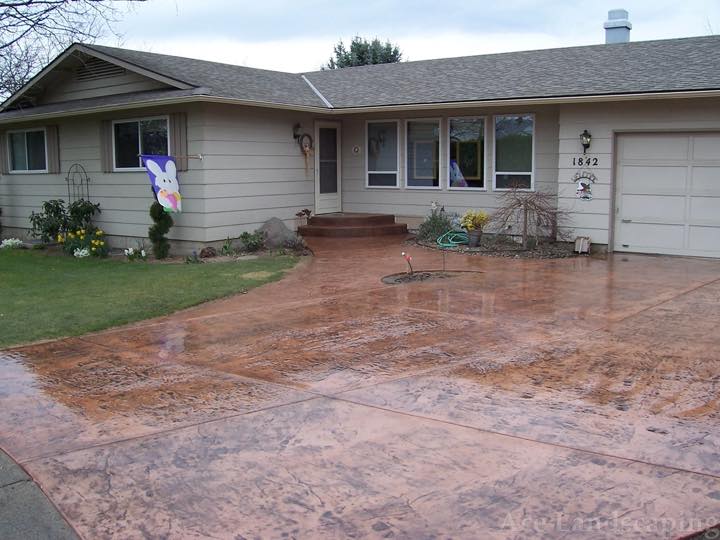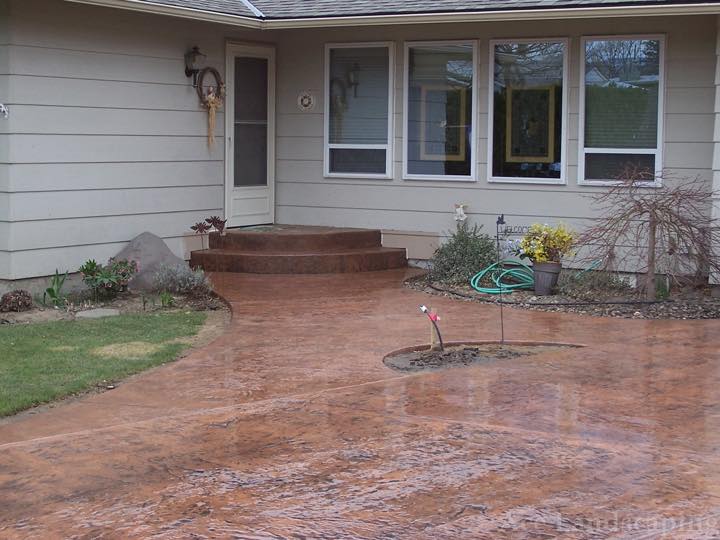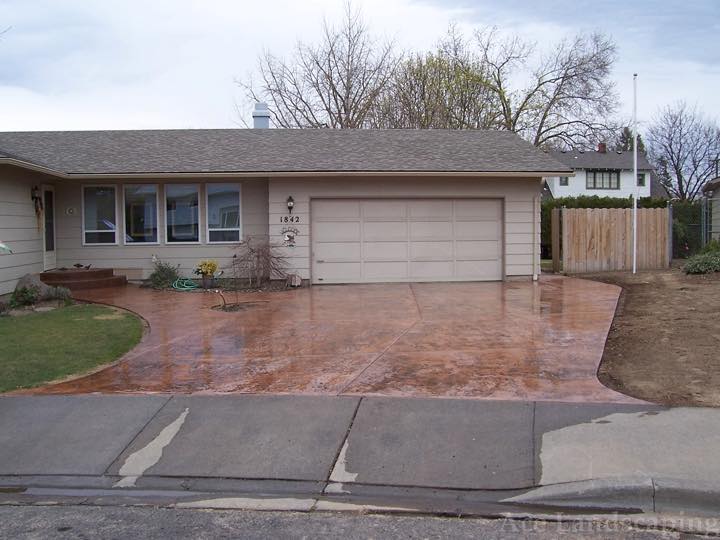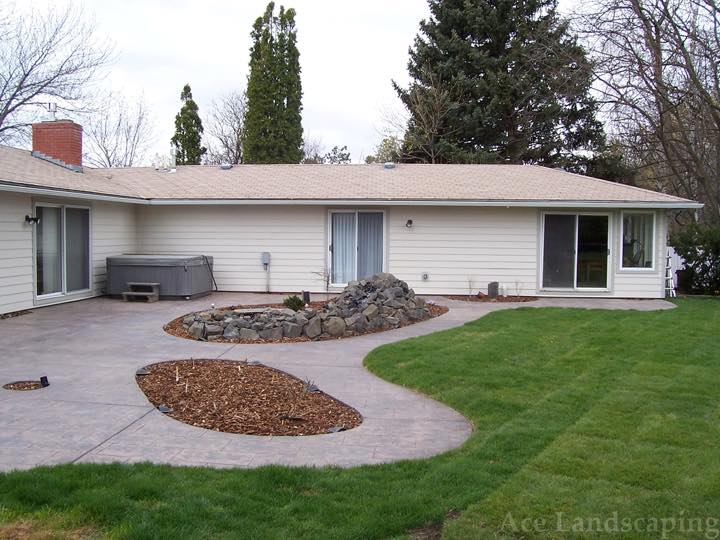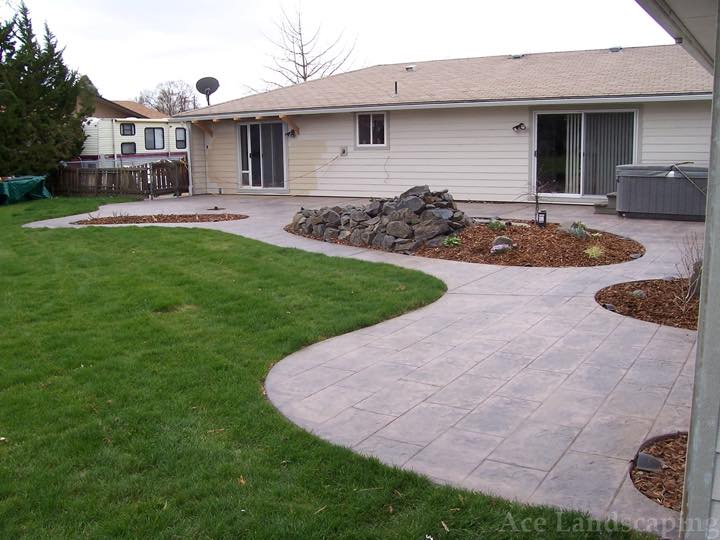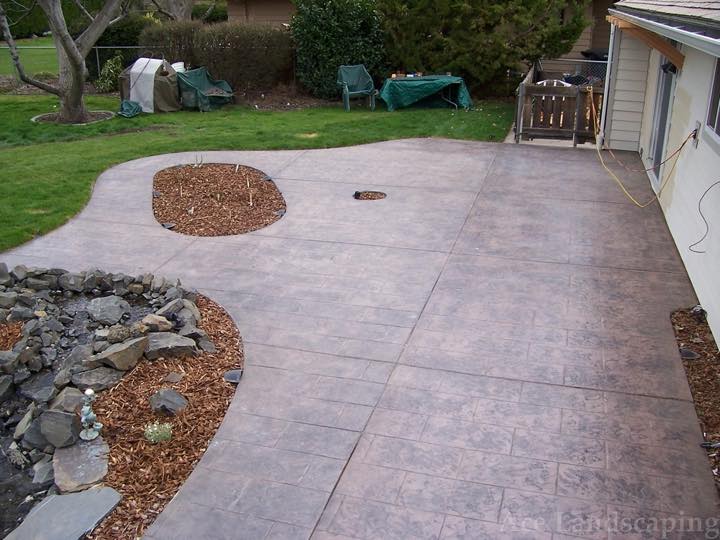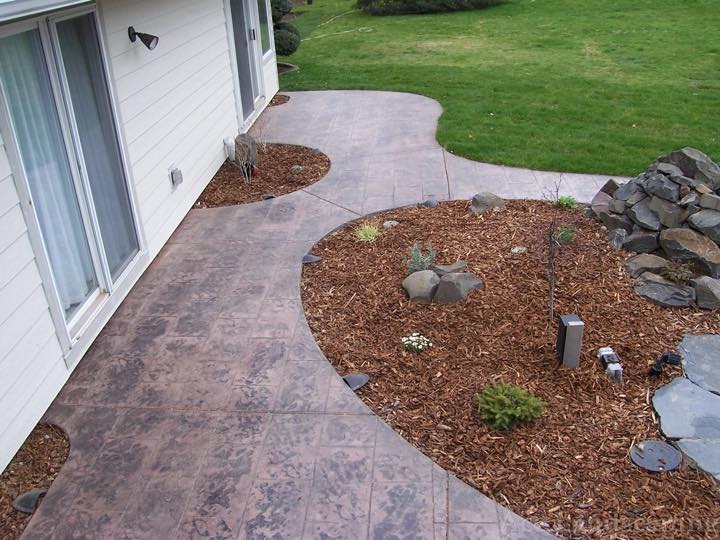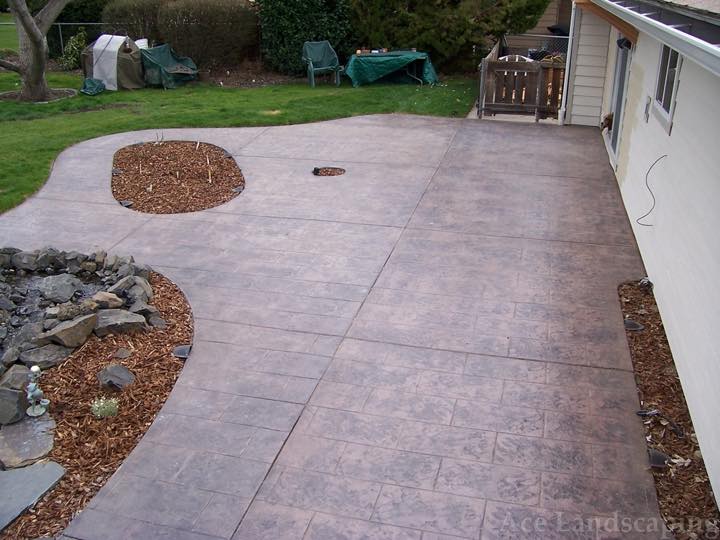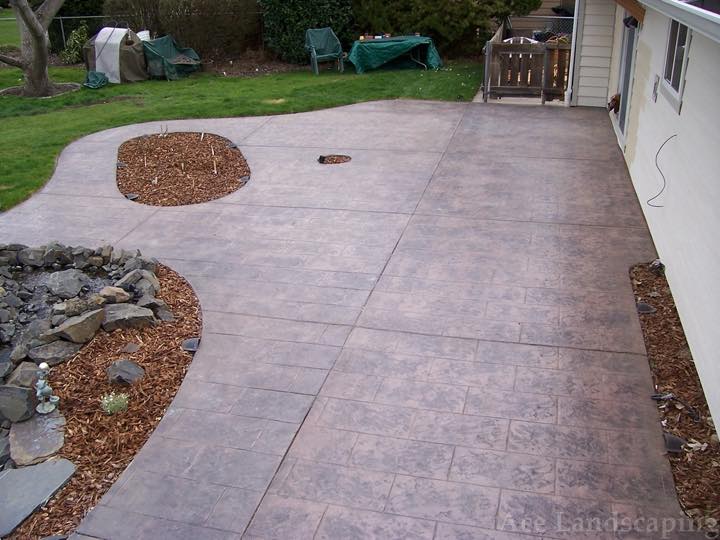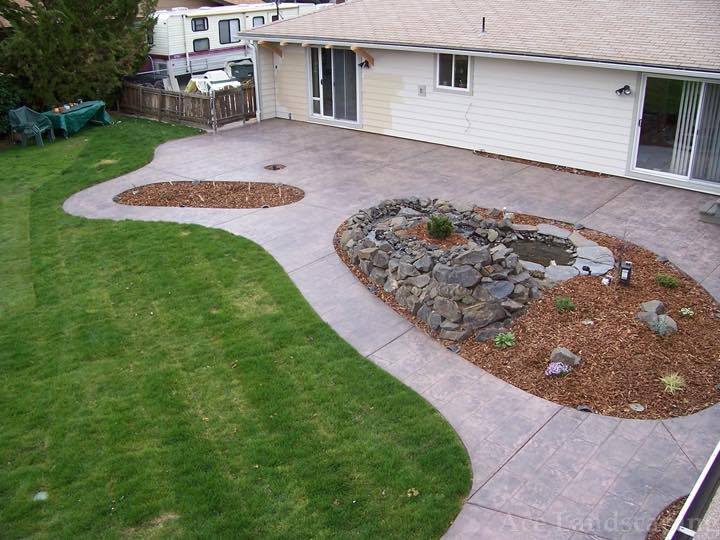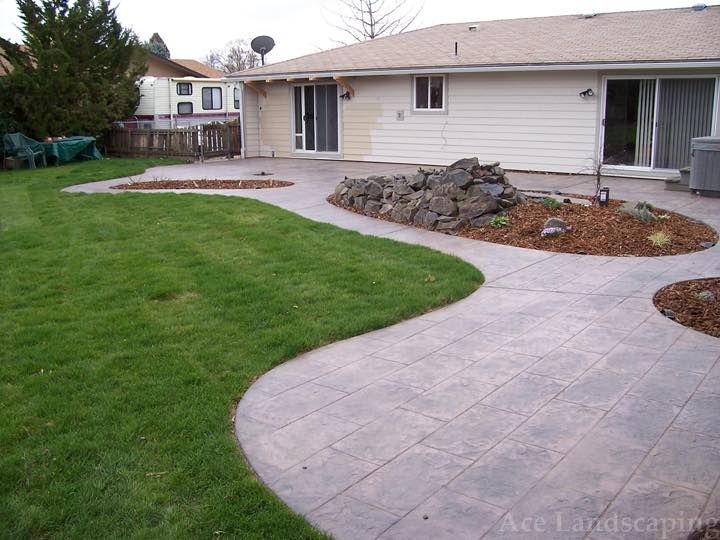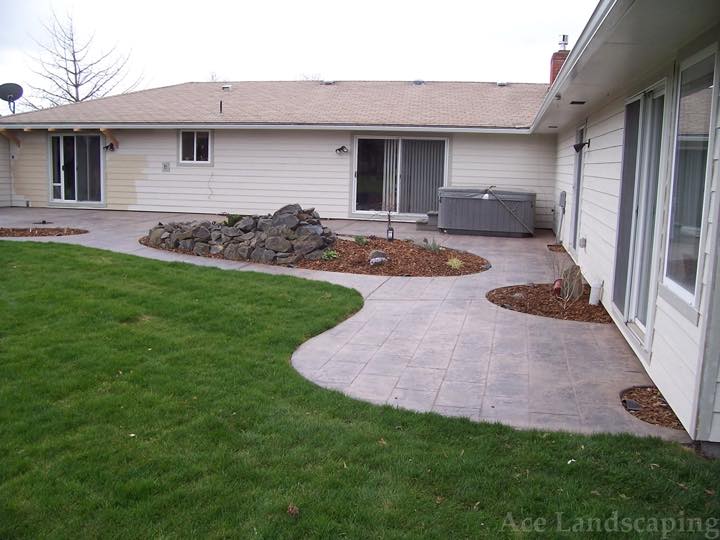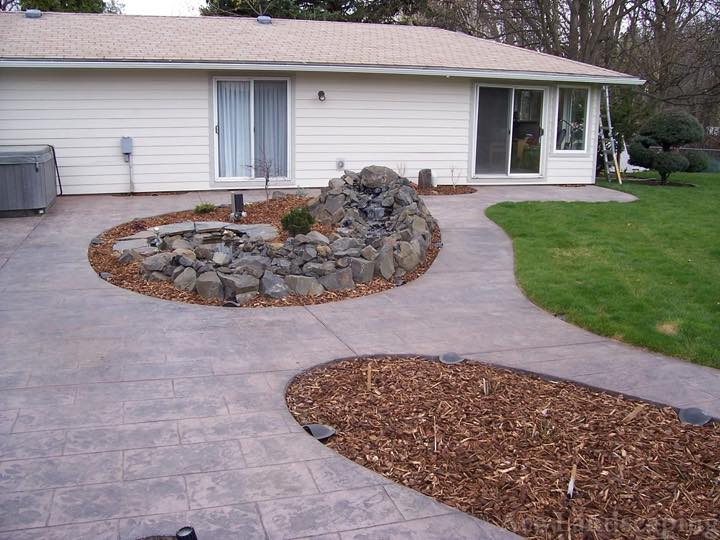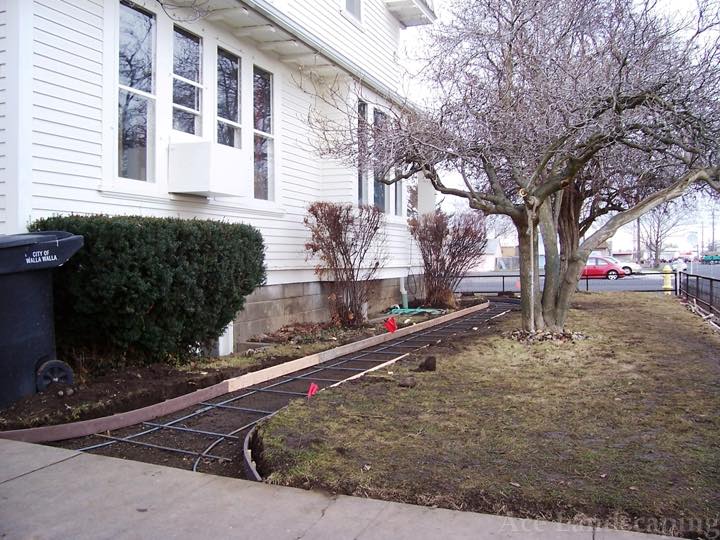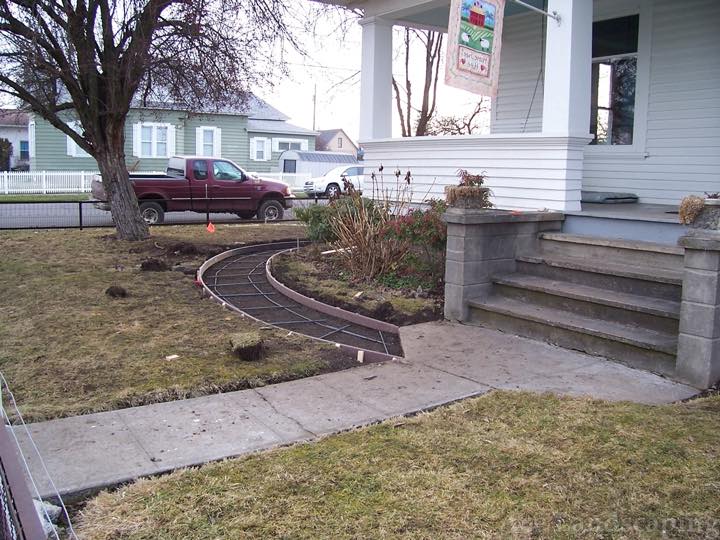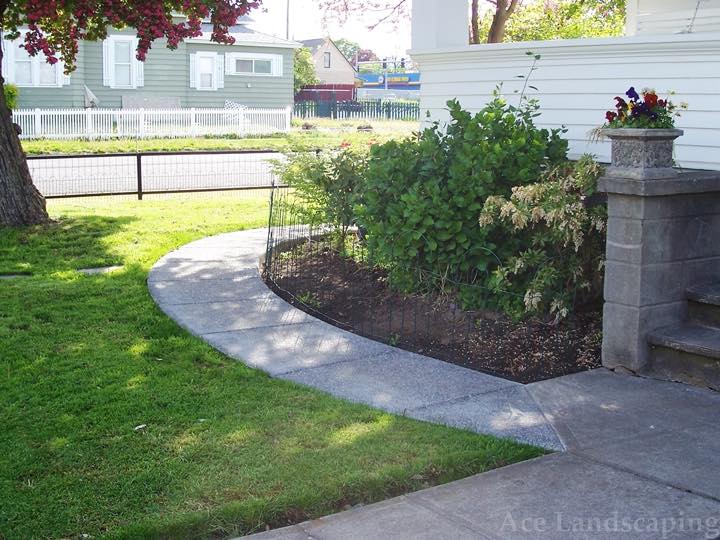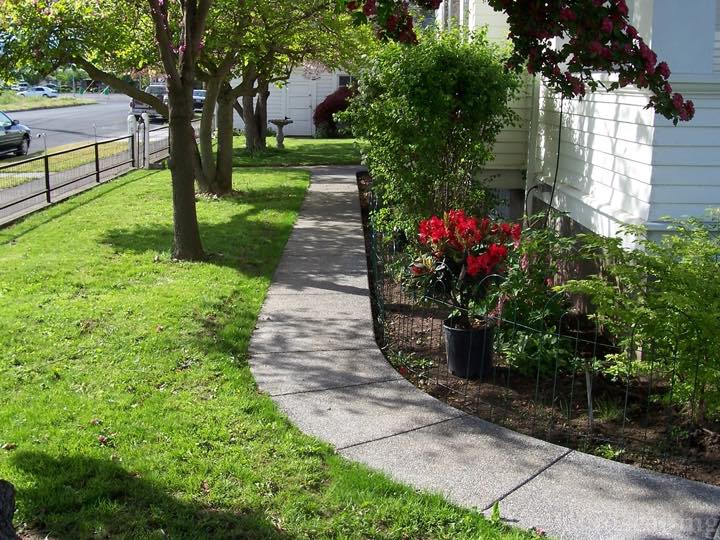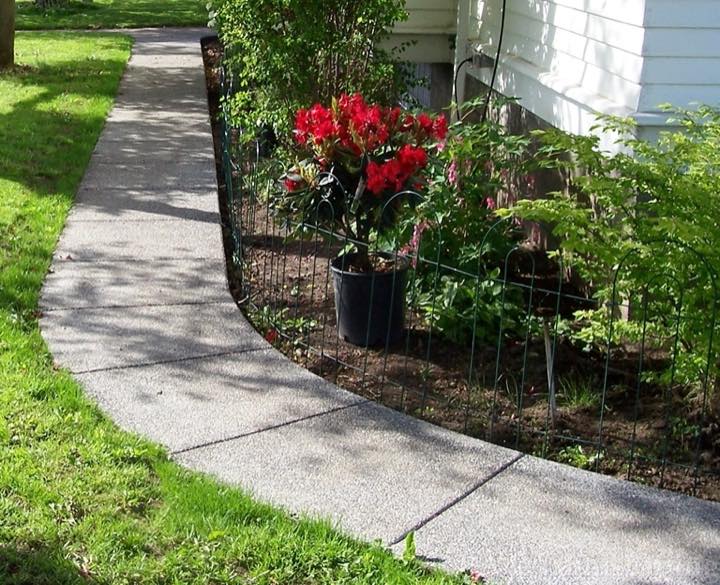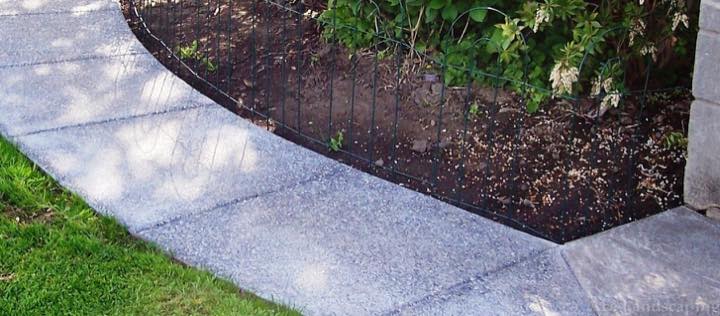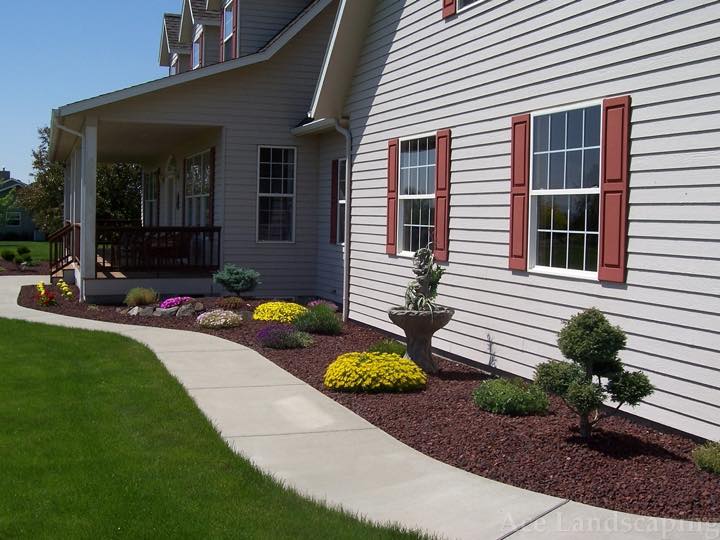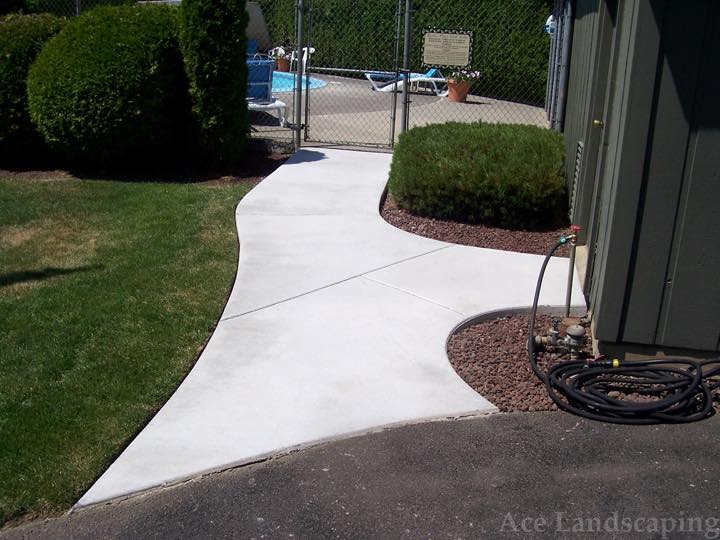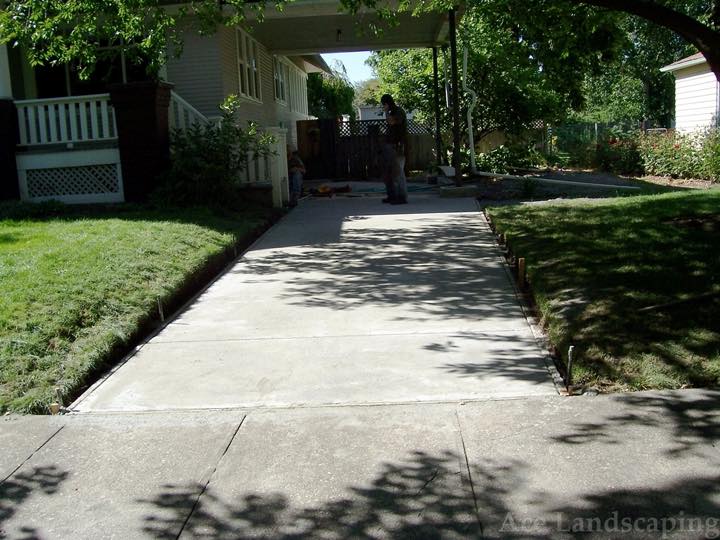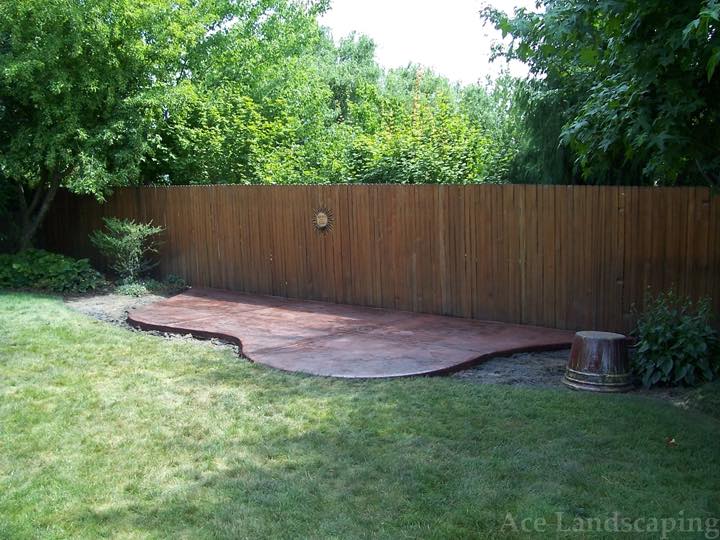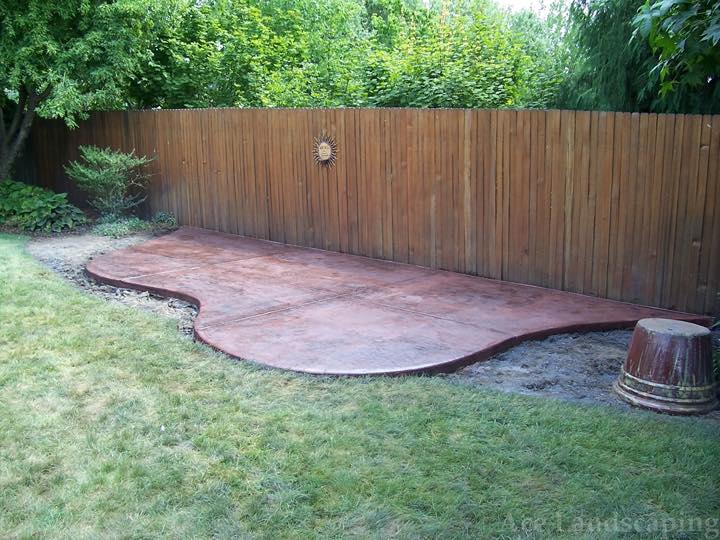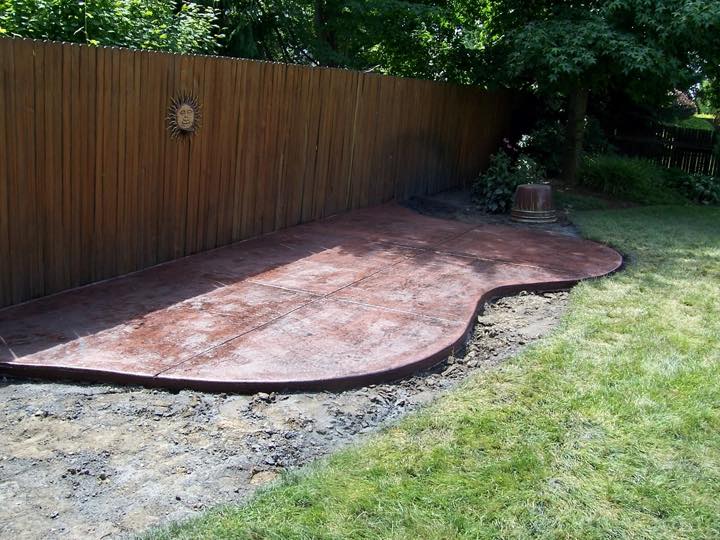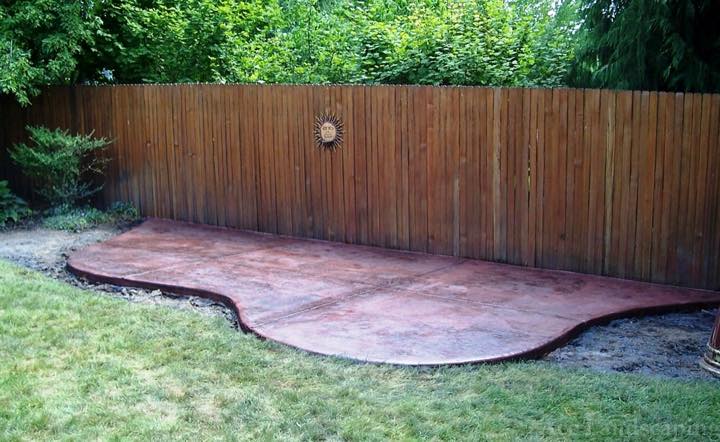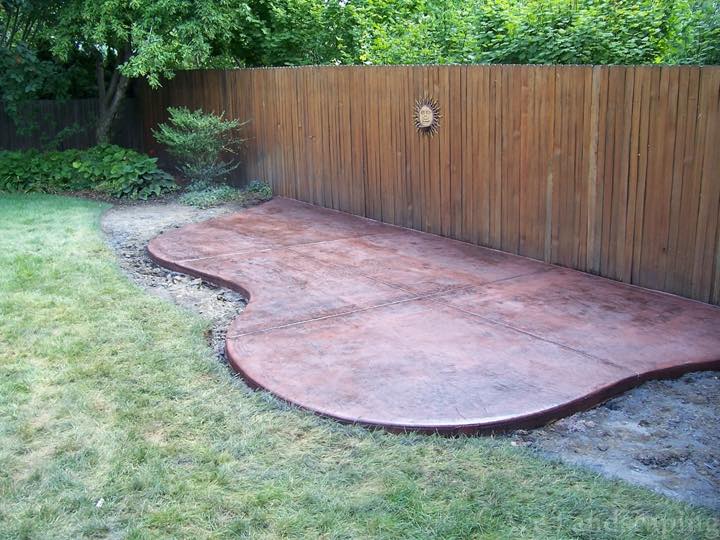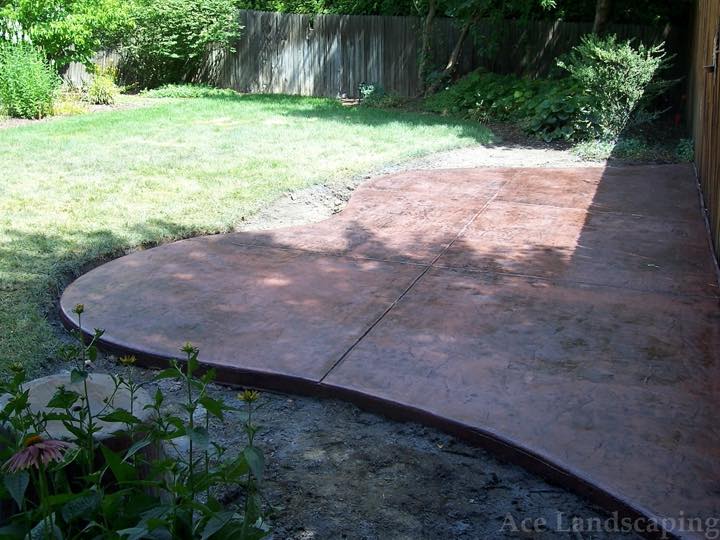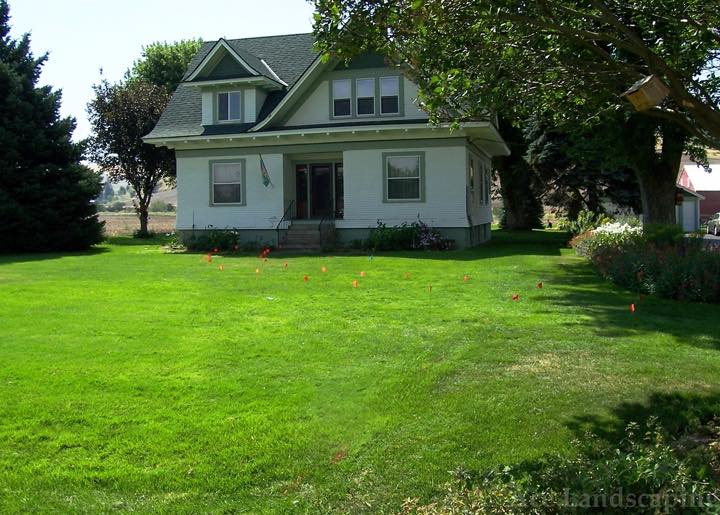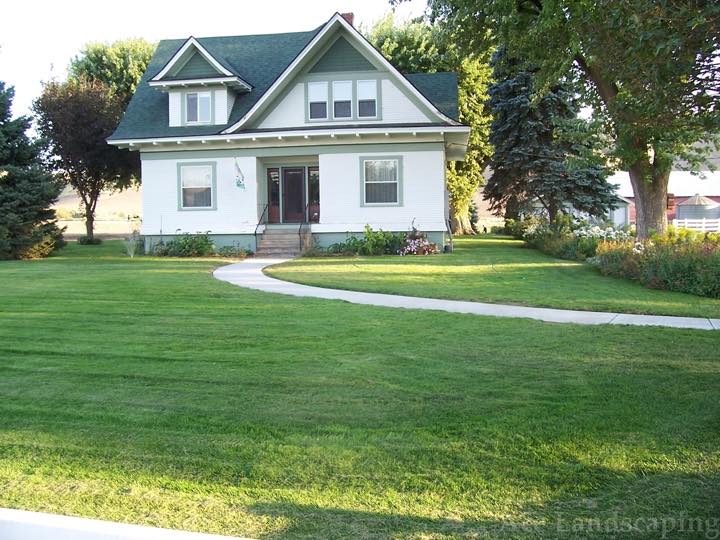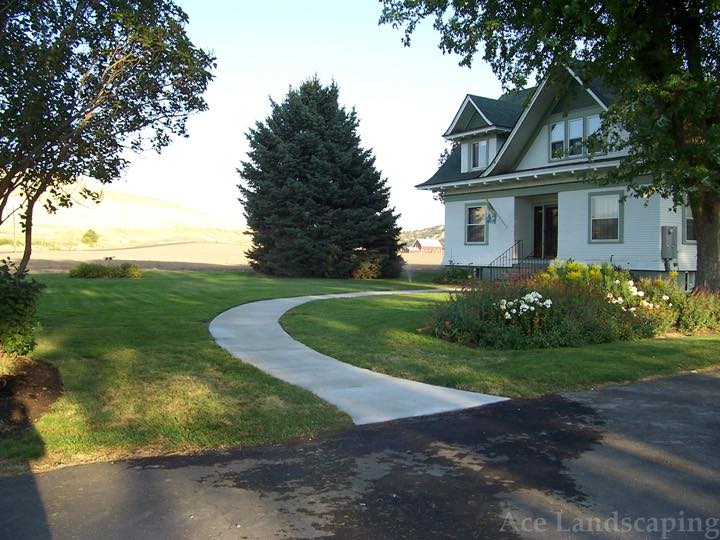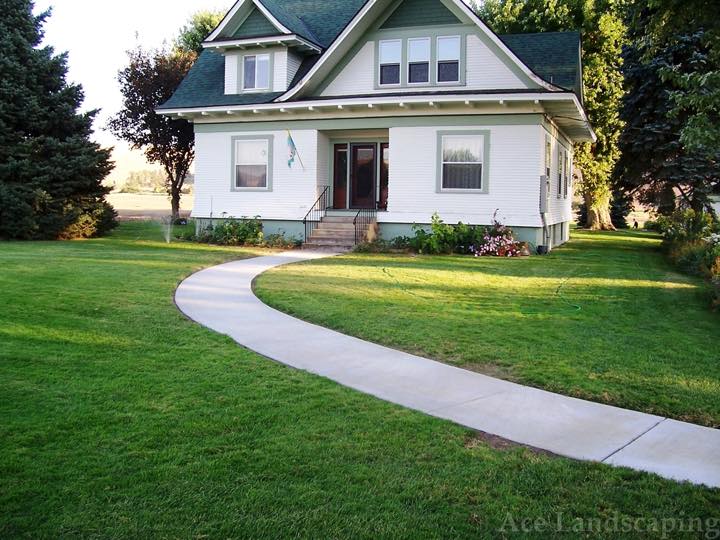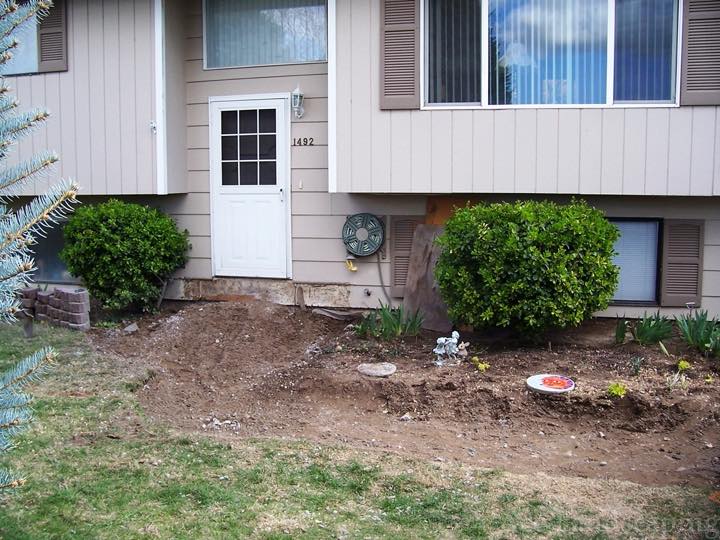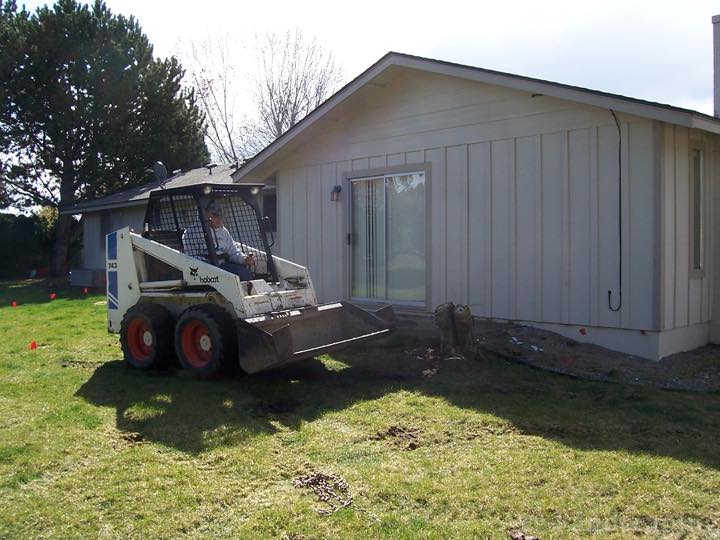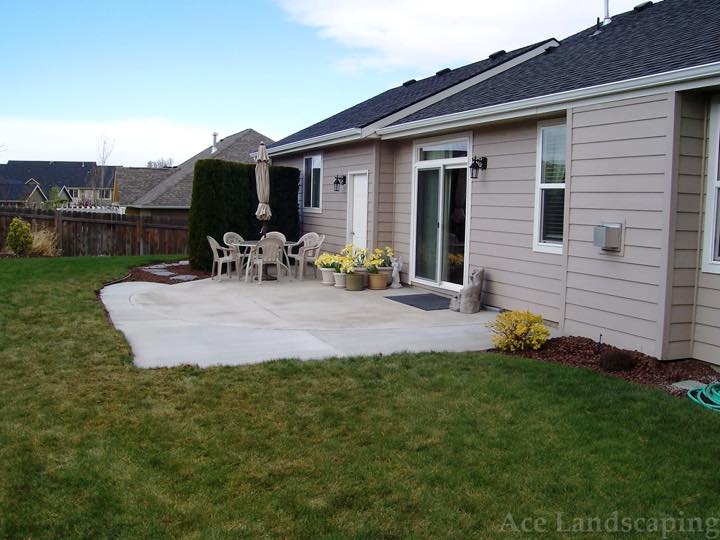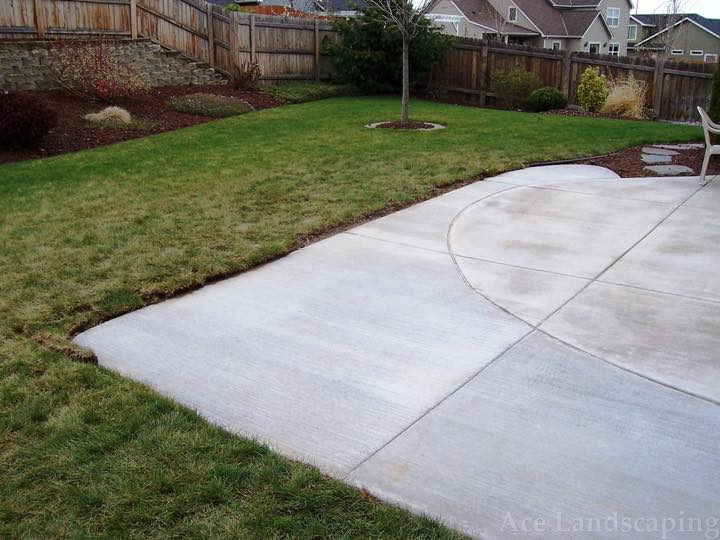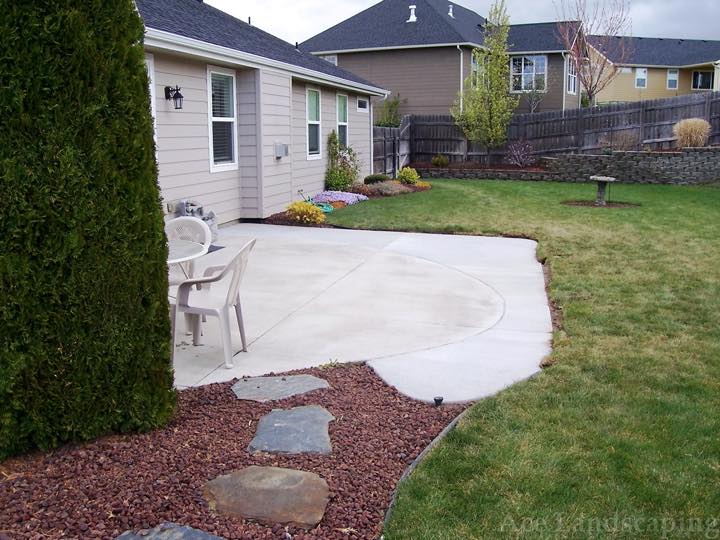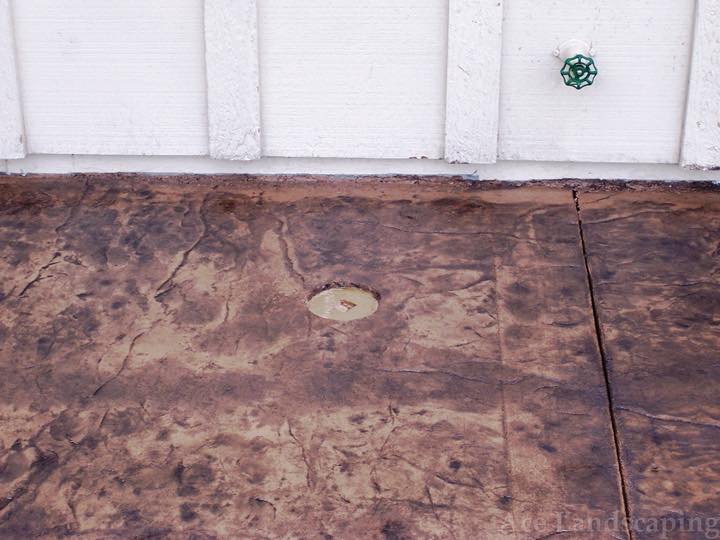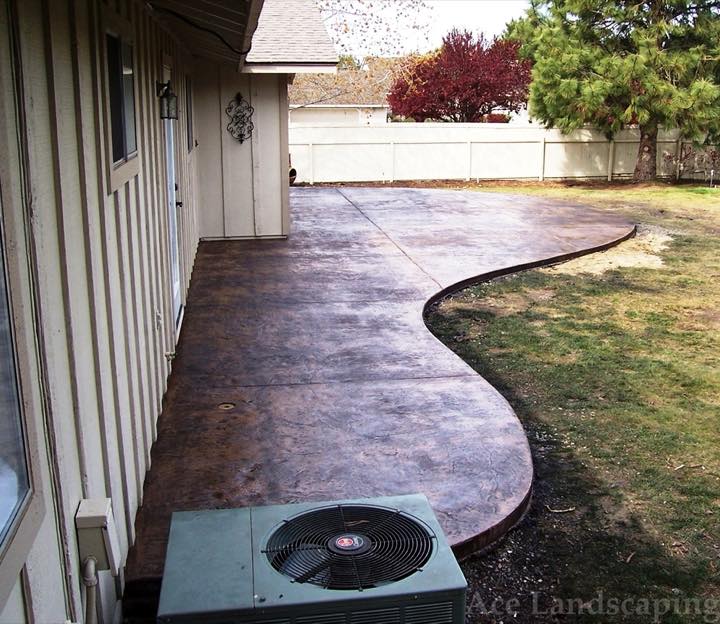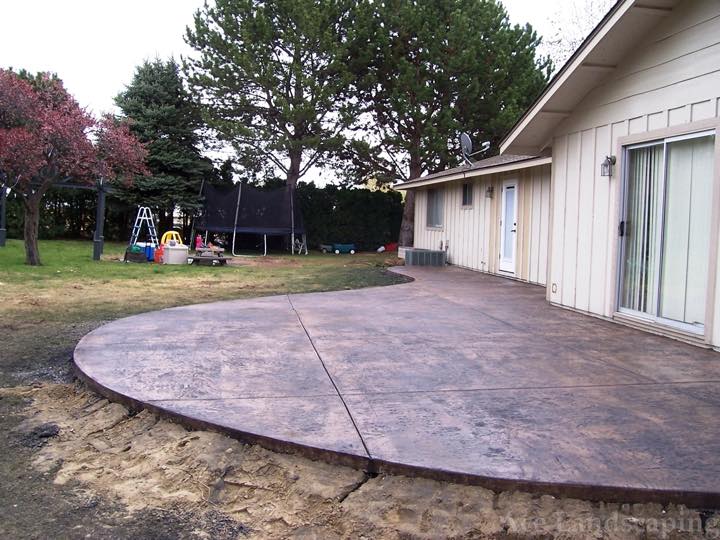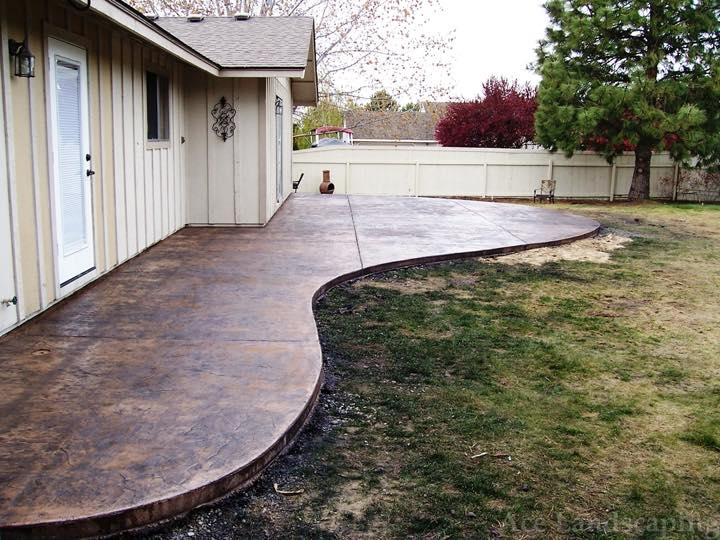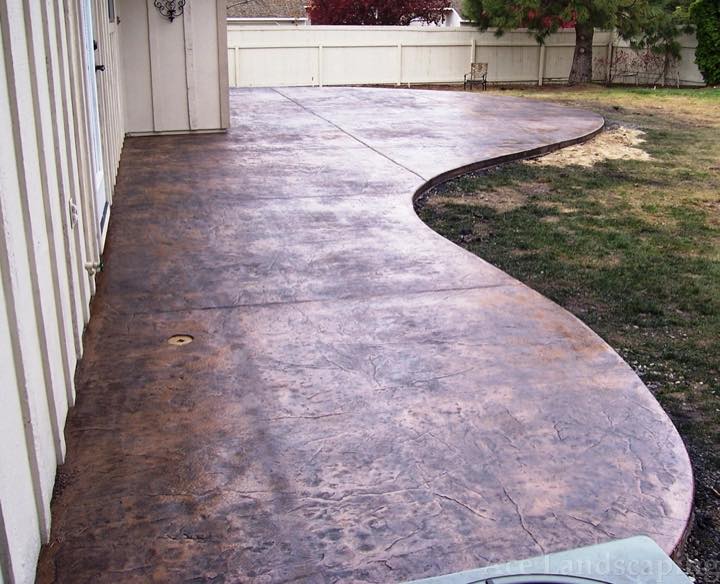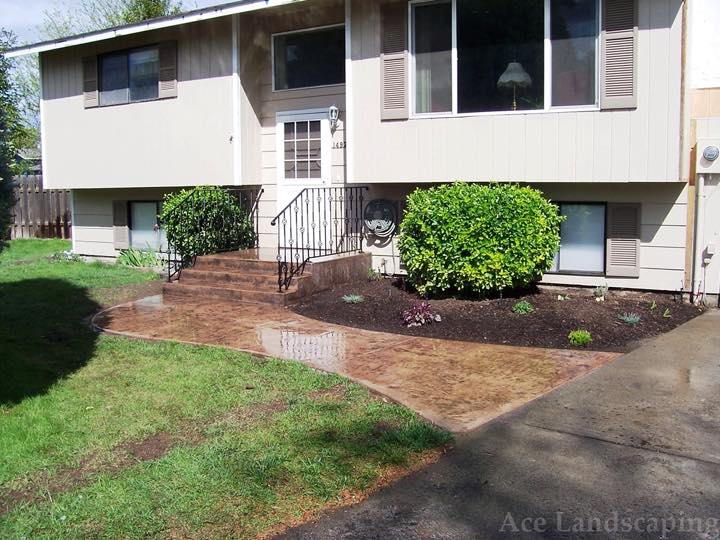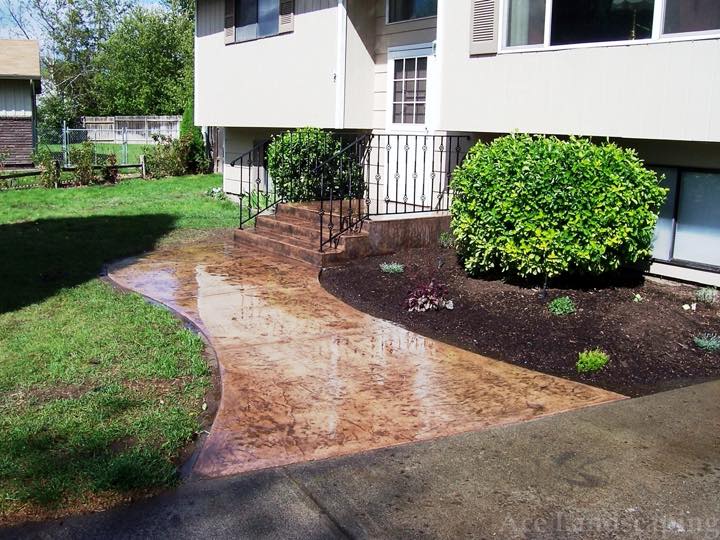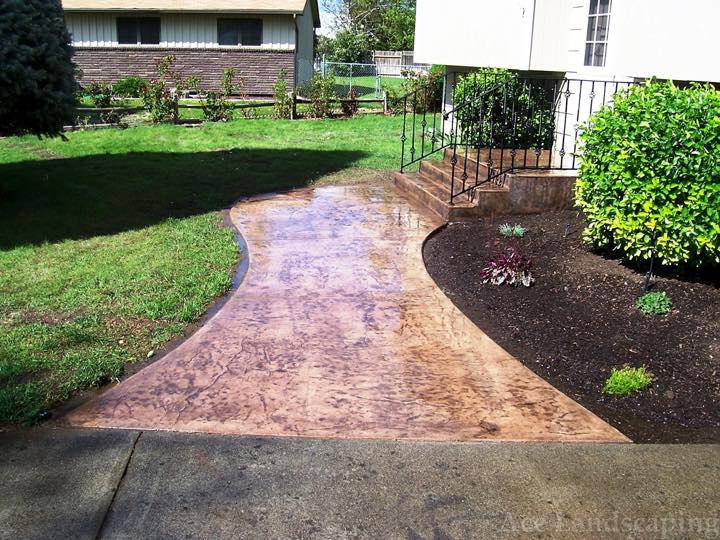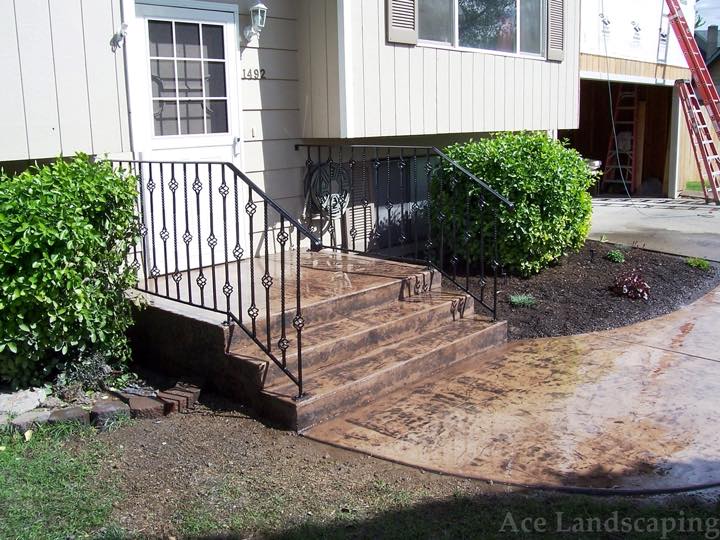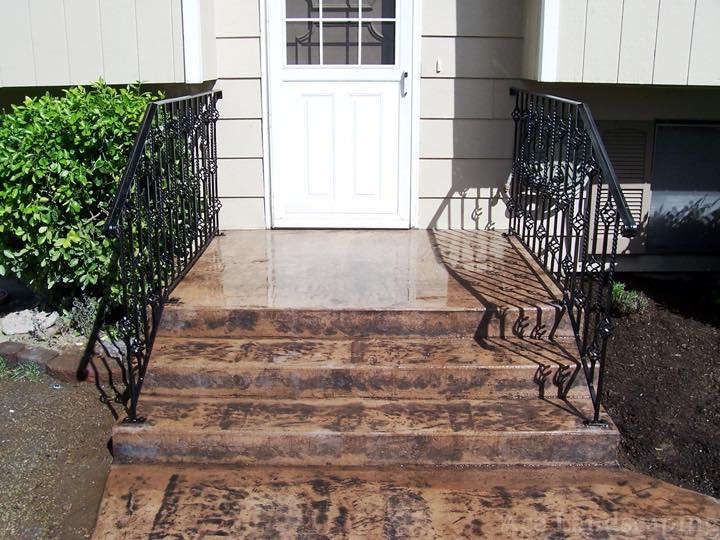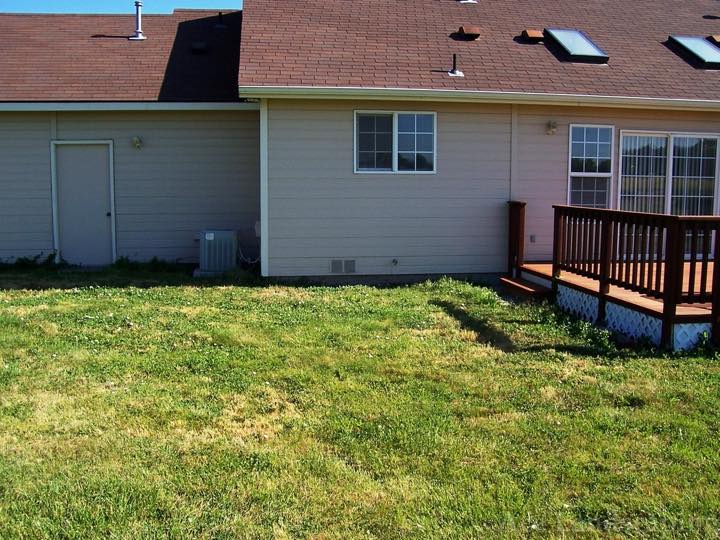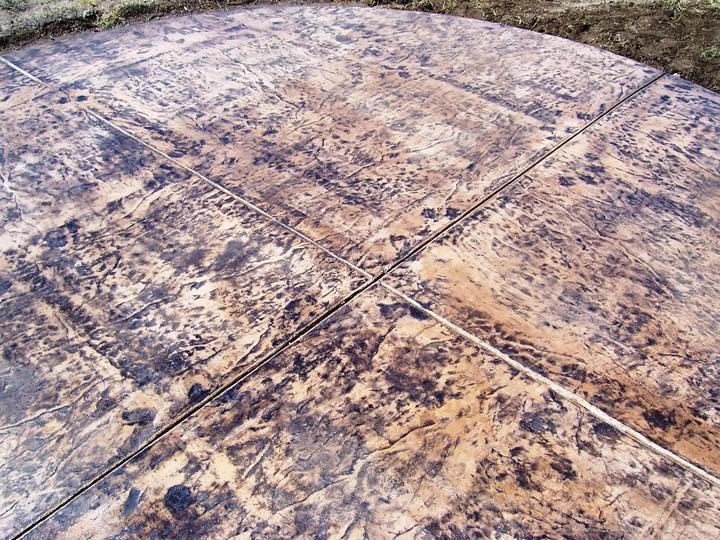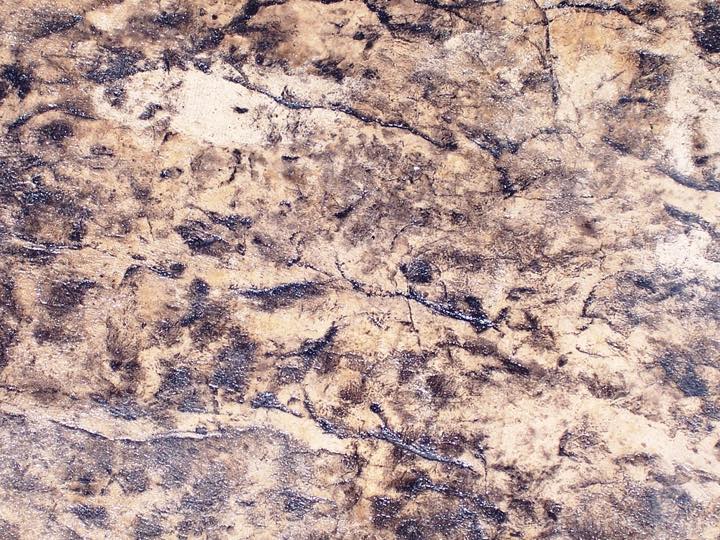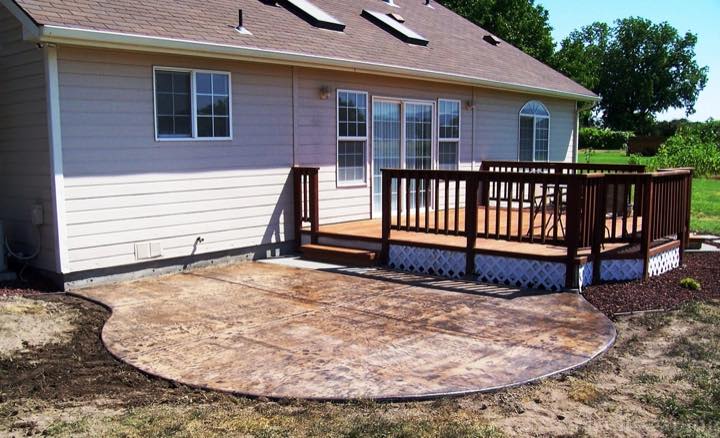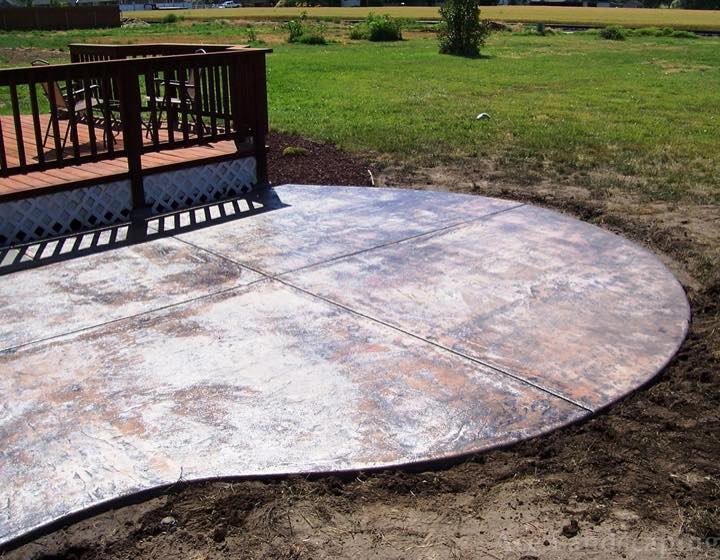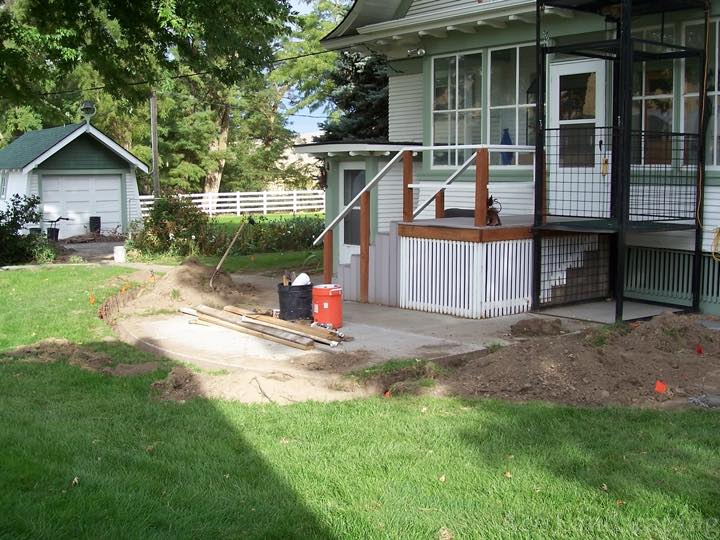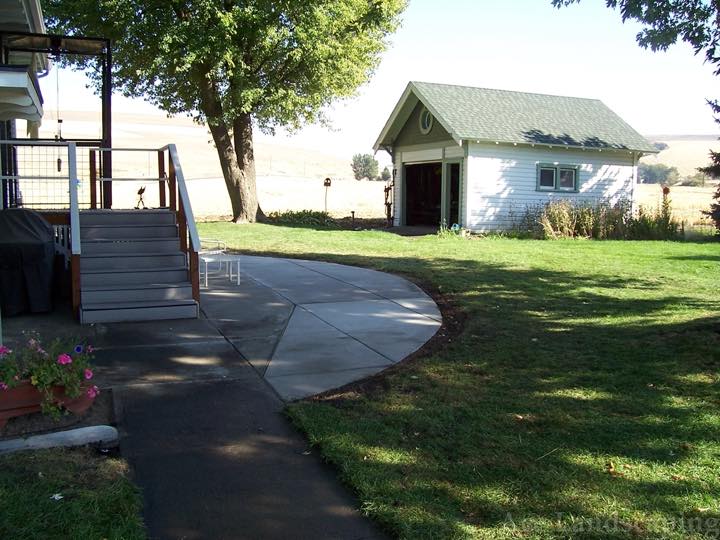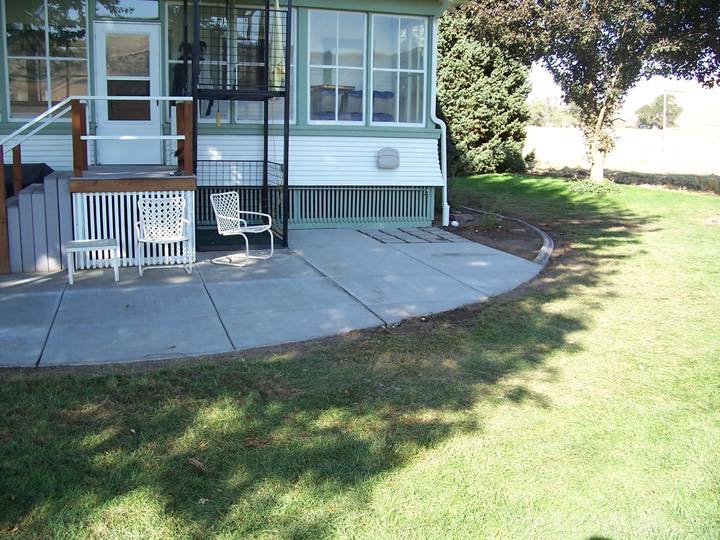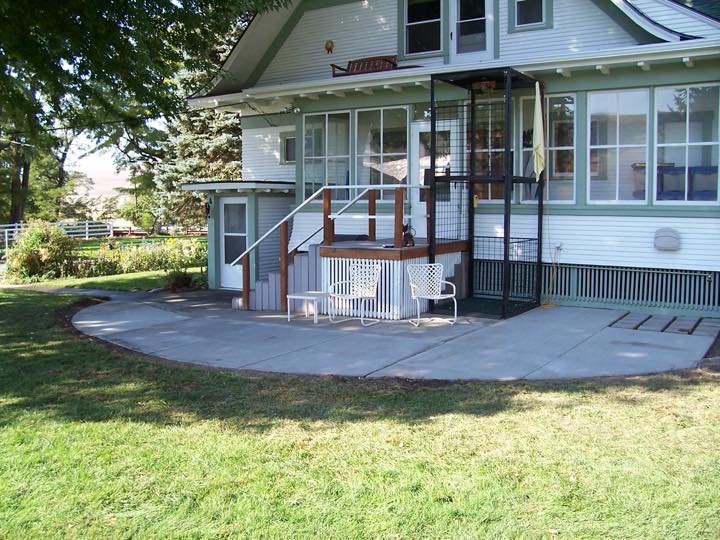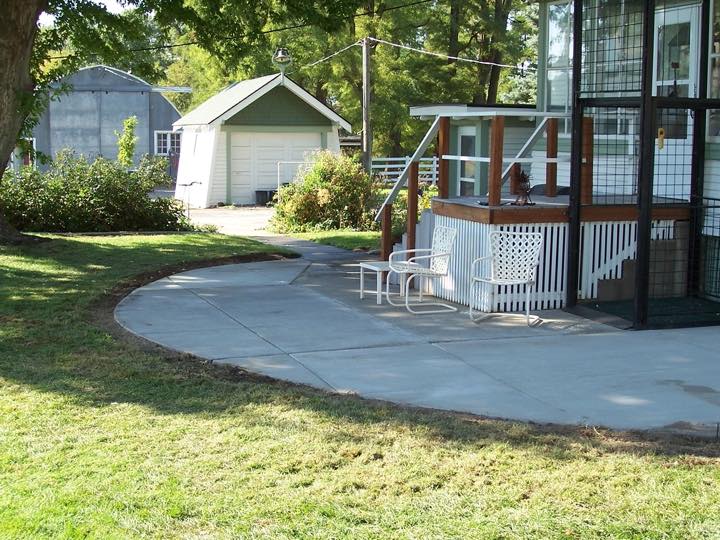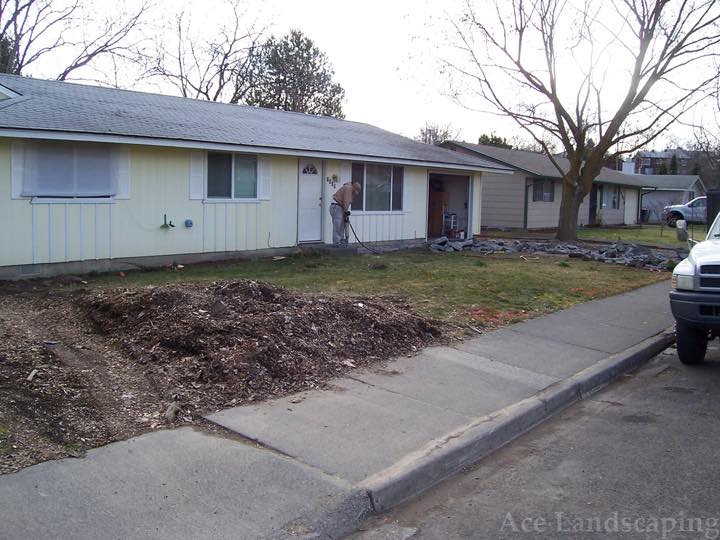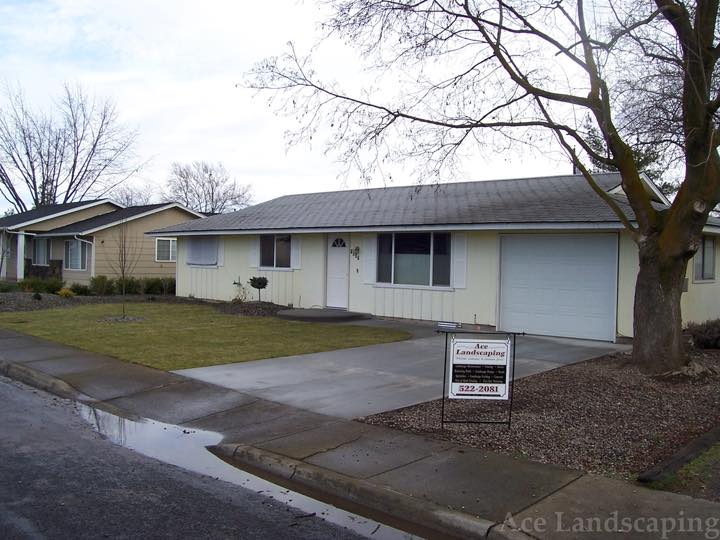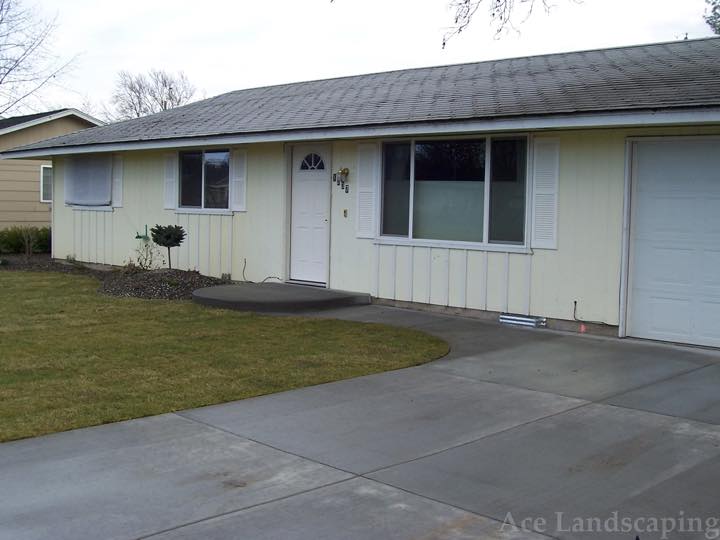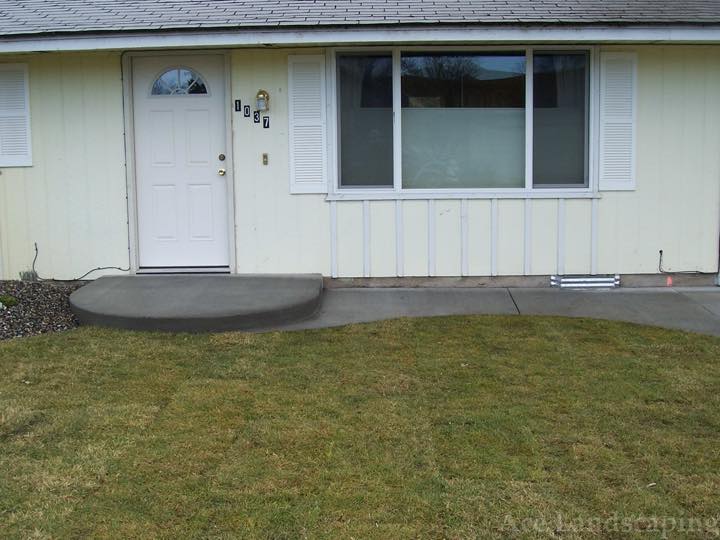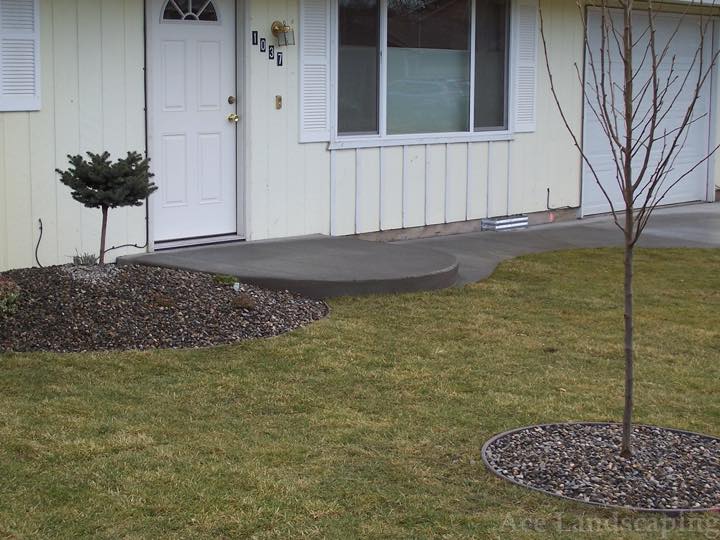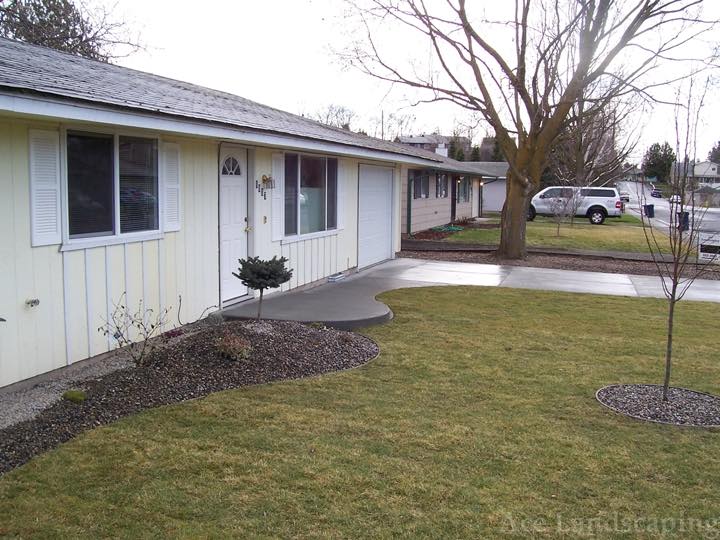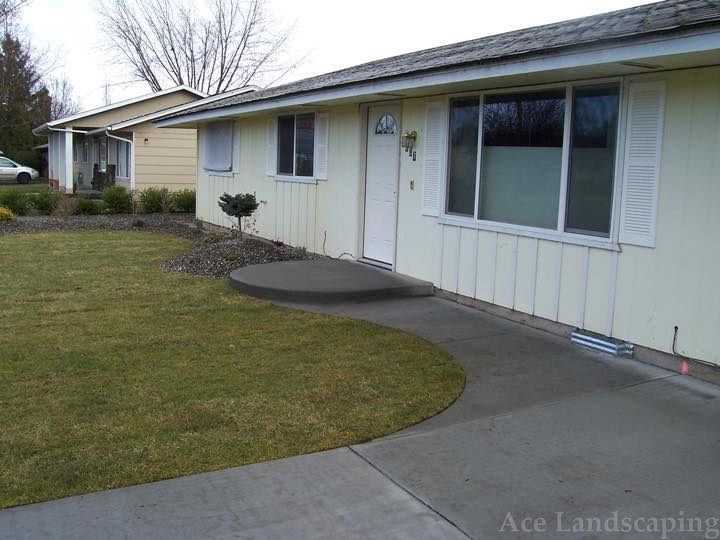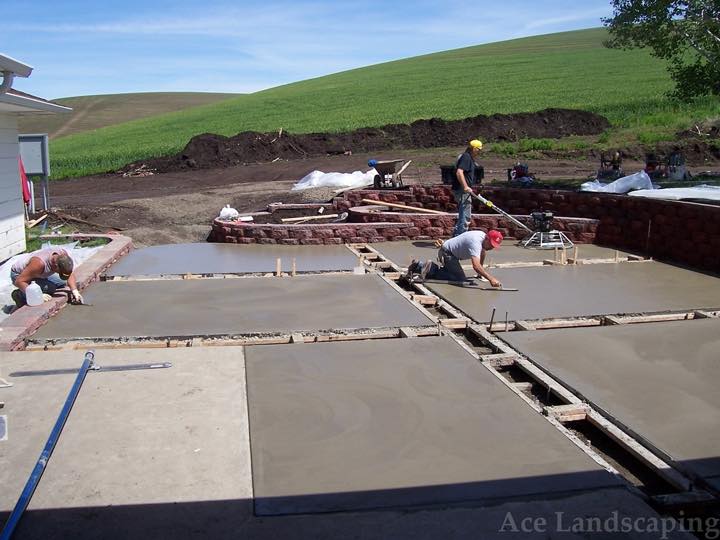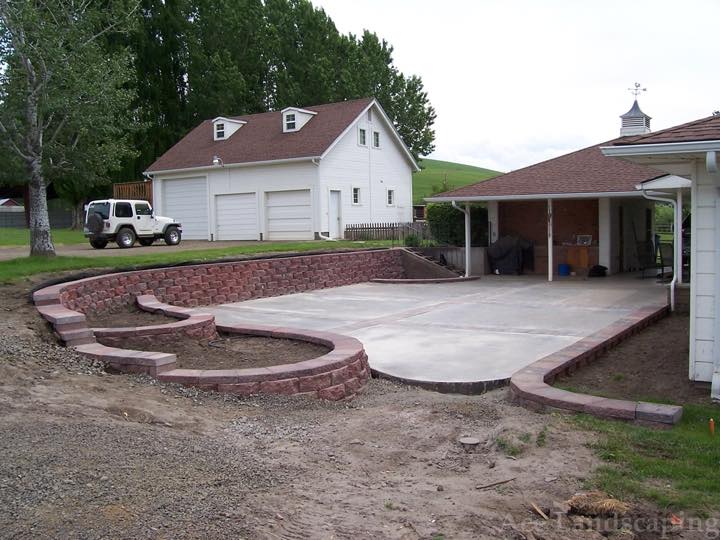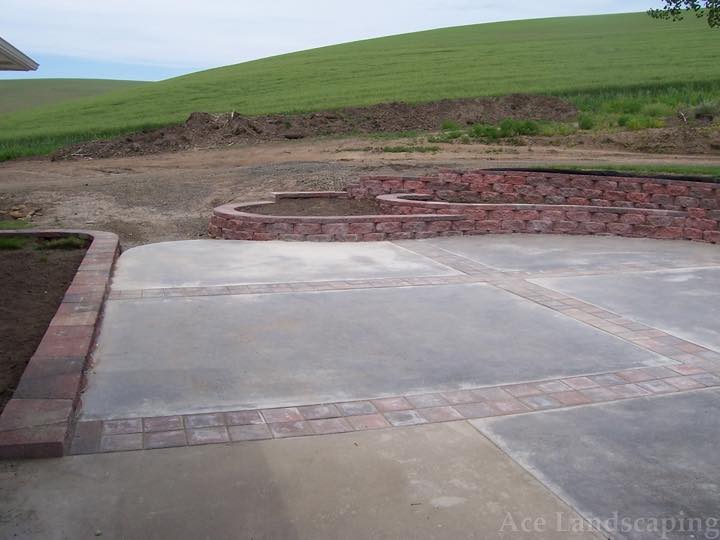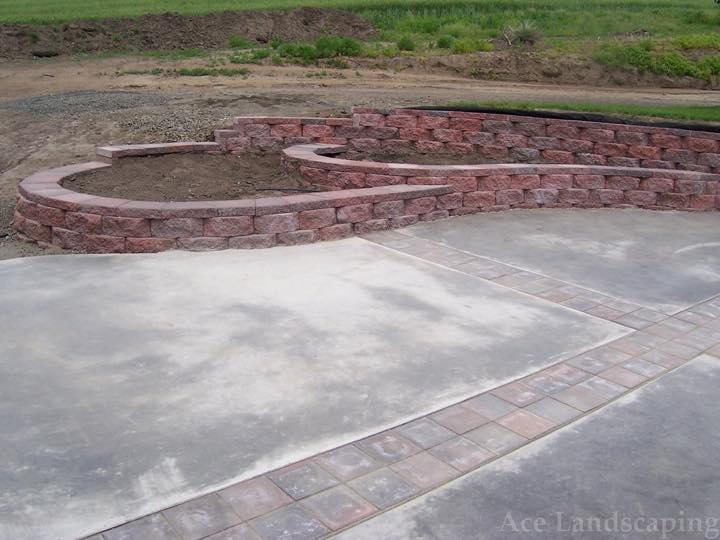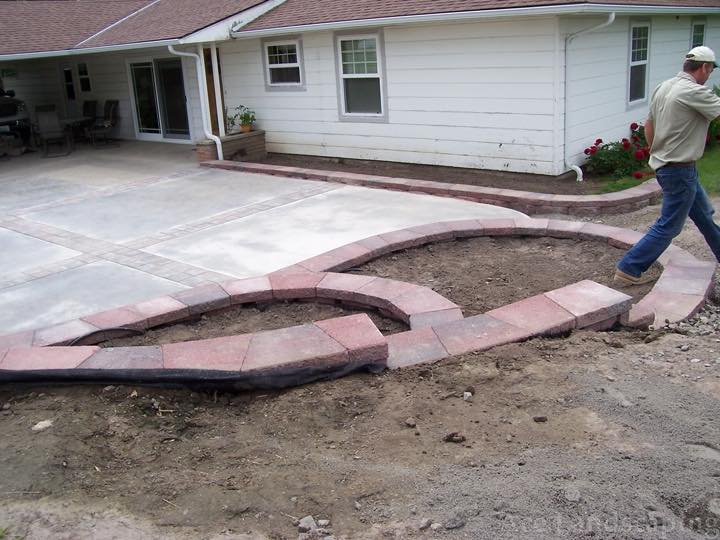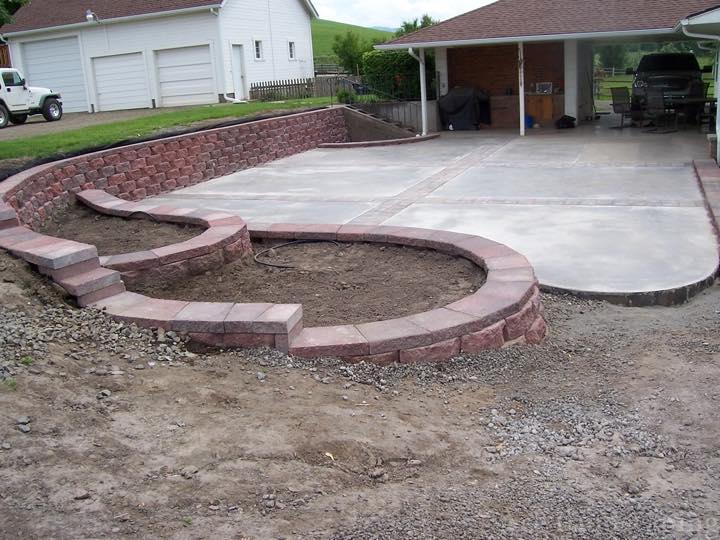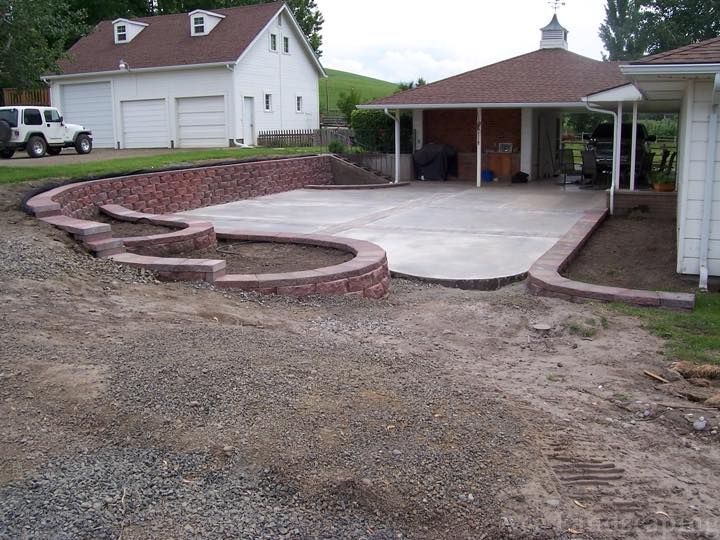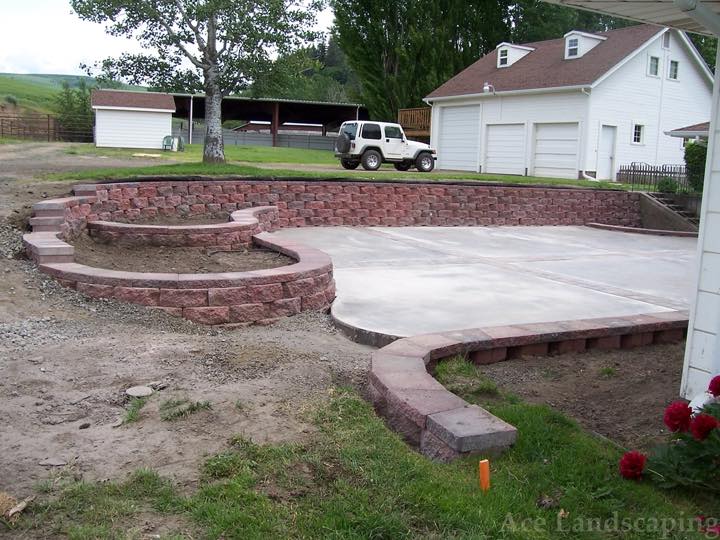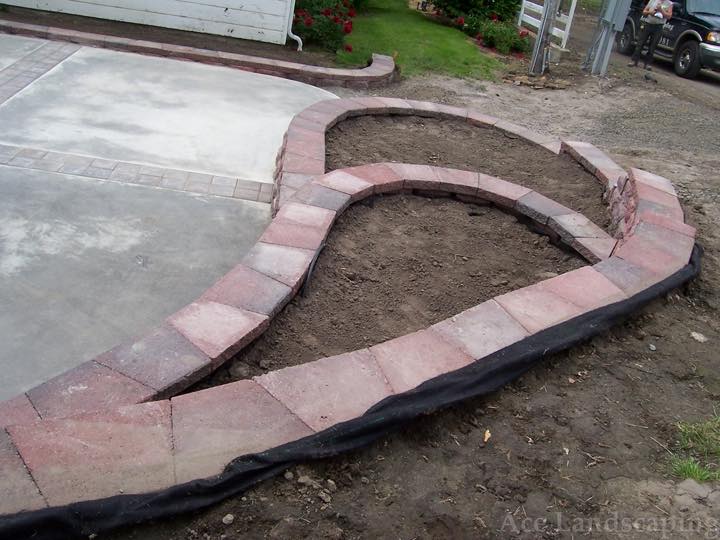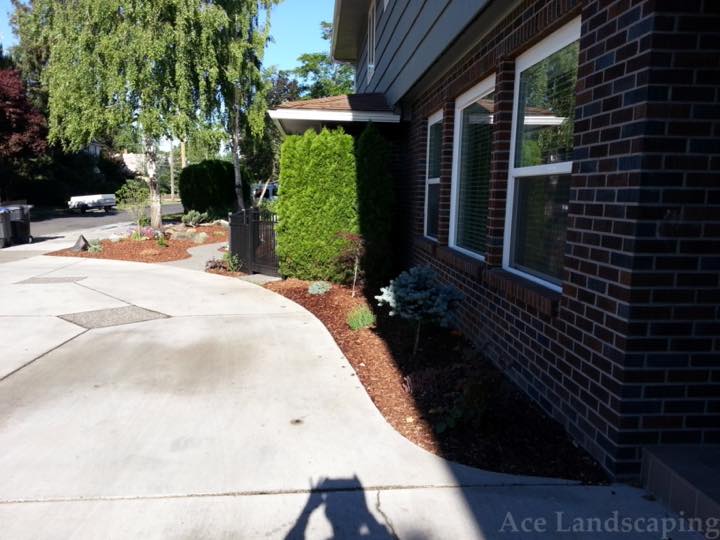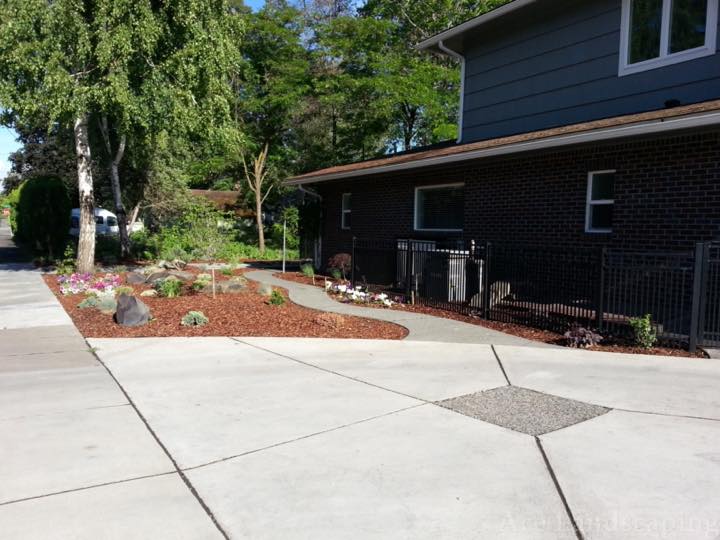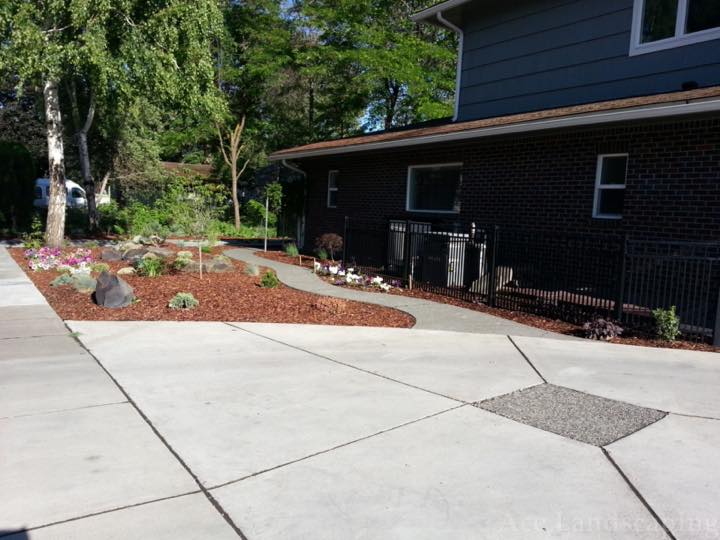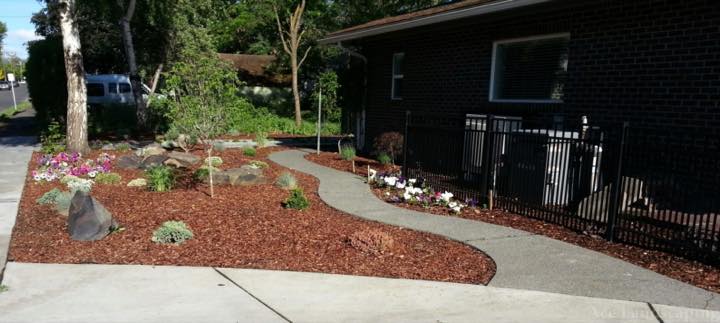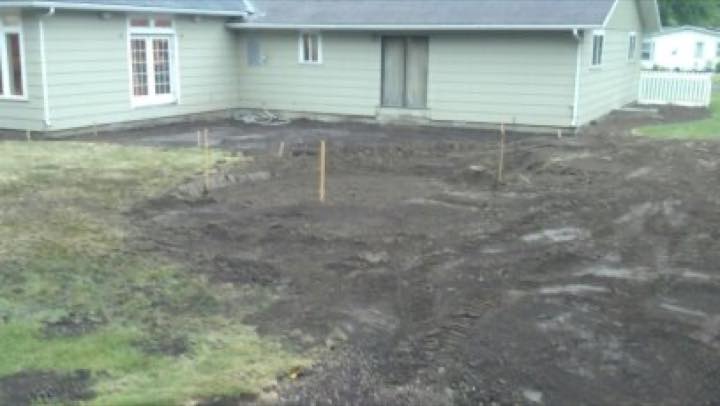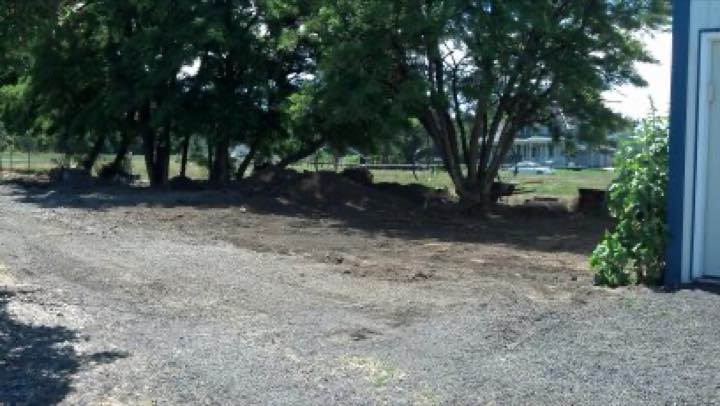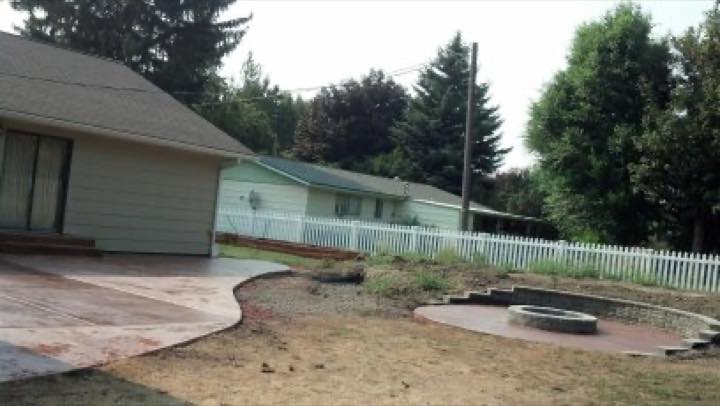 Concrete
Colored Stamped Concrete for Patios & Driveways
We are a professional stamped concrete contractor, with 20 years experience serving Walla Walla, WA and Tri Cities, WA.
Here at Ace Landscaping we specialize in custom designed, artistic, and decorative colored stamped concrete, plus professionally installed raised aggregate and broom finished concrete: patios, driveways, steps, and walkways.
Our team of seasoned concrete installers are extremely knowledgeable, and will give you a completed job, that you will absolutely love.
We take a great deal of pride in our work, from the first stages of a custom concrete design, to the completed project, you will very quickly see our job quality, & attention to detail.
Over the years with all my concrete work, I like to overbuild my jobs, and what this means to you is more ¾ minus gravel in the footings, extra time to plate compacting the footings, more rebar.
Where some contractors would do their work quicker, use less rebar, or in a lot of cases no rebar at all. I also like to add an extra inch of concrete to all my pours, above and beyond what code requires, for load bearing, or non load bearing pours.
If you want your job done right, and a job that you will be proud of for years to come. Please call for your FREE estimate (509) 522-2081. Thank you.
Concrete services we provide
| | |
| --- | --- |
| Concrete Construction | Concrete Sealer Applications |
| Concrete Repair/Cleaning | Concrete Maintenance |
| Concrete Coloring | Raised Aggregate |
| Concrete Specialty Work | Colored Landscaping Curbing |
| Concrete Cutting | Many Curbing Styles To Choose From |
| Concrete Removal | Decorative Concrete Borders |
| Broom Finished Concrete | Poured Concrete Retaining Walls |
| Flatwork | Hard Trowel for Smooth Finish |
| Colored Stamped Concrete | Floor & Slab Installation |
| Custom Designed Concrete | Residential & Commercial Projects |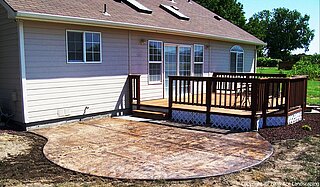 I highly recommend Ace Landscaping if you are looking for quality, honesty, dependability and beauty for your home. You can trust Ace Landscaping to be honest and reasonable with estimates for labor and design desired. I am delighted with the design of my stamped concrete patio and the outcome of landscaping for my home, and if asked, Ace would receive a 5 star rating without hesitation. If you are planning to landscape any area around your home, call Ace - you will not be disappointed.
Sincerely,
Lana
College Place, WA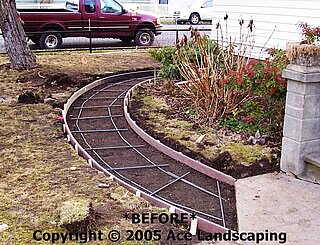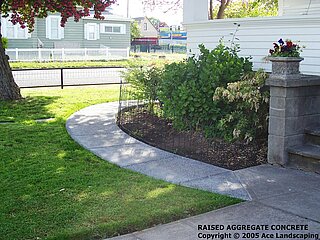 Ace Landscaping did extensive concrete and irrigation work for us. I was impressed with them insisting we use only the best heavy duty materials. The concrete is thick and reinforced, and the irrigation lines are top-of-the-line heavy gauge plastic. We are especially pleased with a custom curved sidewalk with exposed aggregate which provides a beautiful and practical connection between the front and back doors/porches of our large 1890 home.
Sincerely,
Keith & Barbara
Walla Walla